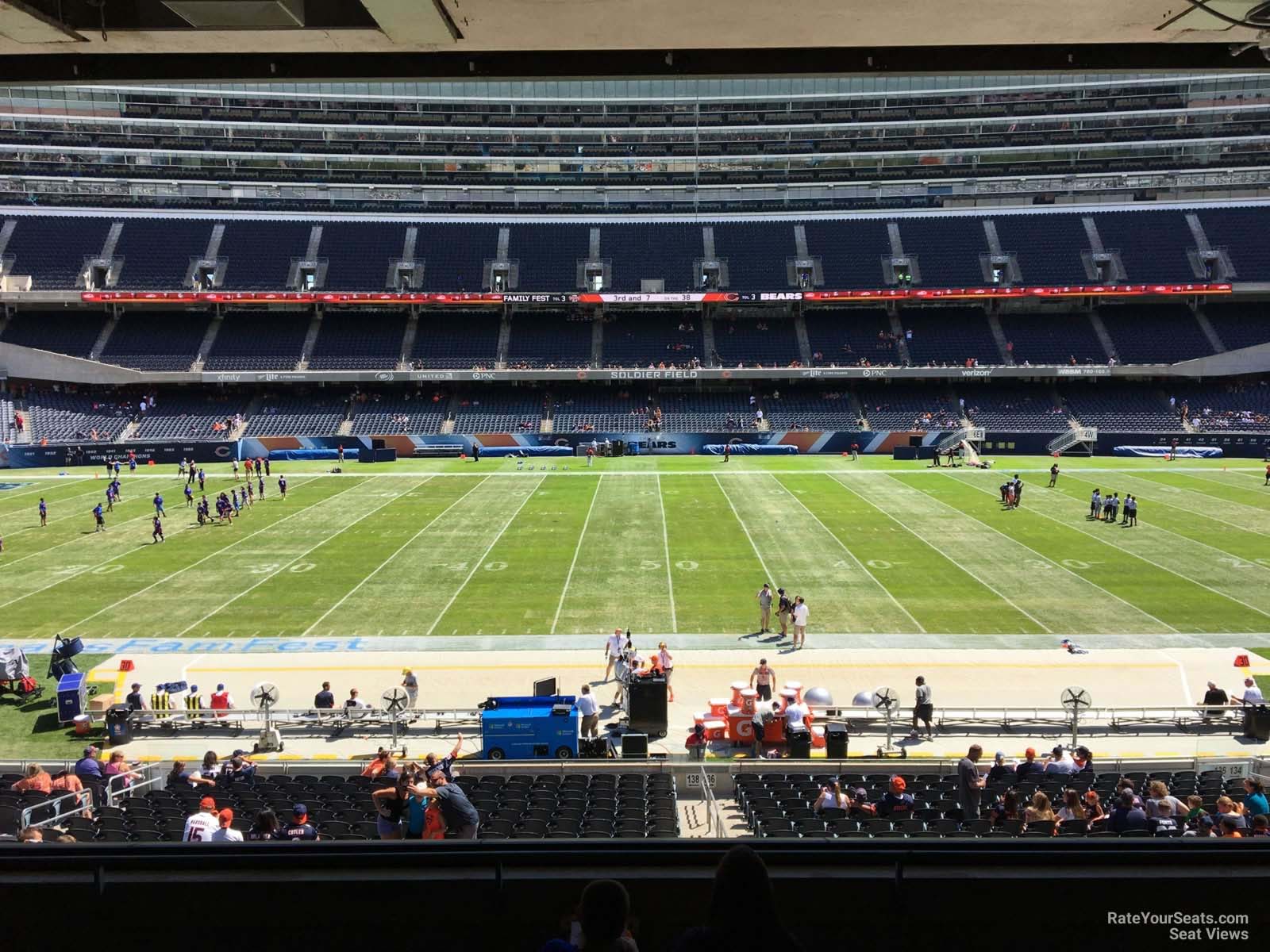 Best Seats for Impressing a Guest at Soldier Field
Recommended seats are highlighted on the map
The first place to look for an impressive seat at Soldier Field for a Bears game will be the United Club sections located on the 200 and 300 levels of the east sideline. Although among the most expensive options, ticket holders will be treated to an upscale experience which includes a luxurious climate controlled lounge, private entrances, and extra wide cushioned seats. The best of the best here will be the sections between the 20 yard lines (207-211 and 307-311) as you not only enjoy the premium benefits, but also have a remarkable view of the game. If you opt for the 300 level club seats, just be sure to stick to rows 6 and below as these keep you closer to the entry tunnels and feel closer to the action.
If the amenities aren't what you're after, you certainly can't disappoint with a 50 yard line seat on the lower 100 level at Soldier Field. On the west side of the stadium, rows 15 and up have the best views from sections 136-138, and will leave your guest in awe of having such a prime spot which is also just behind the Bears sideline. East side sections 108 and 110 won't be as close to the home team, however you can find covered seating in rows 12 and higher here, providing much needed relief from the elements if the weather is bad.
Last and certainly not least, we also recommend considering Media Deck sections 235, 237, and 239 which have phenomenal views near the 50 yard line. This seating area feels like its own private area, featuring far fewer rows in each section, and less fans to have to contend with in concession and restroom lines. Seats here are also entirely covered, so your guests will know that you had their comfort in mind.
You may be left asking why we don't specifically mention the very front rows of the lower 100 level - and its not because these are bad seats, there's actually few places which offer more excitement at Soldier Field. However, as these seats sit so close and so low to the field, the views can often be less than ideal (having some elevation is a good benefit to have for watching the action on the field). So don't let that deter you from considering the super close options, but do be aware that better all around views will be found elsewhere. - RateYourSeats.com
Recommended Ticket Locations
Sections 207, 208, 209 and more
Desirable 50 yard line views
Upscale food and beverage options
Exclusive club level amenities
Rows 12-19 in Sections 108 and 110
Excellent views right by the 50 yard line
Good viewing height near the top of the lower seating tier
Overhead coverage to keep you out of the weather
Rows 1-5 in Sections 307, 308, 309 and more
Premium amenities on the United Club level
Between the 20 yard lines for excellent viewing angles
Rows 15-19 in Sections 136 and 138
Right by the 50 yard line!
Close to the Bears players along the sideline
Good seating height and proximity to concourse
Sections 235, 237 and 239
Great views near the 50 yard line!
A more private feeling on the smaller Media Deck
Excellent overhead coverage
Ratings, Reviews & Recommendations
The club seats are nice and the food is better
It was a godsend that we were able to go inside the club lounge to warm up given that it was below zero outside.
Other Popular Seating Choices
RateYourSeats.com is the best way to search, compare and buy tickets. Select an event to find out why!