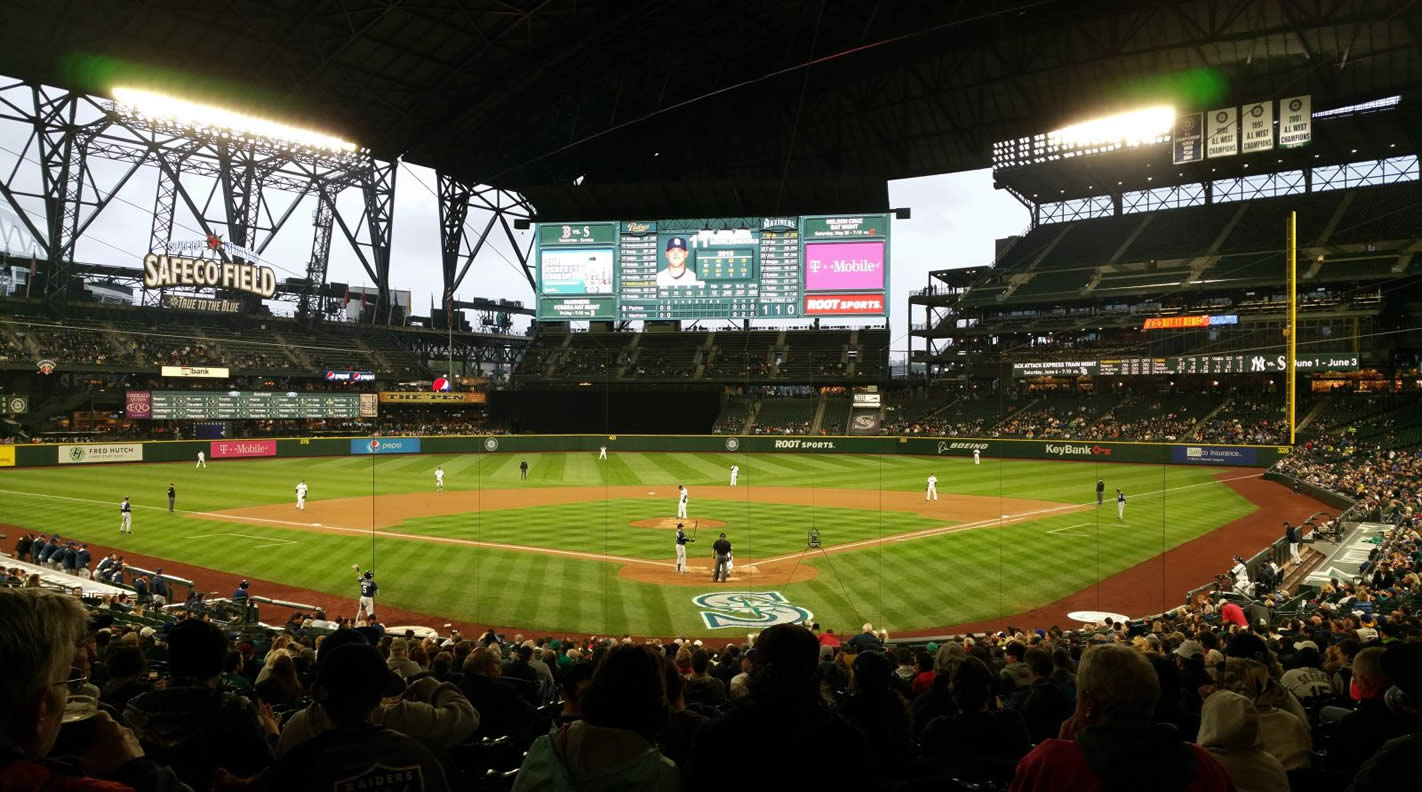 Best Seats for Great Views of the Field at T-Mobile Park
Recommended seats are highlighted on the map
Safeco Field is a fairly traditional stadium in that it features three distinct levels of seating. The lower lower level is comprised of roughly 40 rows of seats, the second level is primarily club seating and the upper deck is above a large ring of suites. As a result, when purchasing tickets for a Mariners game, you tend to get what you pay for.
With Major League Baseball's largest videoboard in center-field, home plate seats at Safeco Field are easily the best choice for keeping an eye on the game. Even if you miss a play, you can get a clear view on the 200-feet-wide replay board.
For catching the actual action on the field, we recommend rows 20-35 in sections 126-133 for their unobstructed and elevated views from behind home plate. The only other home plate seats with elevation (besides for suites) are located in the upper deck. In these sections (328-332), we recommend spending a few extra dollars to sit in one of the first four rows as the views from rows 5-8 can be somewhat obstructed by the staircases.
If you're looking to combine an excellent view with some special treatment, Terrace Club seats on the 200 level offer comfortable sitelines and exclusive amenities. These loge-style seats hang over the 100 level - bringing them closer to the field - and come with in-seat wait service for fewer trips away from your seats. While terrace sections closer to home plate will have the best views - and the highest pricetag - sections towards the outfield still have a good angle back towards home plate. Sitting down the line can help you save a few bucks, and you'll end up with the same padded seats and club access as someone sitting near the infield.
For an exciting and unconventional view, consider the front rows of sections 112, 114, 146 and 148. Lower level sections down the line are progressively angled more and more towards home plate to improve fans' sitelines. As a result, the sections farthest down the line are located just a few feet into foul territory and the front rows of these sections face towards home plate to give you a similar perspective to what the outfielder sees. We recommend paying the premium to sit in the first three rows of these sections for an exceptional experience. - RateYourSeats.com
Recommended Ticket Locations
Sections 223, 224, 226 and more
Great elevated views from the infield
Access to the club lounge and specialty concessions
In-seat wait service in select sections that allows fans to stay in their seats while getting refrshments
Rows 20-35 in Sections 126, 127, 128 and more
Phenomenal views from behind home plate with a little bit of elevation
Head-on view of the center-field scoreboard
Close access to the main level concourse
Rows 1-4 in Sections 328, 329, 330 and more
Excellent birds eye view of the field from behind home plate
Lower rows are below the staircase for easy walks down to seats and no distracting fans in your way
Best views in the stadium of the videoboard
Rows 1-3 in Sections 112, 114, 146 and more
Exciting spot at field level within three rows of the playing surface
Seats are angled back towards home plate for a comfortable viewing angle
One of the most desirable seating locations for a Mariners game
Other Popular Seating Choices
RateYourSeats.com is the best way to search, compare and buy tickets. Select an event to find out why!