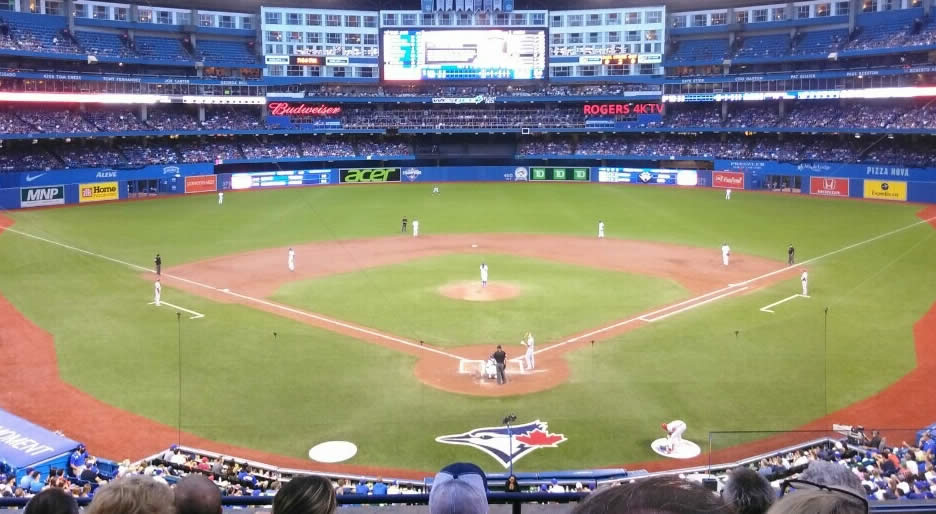 Best Seats for Impressing a Guest at Rogers Centre
Recommended seats are highlighted on the map
The Rogers Centre offers a few distinct seating options for impressing a guest. Whether you're surprising someone with a gift, entertaining a client or simply want an upscale experience at a Jays game, the dome offers something for everyone.
For the most discerning fan the Blue Jays offer "In the Action" seats that get you as close to the game as possible. These seats are located at three different spots in the lower level and are among the most difficult tickets to obtain. They are rarely available for sale - and when they are, they don't last for long. Action seats on the first and third base side are adjacent to their respective dugout and jut out onto the field - nearly separate from the rest of the lower bowl. While most seats at the Rogers Centre are pushed back from the field, this is as close as you can get. Home plate action seats also come out onto the field and fans in these seats are often shown on television. Besides for a surreal experience from field level, these seats include wait service and all-inclusive food and drink.
For a less expensive experience close to field level, consider sections 125 and 126. Given their location directly above the Blue Jays dugout, these are sure to make any Toronto fan happy. Aim for rows 8-17 where you'll be within 10 rows of the dugout and have a chance to receive a ball from the players as they head back to the bench.
If you're looking for upscale amenities but don't mind being a little farther away from the field, consider the Clubhouse seats on the 200 level behind home plate. With a lack of club seating options available, these seats are in high-demand for their excellent views, wait service and club access. The club offers fans another place to hang out, along with a reservation-only restaurant with a highly-regarded wine selection. With the exception of the ultra-expensive Action Seats, the Clubhouse seats are widely regarded as the best seats at the Rogers Centre and appeal to just about every fan.
Another consideration for impressing a guest is a reservation at the Sightlines restaurant in center field. With home plate about 500 feet away, you can let the game fall into the back-drop as you get down to business. - RateYourSeats.com
Recommended Ticket Locations
Sections 222, 223, 224A and more
Great elevated view of the action from behind home plate
Tickets come with exclusive amenities for being on the club level
These amenities include padded seats and in-seat wait service
Rows 1-2 in Sections 120, 121, 122 and more
Once-in-a-lifetime seating located at field level
High likelihood of being on TV behind home plate
All-inclusive amenities and in-seat wait service as part of the Action Seats
Rows 8-14 in Sections 125 and 126
Located just above the Blue Jays dugout
As close to the players as you can get in non-club seating
Less sunny side of the field
Other Popular Seating Choices
RateYourSeats.com is the best way to search, compare and buy tickets. Select an event to find out why!