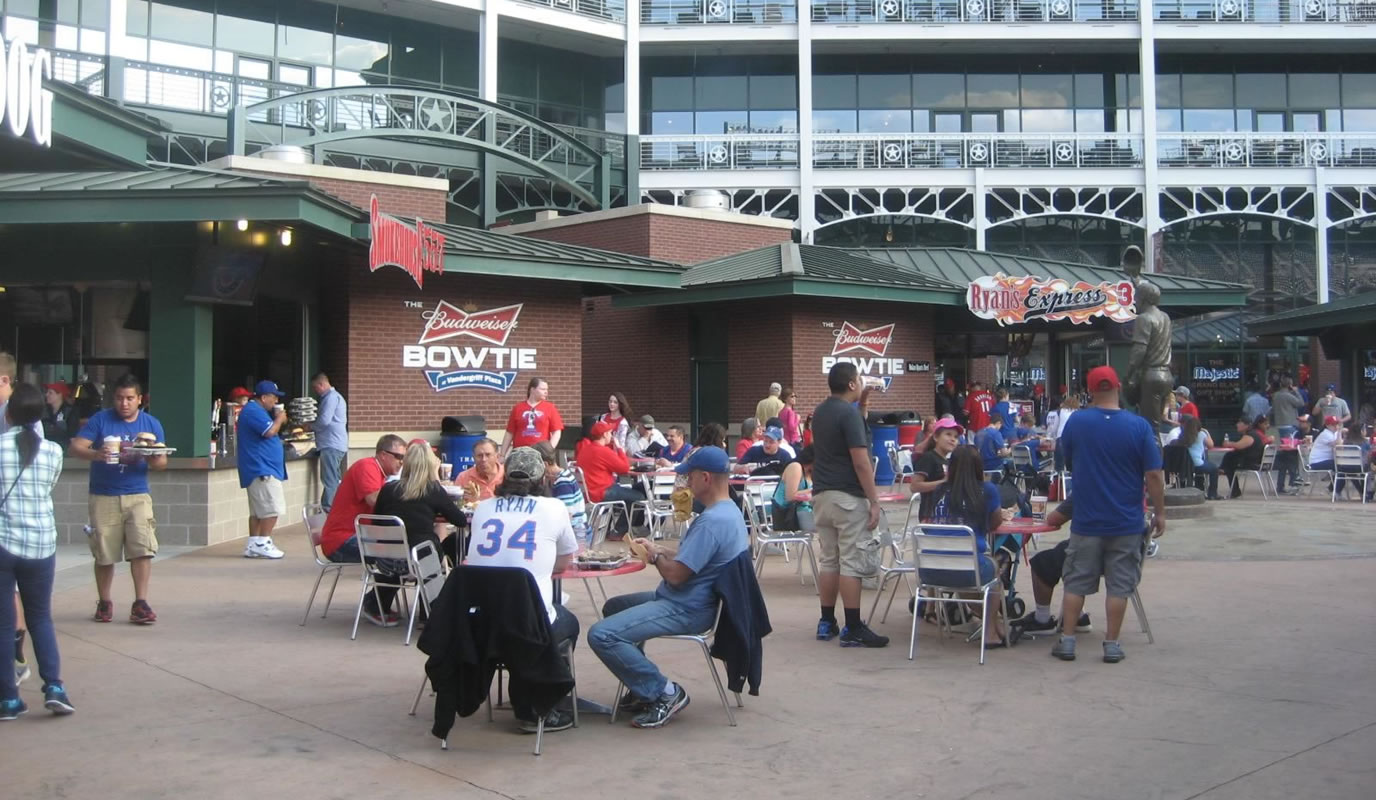 Best Seats for Partying and Socializing at Globe Life Park
Recommended seats are highlighted on the map
Globe Life Park offers two main attractions when it comes to socializing with friends at a Rangers game. The Captain Morgan Club and Bowtie Plaza are both located in center field and are the entertainment hub of the ballpark.
The Captain Morgan Club is your best best for pre-game entertainment. This area offers a full bar and restaurant with plenty of indoor seating. Grab an early dinner and enjoy a rum cocktail as you get ready for Rangers baseball. The area is also home to a television and radio studio that often carry live broadcasts before the game.
Once the game begins, move the party to the Bowtie Plaza behind the greenery in center field. This part of the ballpark offers the widest range of concessions and adult beverages. The open-air plaza also features a number of tables and drink rails for guests to sit or stand at while enjoying a cold one. And despite not being able to see home plate from this area, a large television ensures you never miss a moment of the action. - RateYourSeats.com
Recommended Ticket Locations
Rows 11-18 in Sections 3, 4 and 5
Outfield seating with plenty of sun and home run ball opportunities
Close to the plaza in center field with a high concentration of amenities
Near the Captain Morgan Club, which offers a bar and restaurant before, during or after the game
Sections 118, 119 and 120
Located just steps away from the largest draft beer selection at the ballpark
Very good infield seats with a head-on view of the replay board
Covered and often-shaded for those who like to do their drinking out of the direct sun
Rows 3-11 in Sections 325, 326, 327 and more
Near the best beer stands (Beers of Texas/Beers of the World) and the best food in the upper level
Home plate views at a fraction of the cost of lower level seats
Stay close to row 7 for the easiest access to the concourse
Other Popular Seating Choices
RateYourSeats.com is the best way to search, compare and buy tickets. Select an event to find out why!