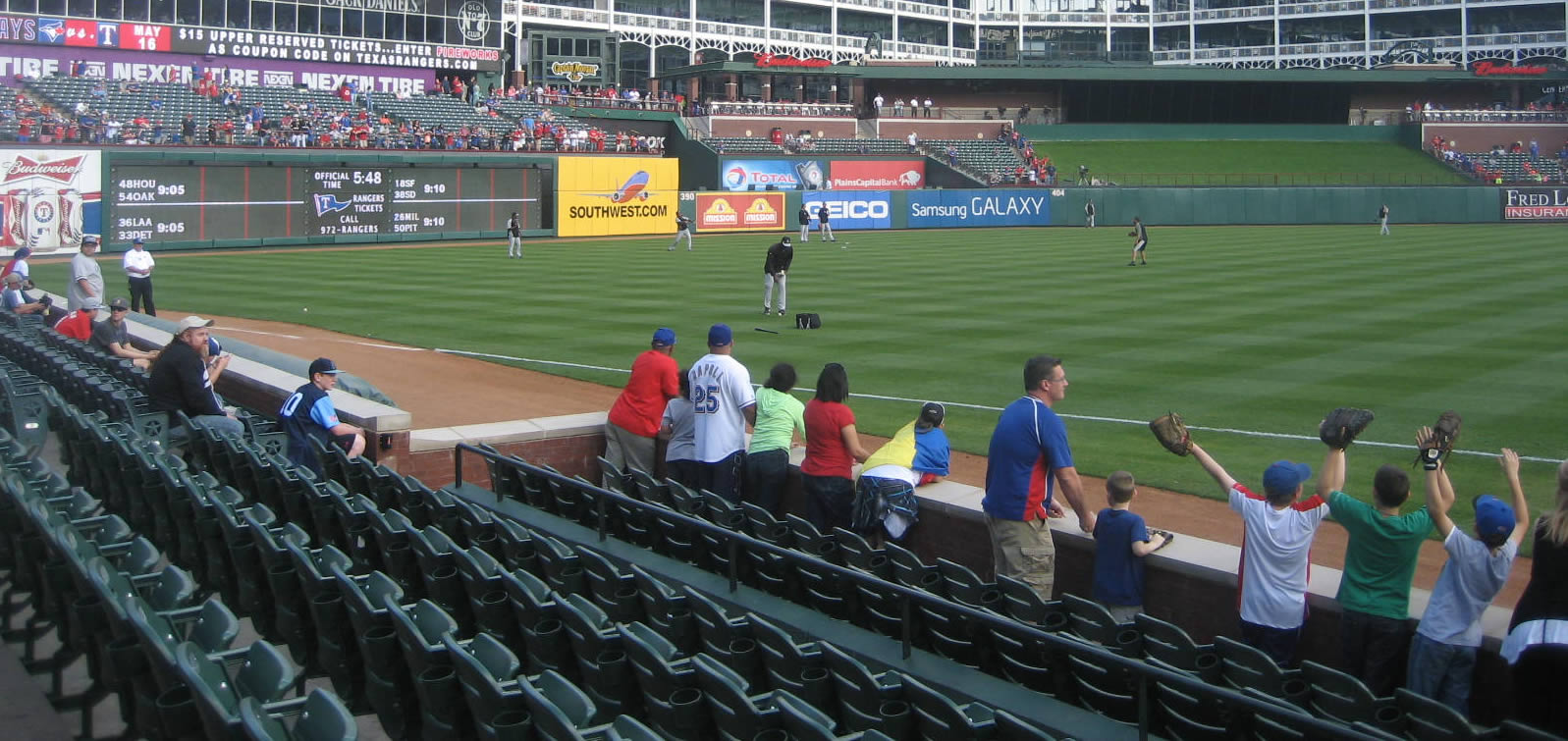 Best Seats for Getting a Ball at Globe Life Park
Recommended seats are highlighted on the map
Globe Life Park is one of the best parks in the big leagues to come home with a souvenir. Whether you're aiming for a foul ball or a home run, the stadium's reputation as a hitter's paradise ensures that plenty of balls make it to the seats.
The lower level of Rangers Ballpark is one of the largest in the major leagues. As a result, a number of foul balls end up in these seats, making these the best choice for fans who wish to go home with a souvenir. In particular, looks towards sections 12-19 and 33-39. This is where the highest number of batted balls end up. And if you don't end up with one off the bat, the players in the nearby dugouts are close enough to toss you a ball.
Not only does Rangers Ballpark provide fans with a number of foul ball opportunities, it's also one of the friendliest home run ballparks in the big leagues. Unlike many other stadiums, the bullpens don't swallow up home run balls that are hit down the line. Sit in any one of the lower outfield sections and there's a good chance a ball comes within a few seats of yours.
If you're bringing a kid to the game (aged 9-14), you may want to consider sections 51 and 52 in center field. These sections are adjacent to the greenery that sees about two home run balls per month. If you're lucky enough to attend a game where the ball is hit onto the grass, your child will have the opportunity to run onto the grass and race towards the ball and an unforgettable memory. - RateYourSeats.com
Recommended Ticket Locations
Rows 12-28 in Sections 12, 13, 14 and more
Highest concentration of foul balls in the lower level
When seated in sections 12-17, be alert when left-handed batters are at the plate
When seated in sections 35-39, be alert when right-handed batters are at the plate
Rows 1-6 in Sections 44, 45, 46 and more
Highest number of home runs from left-handed batters land in these seats
Rows higher than six are covered by the outfield upper deck, which steals a number of home runs from those higher rows
Closest of any outfield seats at Rangers Ballpark to the field
Rows 1-10 in Sections 5 and 6
Highest number of home runs from right-handed batters land in these seats
See the game from a slightly elevated perspective in LF
Other Popular Seating Choices
RateYourSeats.com is the best way to search, compare and buy tickets. Select an event to find out why!