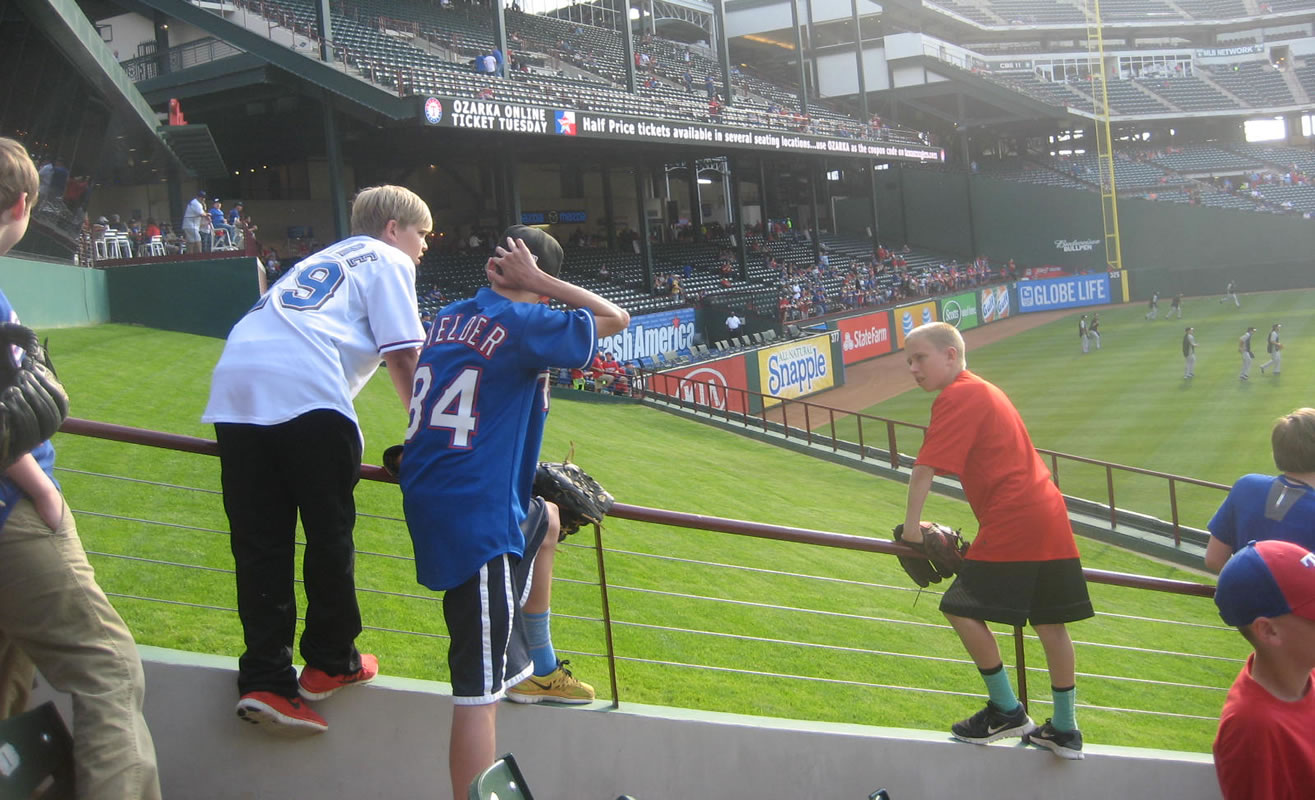 Best Seats for Kids and Family at Globe Life Park
Recommended seats are highlighted on the map

When bringing the family to a Rangers game at Globe Life Park, there are a number of different price points to consider, and a few attractions you don't want to miss. The first place to put on your list if you're bringing young kids is the Kids Zone in center field. This air-conditioned play area is open until the bottom of the 7th inning and is full of interactive activities, video games and other kid-friendly attractions. If this area is likely to be popular among your group, consider seats in the outfield to shorten your walk to the Kids Zone. You'll also be near the Bowtie Plaza where adults can escape for a drink and a variety of concessions.
If you're looking for an easy day out at the ballpark and don't mind spending a few extra bucks to have everything included with your ticket, bring the family to the all-you-can-eat deck in sections 246-252. Instead of standing in line and paying for multiple trips to the concession stands, simply head towards air-conditioned Home Run Porch for unlimited ballpark food, soft drinks and chicken sandwiches. This will give you the opportunity to walk into the ballpark and never have to open your wallet. For most games, these seats will only set you back about $30-$40.
When bringing family who may be sensitive to the sun, pay close attention to seats that are protected from the element. RateYourSeats.com offers a shade finder, which will help you find shaded seats for afternoon ballgames. In general, you'll do well to sit in the 100s sections, in the outfield seats in right field or at the top of the upper deck.
Other Considerations
Section 335 is a no-alcohol section meant for kids and families to enjoy an alcohol-free and profanity-free day at the park
Recommended Ticket Locations
Section 335
Alcohol free section
Good atmosphere for children due to the lack of intoxicated people around the area
Sections 51 and 52
Close to the greenery in CF where kids can run onto to chase home run balls
Located near the Kids Zone with a number of interactive games and activities
In front of the center field plaza with plenty of concessions and picnic tables for small groups
Sections 246, 247, 248 and more
All-you-can-eat seating
Covered and shaded seating area
Sections 134, 135, 136 and more
Fully-covered and shaded seating area
Close to the lower level for easy access to restrooms and concessions
Arrive early and the kids will be able to head towards the field to interact with Rangers players near the dugout
Other Popular Seating Choices
RateYourSeats.com is the best way to search, compare and buy tickets. Select an event to find out why!