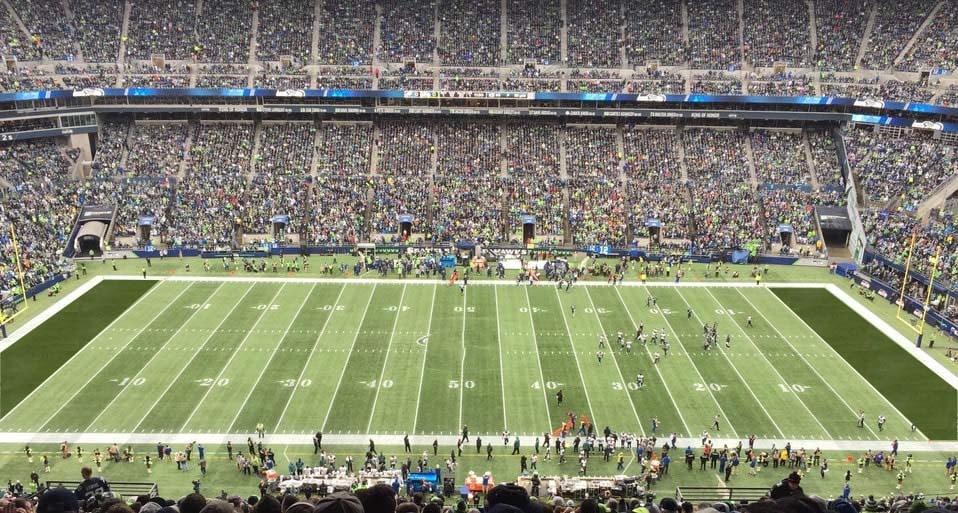 Best Seats for Great Views of the Field at CenturyLink Field
Recommended seats are highlighted on the map
With some of the most expensive ticket prices in the NFL, finding a great view at a Seahawks games is usually going to be accompanied by a high price tag. The best seats at the Link are almost always located at midfield in premier sections known as Charter or Club seats.
Seeing Over Players on the Sidelines
In the 100 level, sections 107-111 and 133-137 are located between the 20 yardlines and are often considered the best seats for a Seahawks game. Within these sections, we prefer the highest rows for the most comfortable view. Rows V-Z, Z1-Z2 (wheelchair accessible) and AA-BB are located near the top of their respective sections. By being 20-25 rows from the field, you will have enough elevation to comfortable see over the players on the sideline.
Finding Better Elevation in the Club Level
For an even better view, consider seats in club level sections 207-211 and 233-237. These seats are also located at midfield - but the added elevation will make it easier to see end-to-end - and make it slightly easier to see the videoboards. Keep in mind; however, that club tickets for a Seahawks game are not cheap. These are the best tickets at CenturyLink Field, but they are also the most expensive.
Alternatives to Expensive Seats
While the 100 and 200 levels receive most of the attention at the Link, the 300 level offers some excellent views and (slightly) more affordable prices. These upper level sections are split up into an upper and lower area by a common walkway.
Below the walkway you'll find rows A-E and accessible seating rows E1-E2. Especially in midfield sections 307-311 and 333-337, these rows offer outstanding views of the field. In fact, many fans prefer these seats to similarly-priced tickets on the lower level because the elevation allows them to see the game with ease. Furthermore, these rows are located just below the entry tunnels, which makes it easy to grab concessions and make a pit stop.
With more than 45 rows in these 300 level sections, it's important to sit in the lowest row possible. Your wallet might hurt a little more, but your knees will thank you for saving them from all the stairs.
One area where the Link is falling behind is in the videoboard race. The stadium features just two small, main video screens. One is located in the South endzone, which allows fans in the Hawk's Nest a head-on view. Meanwhile, the videoboard above the Hawk's Nest is much too high for most fans to see comfortably. So, while we would typically recommend endzone seats for their easy views of the scoreboard, these seats offer no real advantage at a Seahawks game.
Avoid Obstructed Seating
Because ticket prices are so high, many fans are looking for a great deal on Seahawks tickets. This often leads them to lower level tickets in sections 102, 116, 128 and 142. When looking at seats in these sections, use caution - there are railings that can disrupt your view of the field. These obstructions are included in ticket listings on our site, so be sure to read through all the notes to avoid a bad view! - RateYourSeats.com
Recommended Ticket Locations
Rows V-Z2, AA-BB in Sections 107, 108, 109 and more
Excellent views near midfield on the lower seating tier
Great seating elevation to see all areas of the field
Close to the section entry tunnels
Rows J-Z, AA-A2 in Sections 207, 208, 209 and more
Club level sections with the best views of the game
Located about 35-50 rows above the field - an excellent spot for a comfortable view
Easy access to club concessions and amenities
Rows A-E in Sections 306, 307, 308 and more
Excellent views without the high price of a lower level or club level ticket
Elevated location allows you to easily follow the game from end-to-end
Conveniently located just below the section tunnel for easy access to the upper concourse
Other Popular Seating Choices
RateYoursSeats.com is the best way to search, compare and buy tickets. Select an event to find out why!