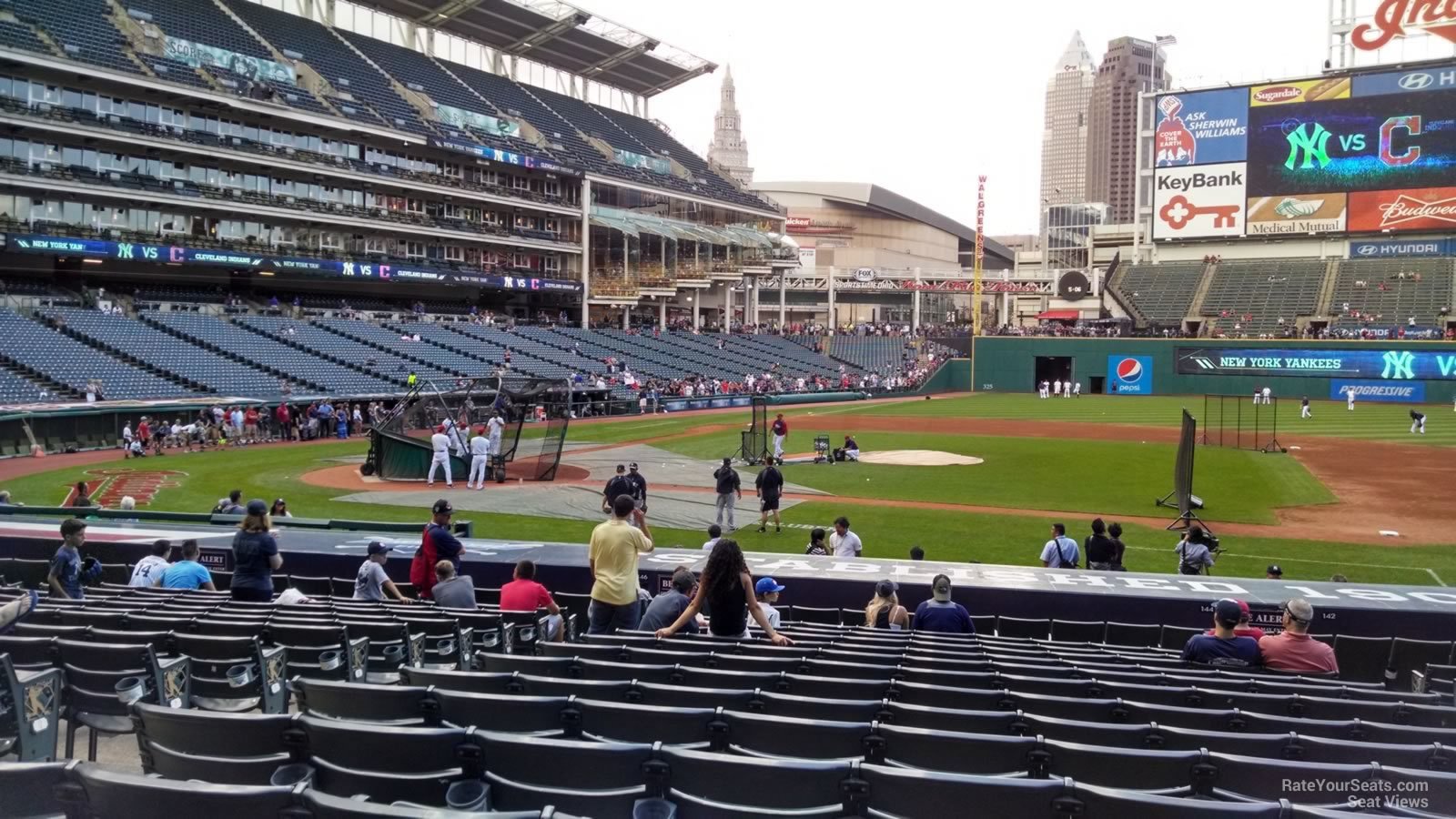 Best Seats for Visiting Team Fans at Progressive Field
Recommended seats are highlighted on the map
It's difficult for a visiting team fan to find a better spot than right behind the visitors dugout along the first base line at Progressive Field. The dugout suites behind home plate make it hard to tell where the team bench actually comes to an end, but rest assured that sections 140-146 give you the best perch for watching your team's players as they enter and exit between innings. Opt for lettered rows F-O to stay within 10 rows of the dugout where you get tremendous views of the infield and excellent alignment to the impressive left field videoboard. If you are lucky enough to score a seat in row F (up against the back wall of the dugout), you'll have some of the most impressive legroom in all of major league baseball.
Another good option for away team supporters are the lowest rows (A through E) in sections 138 and 136. These seats actually put you on the side of the visitors dugout, but unfortunately don't have great views into the bench thanks to the camera men stationed at the edges. However you'll still get excellent face time with the players as they return the bench after a half inning of defense out on the field. These are some of the closest seats to the grass that you can find without having to spend an arm and a leg on a Dugout Suite.
If you find yourself working with a budget but still looking to get to Progressive to cheer on your team as they square off against the Indians, we recommend searching in center field section 103. Low seat numbers here (best option being seat 1) provide a one of a kind spot with great views down to the adjacent bullpens. This section is also a good spot if its your first time at the ballpark, as they keep you close to some of Progressive's more unique common areas beyond center field, including Heritage Park and the Fox Sports Ohio broadcast booth. - RateYourSeats.com
Recommended Ticket Locations
Section 103
Great views down to the bullpens from the lower numbered seats
Near unique Progressive Field attractions just beyond center field
Rows F-O in Sections 140, 142, 144 and more
Right behind the visitors dugout
Excellent views of the infield
Great angle to the impressive left field videoboard
Rows A-E in Sections 136 and 138
Right beside the visiting team dugout
Excellent views of the players taking and leaving the field
Impressive proximity to the action
Ratings, Reviews & Recommendations
"Row F is the first row behind the visitor's dugout in Section 142."

"Row F is the first row behind the visitor's dugout in Section 144."

"Row F is the first row behind the visitor's dugout in Section 140."
Other Popular Seating Choices
RateYourSeats.com is the best way to search, compare and buy tickets. Select an event to find out why!