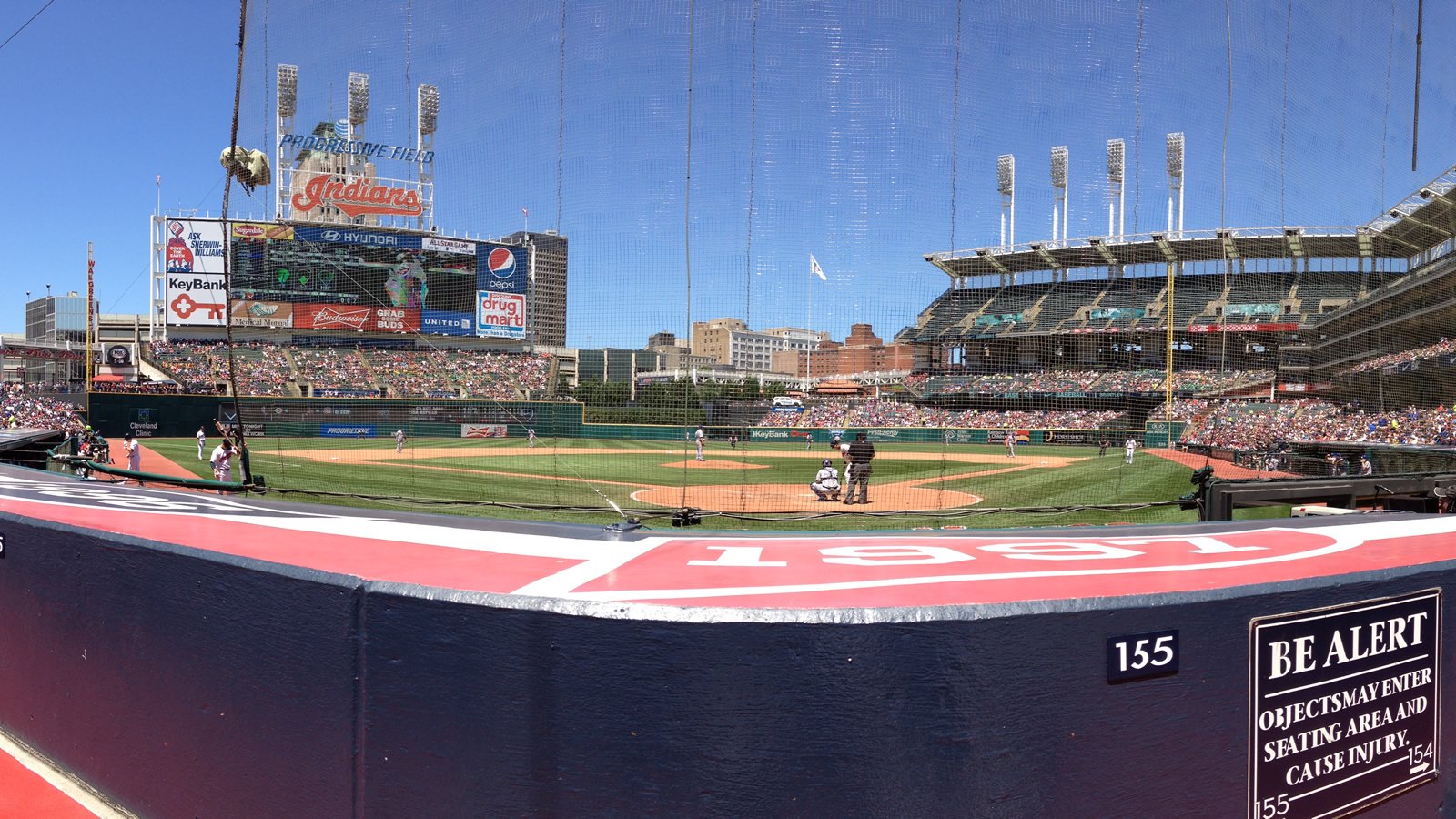 Best Seats for Impressing a Guest at Progressive Field
Recommended seats are highlighted on the map
You can't go wrong with finding an impressive seat at Progressive Field when opting for the exclusive club level sections. Found only along the first baseline in sections 326-348, fans here have the distinct pleasure of the only non-suite views on the second tier of the ballpark, and excellent head on sight lines to the massive left field videoboard. But the most notable of benefits is the all-inclusive food and non-alcoholic beverages available to all club seat ticket holders. Add in a climate controlled club lounge with upscale furniture and numerous TVs, and you're left with a winning recipe for leaving a great impression.
If a premium lounge and all-inclusive experience isn't exactly what you're looking for, we recommend considering the Diamond Box Front Row seats. Located in the very first row (F) of lower level sections 140-164, the views of the players and the field are nothing short of stunning thanks to being so close. What makes these seats even more memorable is that you'll also get to experience some of the most generous legroom a fan could find across the MLB (it feels as if there are two empty rows in front of you). The one downfall here is that you won't get to rest your food and beverage on top of a dugout or a dugout suite, but you'll never need to bother another fan as you try to reach your seat thanks to the makeshift aisle created by the enormous legroom.
Should you be working with a healthy budget when trying to find a great seat for impressing a guest at an Indians game, the Dugout Suites provide a one of a kind experience that is sure to never disappoint. These private 12 person suites literally give you a dugout style view as your eye level will be only a foot or so above the surface of the field. Each suite comes with a private restroom, suite attendant, and optional catering service. You won't find a closer seat to home plate, and fans here are also frequently seen in the background of the television broadcast. - RateYourSeats.com
Recommended Ticket Locations
Sections 326, 328, 330 and more
Good elevated view from the first base side of the field
Exclusive club level amenities
Inclusive food and non-alcoholic beverages in addition to climate-controlled club access
Rows F in Sections 140, 142, 144 and more
Some of the best legroom in all of baseball from the Diamond Box Front Row
Amazing views incredibly close to the field
You'll never need to get up to let someone move through the seating row
Sections 1, 2, 3 and more
Truly unique experience in a dugout style suite
As close as you can get to the batters box at Progressive Field
Great spot for making it on to the television broadcast
Ratings, Reviews & Recommendations
The club seats at Progressive Field are special because they offer food and beverage service at your seats.
No standing in line at the concessions; a server will bring the food to you. The menu features more than just the standard hot dog and peanuts fare; there are sandwiches, pizza and a variety of snack items.
Other Popular Seating Choices
RateYourSeats.com is the best way to search, compare and buy tickets. Select an event to find out why!