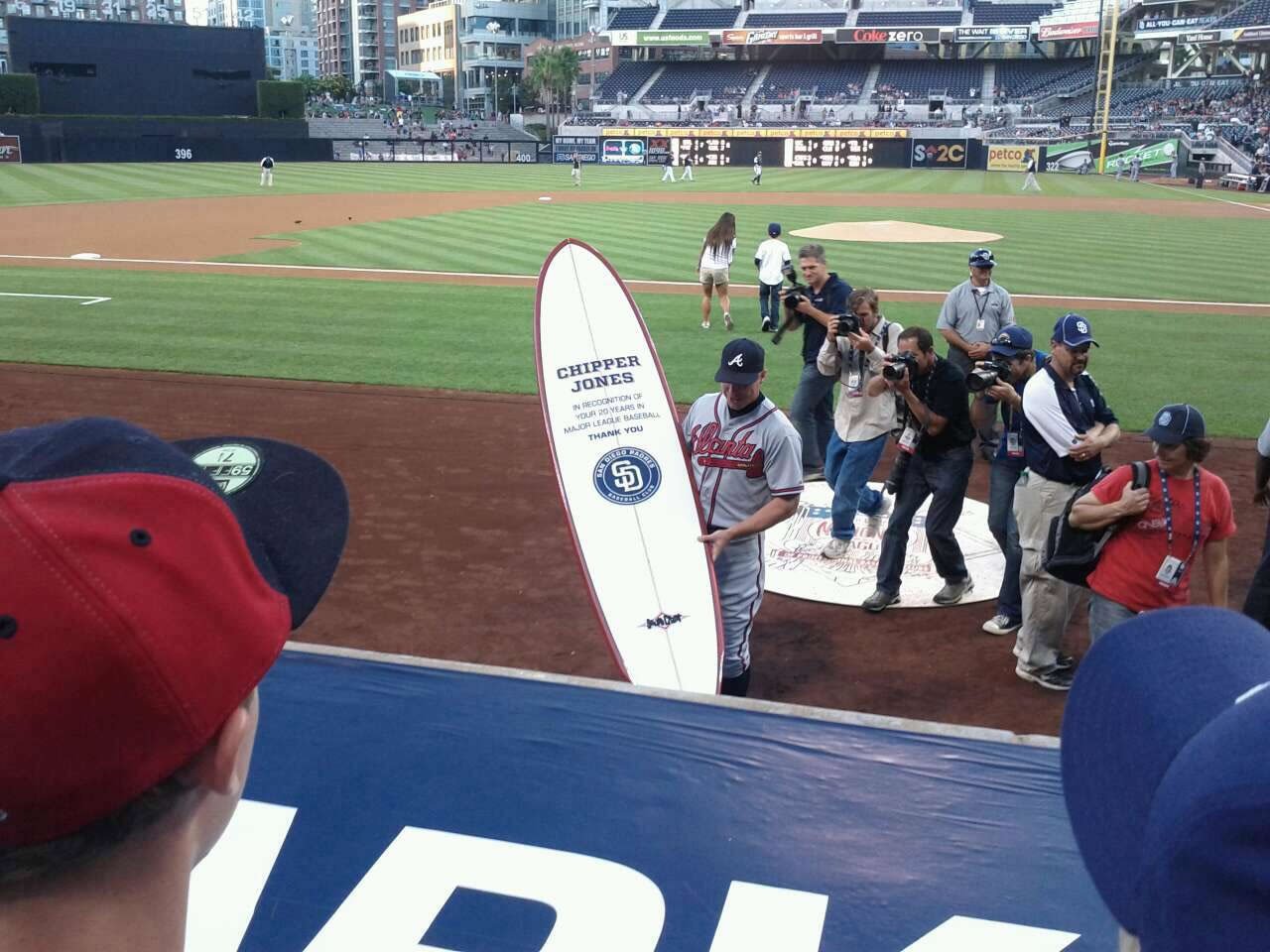 Best Seats for Visiting Team Fans at PETCO Park
Recommended seats are highlighted on the map
Some of the best seats for a visiting team fan at Petco Park are found right by the visitors dugout down the third base line. Not only do you get impressive views of your favorite players as the take and leave the field, but you'll also be closer to the best concentration of away team fans during a Padres game. For the best alignment with the center of the dugout, opt for seats in rows 8-17 of section 108 which are right near the middle of the structure and within 10 rows (seats in row 8 will have their feet at the back of the dugout).
Section 110 also has a few seats which are directly behind the dugout on the right side of the section (seat numbers 1-3 in row 8), but the unique thing here is that the section has a number of options which will be even closer to the field. Rows 5-7 put you just beside the dugout for a one of a kind view of the players as they retreat back after a half inning out in the field playing defense. A ticket in seat 4 of rows 5-7 will have you right up against the side of the visiting team dugout.
Another option we recommend for visting team fans are sections 130-134 in right center field, especially if its your first time at Petco. From here you will be right next to the bullpens which are located on the center field side of section 134. These seats also keep you a short walk away from some of the more unique areas at the ballpark, including the Beach just beyond the center field wall, and the general admission Park at the Park lawn seating area. A bonus for the foodies out there is the excellent selection of local food and beverage options available near the left field corner. - RateYourSeats.com
Recommended Ticket Locations
Sections 108 and 110
As close as it gets to the visitors dugout at Petco
Amazing views of the infield
Good angle to the San Diego skyline in the backdrop of center field
Sections 130, 132 and 134
Close to the bullpens in left center
Short walk to the Beach and Park at the Park
Good concentration of unique food and beverage nearby
Ratings, Reviews & Recommendations
"Row 8 is the first row behind the visitor's dugout in Section 109."
Other Popular Seating Choices
RateYourSeats.com is the best way to search, compare and buy tickets. Select an event to find out why!