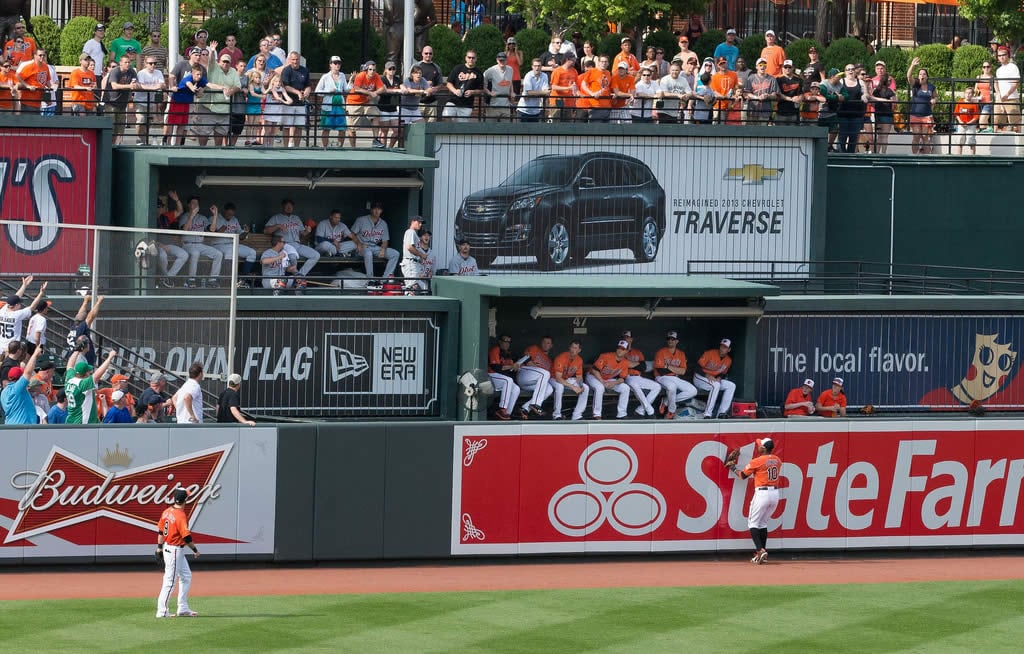 Best Seats for Visiting Team Fans at Oriole Park
Recommended seats are highlighted on the map
Photo Credit: @keithallison/flickr
If you're visiting Oriole Park and cheering on the away team, there are a few distinct seating options to consider. The first seats on your list should be those behind the visitor dugout on the third base side of the field. Row 1 in sections 48, 50 and 52 is located just above the visiting team dugout. In addition to being close to your favorite players, you'll be close to the popular Free State Pub near section 52 where you can order a locally-brewed craft beer.
For the budget-conscious fan who still wants to be close to his/her favorite players, consider seats near the visitor bullpen in section 86. The bullpens at Oriole Park are located one in front of the other with the Orioles pen just in front of the visitors. Sitting in rows 12 or higher in section 86 will have you directly adjacent to the visitor bullpen. For an even cheaper alternative, consider purchasing a Standing Room Only ticket. There are a number of SRO spaces just above the bullpens which will allow you to watch the pitchers as they warm up.
A visit to Camden Yards would be incomplete without a stroll down Eutaw Street in right field. The entertainment and activity hub of the ballpark, this area features a number of local food options, a climate-controlled pub (Dempsey's), the Bud Patio and a host of baseball-specific attractions. For night games the area is only accessible to patrons with a game ticket and is the most popular pre-game destination. For seating near Eutaw Street, consider an SRO ticket (there are standing spaces above the RF wall) or a ticket in sections 1-6. Just remember to bring a hat - this area of the park is a magnet for the sun! - RateYourSeats.com
Recommended Ticket Locations
Rows 1-10 in Sections 48, 50 and 52
Within ten rows of the visiting team dugout
Excellent proximity to the popular Free State pub
Less sunny side of the field with a direct view of the scoreboard
Rows 12-12 in Section 86
Adjacent to both team bullpens
Close access to the outfield concourse and Eutaw Street
Also consider a standing room only ticket to stand above the bullpens
Ratings, Reviews & Recommendations
"Row 1 is the first row behind the visitor's dugout in Section 52."

"Row 1 is the first row behind the visitor's dugout in Section 50."

"Row 1 is the first row behind the visitor's dugout in Section 48."
Other Popular Seating Choices
RateYourSeats.com is the best way to search, compare and buy tickets. Select an event to find out why!