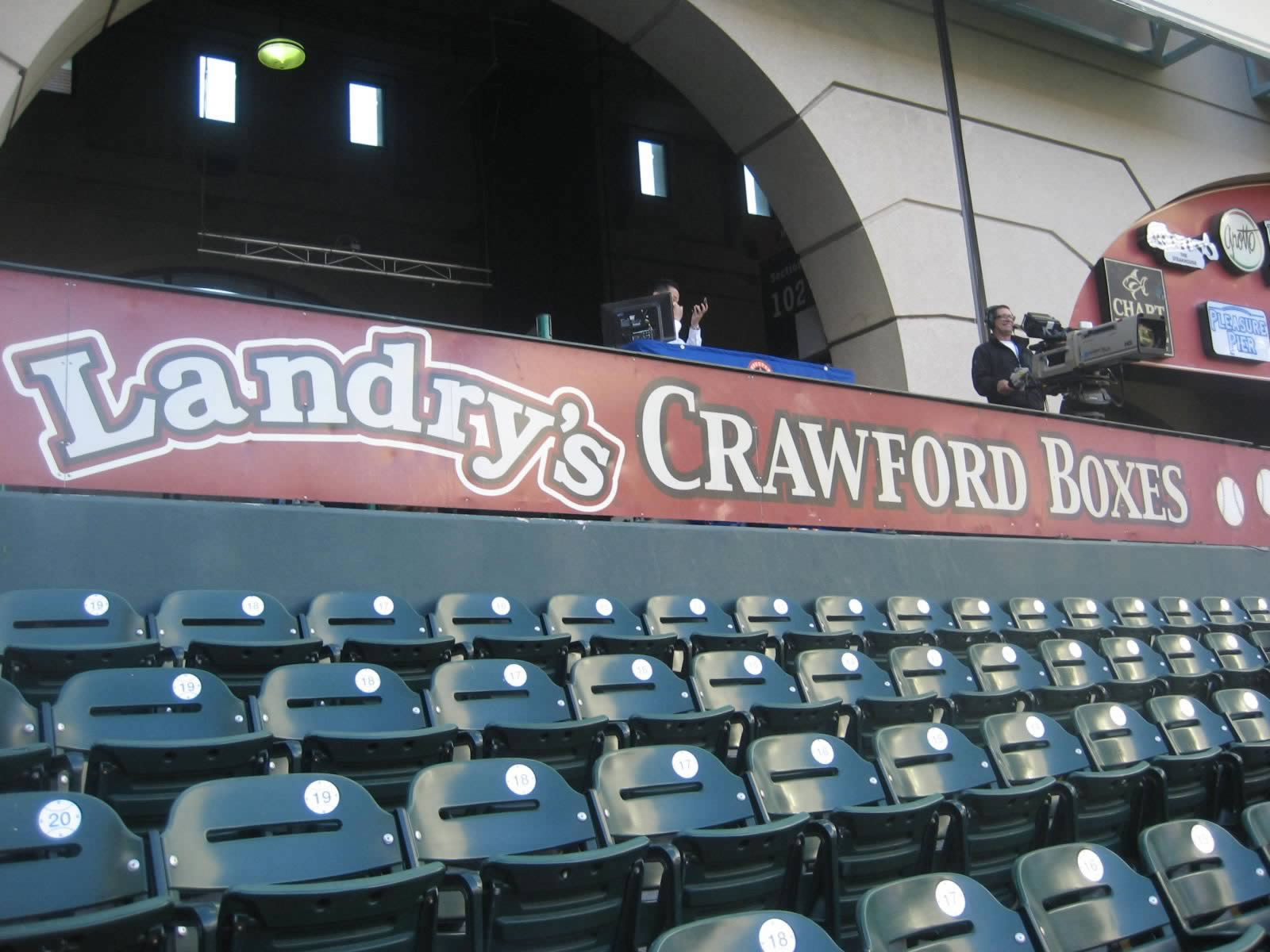 Best Seats for Visiting Team Fans at Minute Maid Park
Recommended seats are highlighted on the map
For fans traveling to Minute Maid Park to cheer on the away team, there are a few prime seating options that will maximize your experience. Whether you want a unique seating experience, want to sample the local food - or simply want to be close to your favorite players - there are accommodating tickets at every price point.
If you're simply looking to sit near your team, consider seats in and around sections 112-114. The first row in each of these sections is labeled row 5 and is directly behind the visitor dugout. Besides being close to the players, you'll have a wonderful view of the infield and videoboard and will have the sun behind you when the roof is open.
A less-expensive option for visiting fans is sitting near the visitor bullpen. While the Astros occupy the bullpen directly in front of sections 155 and 156, the visitor bullpen is tucked away in left field. There are no seats directly behind the bullpen, although the highest concentration of Standing Room Only spaces is located just above. For a reserved seat, you'd do well to secure a ticket in any section 100-102. These are located in the ever-popular Crawford Boxes where you'll get a unique view of the field and great proximity to the newly-renovated center field plaza. Low-number seats in Section 100 are located closest to the visiting bullpen.
If eating and drinking like a local is more important than seeing your favorite players up close, save a few bucks and target seats near sections 305-307 and 405-407. While these won't show up on any lists of the best seats at Minute Maid Park, they do offer a taste of Houston that you can't find anywhere else on the upper level. You'll find a variety of regional concessions near these sections, and the Craft Bar is located just off of Section 304. Head there to grab a draft beer and take in the view of downtown Houston. - RateYourSeats.com
Recommended Ticket Locations
Sections 100, 101 and 102
Adjacent to the visitor bullpen next to Section 100
Unique seating in the Crawford Boxes above the left field scoreboard
Close access to the center field plaza with a number of pre-game hang-outs
Rows 5-14 in Sections 112, 113 and 114
Within ten rows of the visitor dugout
Excellent view of the field and a head-on view of the videoboard
Among the first lower level sections to get shade, so you won't leave Houston with a sunburn
Rows 1-9 in Sections 305, 306, 307 and more
Near the highest concentration of regional food and drink on the upper concourse
Near Union Station entrance and easy access to center field plaza
One of the lowest ticket prices despite a good angle to the field and videoboard
Ratings, Reviews & Recommendations
"Row 5 is the first row behind the visitor's dugout in Section 114."

"Row 5 is the first row behind the visitor's dugout in Section 113."

"Row 5 is the first row behind the visitor's dugout in Section 112."
Other Popular Seating Choices
RateYourSeats.com is the best way to search, compare and buy tickets. Select an event to find out why!
Event Schedule
Astros
Other Baseball
Concert