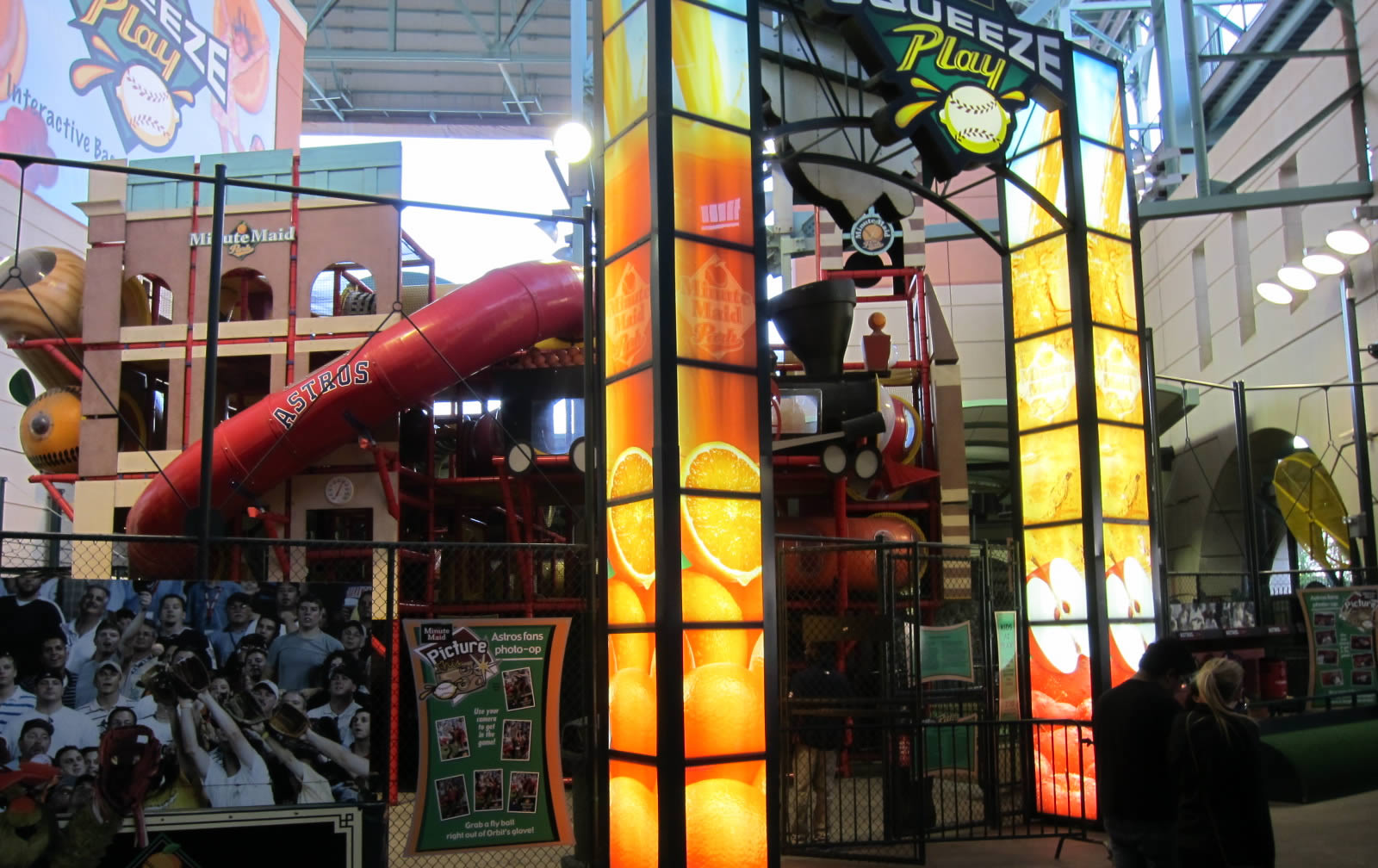 Best Seats for Kids and Family at Minute Maid Park
Recommended seats are highlighted on the map
With an entire area dedicated to kids, good weather and a train running on tracks above the stadium, Minute Maid Park is favorite summertime destination for families in Houston.
The Astros have devoted a large area of the ballpark in right field to what they call Squeeze Play - a play area designed for kids. This area opens 30 minutes after gates open (gates typically open 90-120 minutes before first pitch) and runs until the 7th inning. Kids 12 and under will be able to try their hand at speed pitch, batting practice and even a climbing structure to play on. The area can be accessed near the right field entrance outside of sections 132 and 133. If you plan to sit in sections near Squeeze Play, be advised that these are some of the sunniest seats in the ballpark during the afternoon and early evening.
Minute Maid Park features a retractable roof which helps prevent rainouts and keeps fans dry during inclement weather. The roof is also closed when temperatures soar into the high 80s. For games when the roof is open and temperatures are still in the 80s, families and those sensitive to the sun will want to avoid most seats on the first-base side of the field - especially those near the right-field corner. Even when it's not too hot outside, the sun wreaks havoc on fans by blinding them as they look back towards home plate. To avoid the risk of sunburn, always consider seats on third base side of the field first. - RateYourSeats.com
Recommended Ticket Locations
Sections 251, 252 and 253
Family, mens and womens restrooms in 252 and 253
Lower ticket prices
Most seats shaded by the roof even when it is open
Sections 132 and 133
Closest sections to the Kids Zone, featuring speed pitch, batting practice, a juice bar and family picnic tables
At field level, but far enough from home plate to not be overly concerned about dangerous foul balls
Head-on view of the train above left-field
Sections 208, 209 and 210
Little concern about the sun - these seats are generally shaded and you can always escape to the lounge
Among the cheapest club level tickets
Head-on view of the replay board and close proximity to the train tracks
Sections 106, 107, 108 and more
Most affordable way to stay out of the sun on the lower level
Close proximity to the main concourse, Union Station entrance and Astros team store
Quality views of the videoboard and comfortable looks of the game
Other Popular Seating Choices
RateYourSeats.com is the best way to search, compare and buy tickets. Select an event to find out why!
Event Schedule
Astros
Other Baseball
Concert
Other
Spring Training - Cleveland Indians at Houston Astros

Minute Maid Park - Houston, TX

Monday, March 23 at Time TBA

Spring Training - Cleveland Indians at Houston Astros

Minute Maid Park - Houston, TX

Tuesday, March 24 at Time TBA

Los Angeles Angels of Anaheim at Houston Astros

Minute Maid Park - Houston, TX

Thursday, March 26 at 3:10 PM

Los Angeles Angels of Anaheim at Houston Astros

Minute Maid Park - Houston, TX

Friday, March 27 at 7:10 PM

Los Angeles Angels of Anaheim at Houston Astros

Minute Maid Park - Houston, TX

Saturday, March 28 at 6:10 PM

Los Angeles Angels of Anaheim at Houston Astros

Minute Maid Park - Houston, TX

Sunday, March 29 at 1:10 PM

Los Angeles Angels of Anaheim at Houston Astros

Minute Maid Park - Houston, TX

Friday, April 17 at 7:10 PM

Los Angeles Angels of Anaheim at Houston Astros

Minute Maid Park - Houston, TX

Saturday, April 18 at 6:10 PM

Los Angeles Angels of Anaheim at Houston Astros

Minute Maid Park - Houston, TX

Sunday, April 19 at 1:10 PM

Philadelphia Phillies at Houston Astros

Minute Maid Park - Houston, TX

Wednesday, July 8 at 7:10 PM

Philadelphia Phillies at Houston Astros

Minute Maid Park - Houston, TX

Thursday, July 9 at 7:10 PM

Arizona Diamondbacks at Houston Astros

Minute Maid Park - Houston, TX

Tuesday, August 4 at 7:10 PM

Arizona Diamondbacks at Houston Astros

Minute Maid Park - Houston, TX

Wednesday, August 5 at 7:10 PM

Seattle Mariners at Houston Astros

Minute Maid Park - Houston, TX

Wednesday, August 19 at 1:10 PM

Seattle Mariners at Houston Astros

Minute Maid Park - Houston, TX

Saturday, September 5 at 6:10 PM

Los Angeles Angels of Anaheim at Houston Astros

Minute Maid Park - Houston, TX

Monday, September 14 at 7:10 PM

Los Angeles Angels of Anaheim at Houston Astros

Minute Maid Park - Houston, TX

Tuesday, September 15 at 7:10 PM

Baltimore Orioles at Houston Astros

Minute Maid Park - Houston, TX

Thursday, September 17 at 7:10 PM

Baltimore Orioles at Houston Astros

Minute Maid Park - Houston, TX

Friday, September 18 at 7:10 PM

Baltimore Orioles at Houston Astros

Minute Maid Park - Houston, TX

Saturday, September 19 at 6:10 PM