Midflorida Credit Union Amphitheatre VIP Box Seats
Club seats are highlighted on the map
Features & Amenities
If you're looking for the ultimate concert experience at the MidFlorida Amphitheatre in Tampa, look no further than the VIP Box Seats at the center of the venue. You'll be seated on a stadium-style chair like other reserved seat ticketholders, but the similarities stop there. Your seats will feature more legroom than any other seat in the venue - perfect for spreading out or getting on your feet and dancing. You'll also be on the aisle - making it easy to get in and out without stepping on the feet of a dozen strangers.

If you'd rather enjoy the show and not leave your box, you don't have to! For most shows, each box features in-seat wait service with a full menu of concessions and drinks. Put in an order, kick back (or stand up) and enjoy your fantastic view of the stage. All boxes are located at the center of the venue, providing them with the best, unobstructed sitelines and some of the best acoustics.

In addition to fine wait service and the great location of your box seats, fans are usually able to enjoy access to the VIP Lounge before, during or after the show. The lounge features complimentary appetizers, a full bar, and table seating - all underneath a covered pavilion.

VIP ticketholders will also have the opportunity to park in the VIP Parking lot and use the VIP entrance. These privileges will save you a lot of time entering and exiting the venue.

Please see the seller notes for more specific Box Seat information for your desired show.

Boxes Seating Chart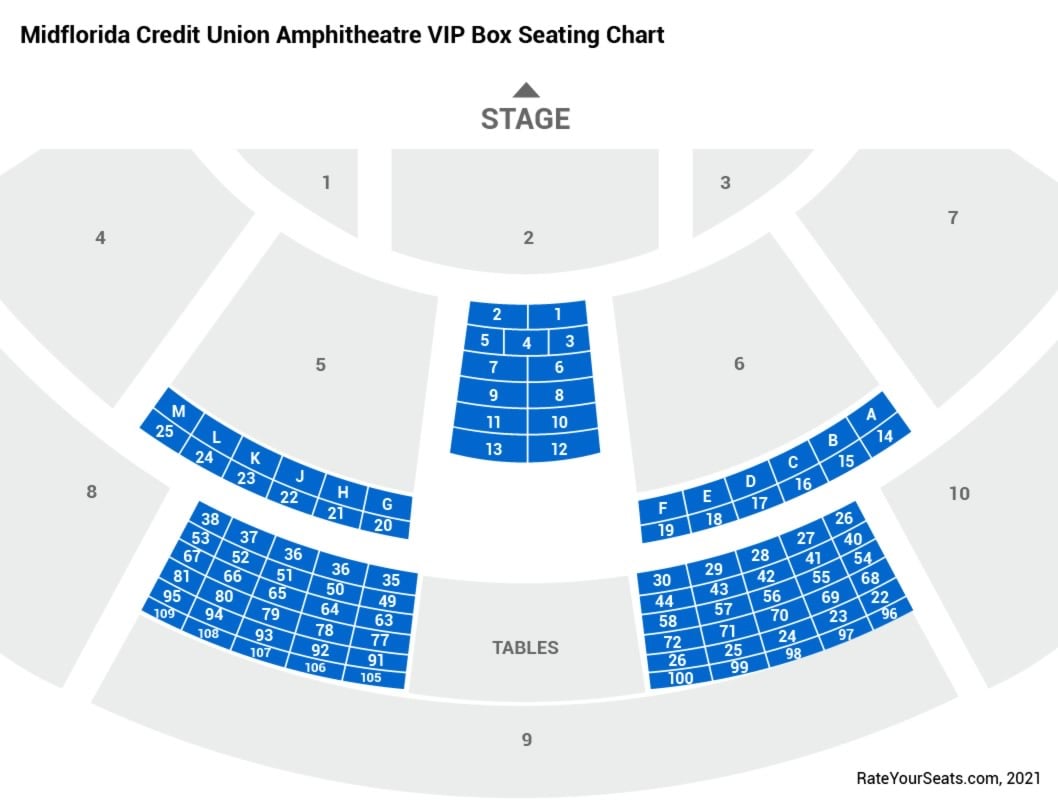 Ratings, Reviews & Recommendations
"Goo Goo Dolls and Train - Jul 7, 2019"

(VIP Box Seats) -

"Chris Young - Sep 13, 2019"

(VIP Box Seats) - -

The seats were amazing. Lots of leg room to get up and move, you didn't trip over people. Others without tickets to that area couldn't get in. And you didn't have to go any where to order drinks or food, they had servers who took your order and brought it to you. It was the ultimate experience.

"ZZ Top - Oct 19, 2019"

(VIP Box Seats) -
RateYourSeats.com is the best way to search, compare and buy tickets. Select an event to find out why!