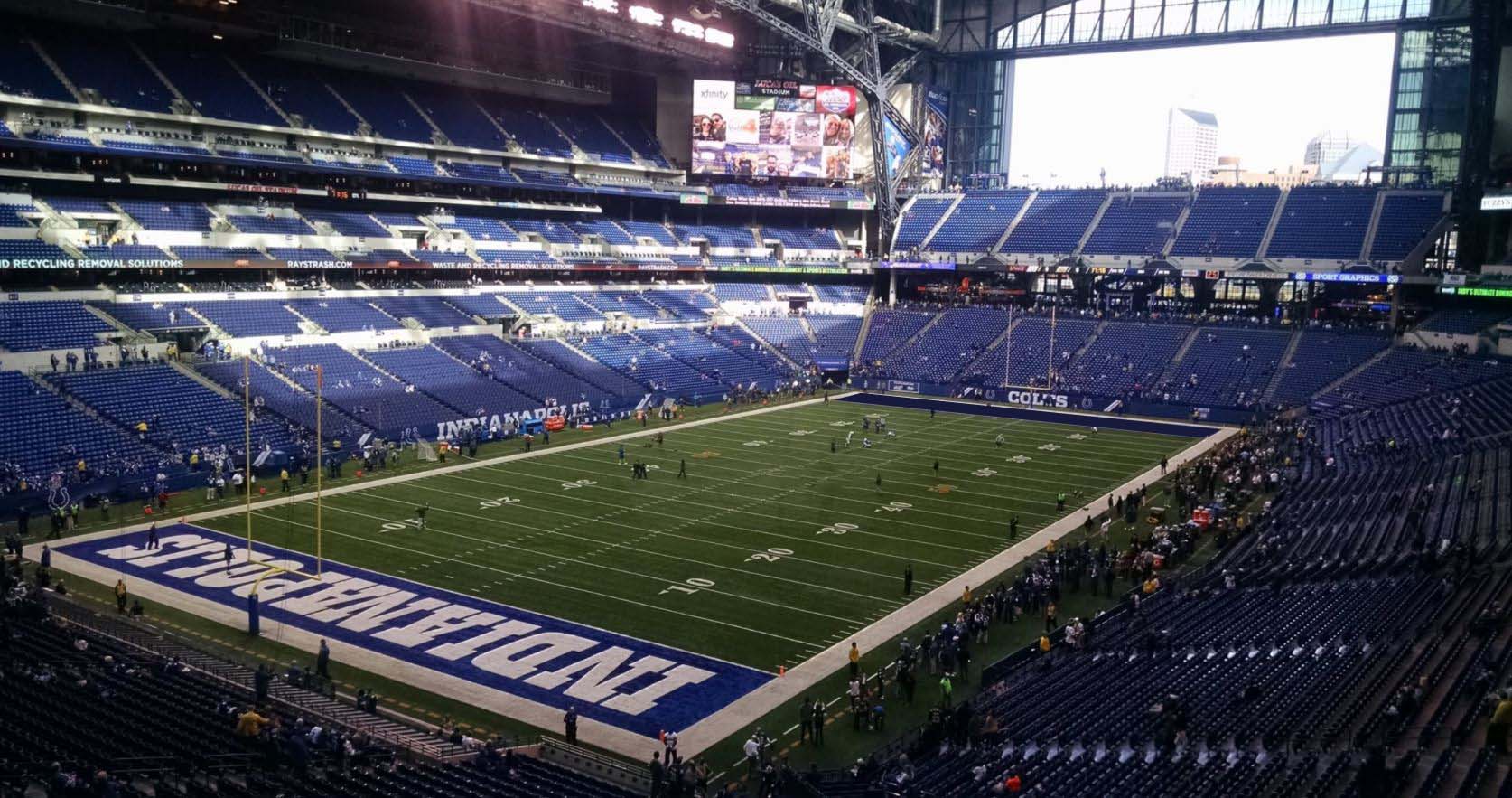 Best Seats for Great Views of the Field at Lucas Oil Stadium
Recommended seats are highlighted on the map
Lucas Oil Stadium is unique among football venues in that none of its sideline sections have more than 29 rows of seats. Instead of being built with a few expansive seating bowls, the home of the Colts is split up into a number of smaller seating levels and sections. For fans who wish to keep a close eye on the game, these smaller sections are often a major benefit.
Small Sections = Easy Maneuverability = More Time in Your Seats
It's rare to find a fan who sits down in his/her seat at kickoff and does not move for the next three hours. Whether it's grabbing a concession or using the facilities, fans often have to get up and move around. This can be difficult at most large football stadiums where you may have to walk 20 or more rows to reach the concourse. Although timeouts seem to last forever, there's a good chance you're going to miss some actual game clock if you leave your seats. At Lucas Oil Stadium, the small sections make it easy to reach the concourse so you can return to your seats as quickly as possible.
The lower level includes the largest sideline sections with up to 29 rows in each section. We highly recommend rows 20 and above where you'll be just a few steps away from the tunnel and your view of the game won't be blocked by the players.
In levels 200-500 you're going to find an outstanding view pretty much anywhere along the sideline. The elevation and angle of these seats leads to excellent sitelines. And with the largest sections containing just 11 rows, you're never too far from a restroom or beer stand. The best views come from the 300 and 400 levels, but as club seats they are usually 2-3 times more expensive than 500 level seats (which have a surprisingly-similar view).
One downside to having such small sections is having a railing or glass partition at the front of each section. These nuisances aren't as obstructive at Lucas Oil Stadium as they are elsewhere, but we recommend skipping the first 2-3 rows in most elevated sections just to be on the safe side.
Best Sections Away From the Sideline
While the best views will come from elevated sideline sections, the best views in terms of value come from a few corner sections on the 200 and 300 levels. Sections 220-222, 247-249, 320-322 and 347-349 are directly across from the stadium's videoboards. Corner sections already provide some of the most comfortable sitelines - and when you combine them with a head-on view of the scoreboard - they become our favorite seats for saving a little cash. Tickets in these sections are comparable to midfield tickets in the 600 level, but these provide a better overall experience. - RateYourSeats.com
Recommended Ticket Locations
Rows 20-24 in Sections 111, 112, 113 and more
Best views from the lower level
Enough elevation to see side-to-side comfortably
Very good views of the field with reasonably easy views of the videoboard
Rows 3-9 in Sections 211, 212, 213 and more
Good, elevated views of the field and videoboards
Rows 3 and above make it easier to see over the railing and walkway
Within ten rows of the section entrance for easy trips to/from amenities
Sections 310, 311, 312 and more
More elevation than lower level for more comfortable views
Super small sections make it easy to get in and out
Rows 2-10 in Sections 410, 411, 412 and more
Among the best seats for the fan who wants a comfortable view
Excellent views of the field and easy looks toward the videoboards
Avoid the first row so you don't have to deal with the railing
Sections 510, 511, 512 and more
Some of the best upper level views in the NFL
All rows are close to the section entrance
Worth the additional cost over 600 level seats
Sections 220, 221, 222 and more
Best seats for seeing the corner videoboards
Sections are angled towards midfield, allowing for comfortable sitelines
Other Popular Seating Choices
RateYourSeats.com is the best way to search, compare and buy tickets. Select an event to find out why!
Event Schedule
Colts
Other Football
Other Basketball
Other