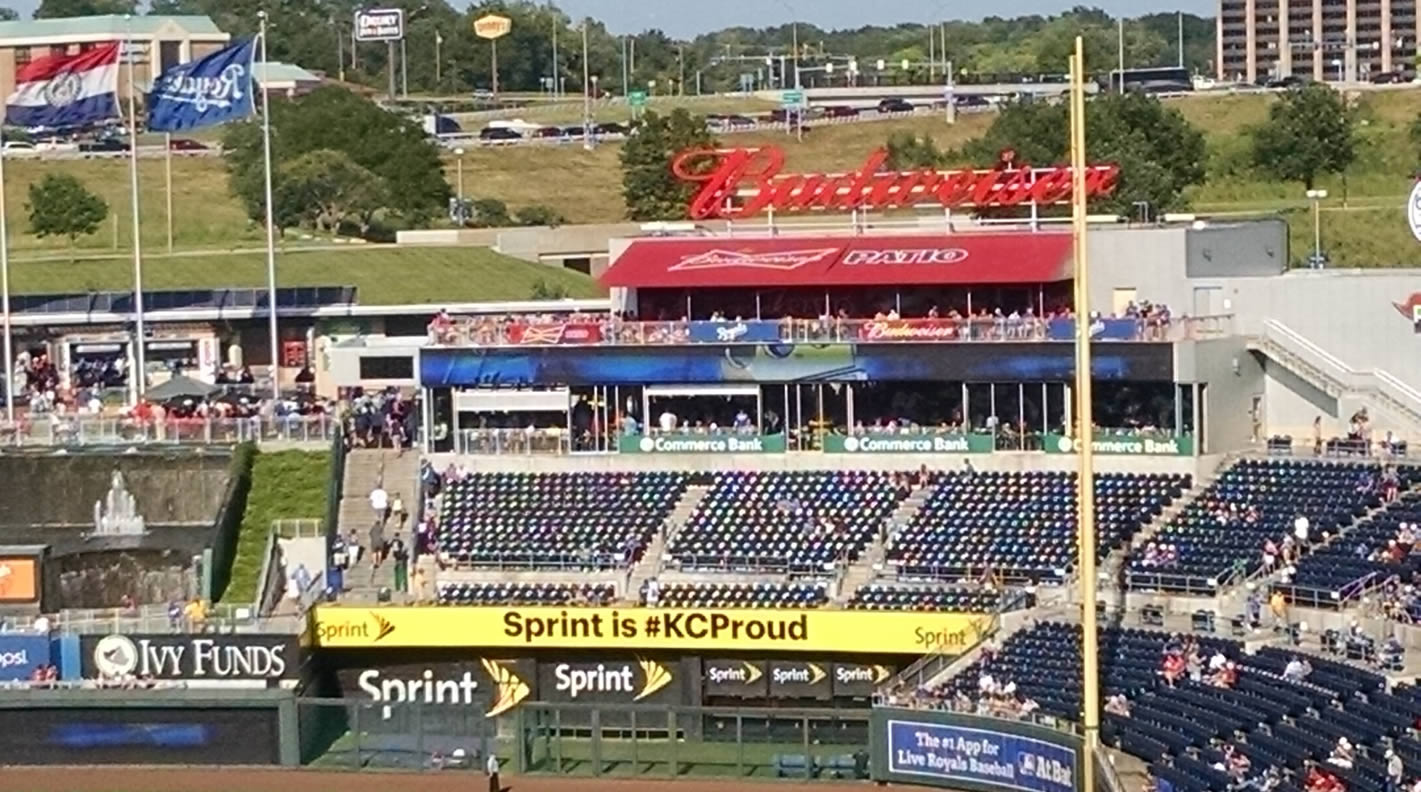 Best Seats for Visiting Team Fans at Kauffman Stadium
Recommended seats are highlighted on the map
While Kansas City may not be top-of-mind as a vacation destination, Kauffman Stadium offers out-of-town baseball fans a good ballpark, plenty of in-stadium watering holes and ticket prices affordable on nearly any budget.
If you're coming to the K to cheer on the opposing team, you'll want to target tickets in the first few rows of sections 119-122. Row A is the first row in each of these sections and is directly behind the visitor dugout. Unfortunately, these seats require a relatively long walk to concessions and restrooms. If convenience is important to you, section 119 will keep you close to your favorite team and close to the field level concourse tunnel.
Another consideration for fans of the visiting team are seats in right field above the visitor bullpen. Sections 150-152 are all within four rows of the visitor bullpen - giving you a chance to watch the pitchers as they warm up. Given the small size of these sections, tickets might be difficult to come by. If that's the case, sections 250-252 are just above the walkway from 150-152 - but don't have much of a view of the bullpen. If purchasing a ticket in right field, just keep in mind that these are among the sunniest (and hottest) seats in all of baseball. Hats, sunglasses and other sun protection are essential.
One advantage of sitting in the sunny outfield seats is close proximity to a number of features on the outfield concourse. Near the visitor bullpen are the Bud Patio and Bullpen Bar. The area around Kauffman Stadium offers very little in the way of pre-game hot-spots, so we recommend grabbing a drink in one of the outfield bars and keeping an eye on batting practice. If you arrive early enough, you should be able to grab a covered and shaded spot in one of the bars in right field.
As you make your way from right to left field around the outfield concourse, you'll pass a series of fountains, which are the signature trademark of Kauffman Stadium. Another popular pre-game destination - the Fountain Bar - is located in left field near sections 201-203.
If you're visiting Kansas City for a baseball trip, you'd be remiss to skip out on the Negro Leagues Baseball Museum. Just a ten-minute drive from the Royals Stadium, the museum offers highly recommended exhibits for a low $10 admission fee. - RateYourSeats.com
Recommended Ticket Locations
Rows A-J in Sections 119, 120, 121 and more
Within ten rows of the visitor dugout
Excellent view of the infield and the batter-pitcher exchange
Sections 150, 151, 152 and more
Close to the visitor bullpen - located above sections 150, 151 and 152
Close proximity to pre-game bars, including the patio and bullpen bar
Near the outfield concourse where you can tour the fountains and check out the Outfield Experience
Craft and Draft
Best new place to drink and eat - an experience unique to Kauffman Stadium
Excellent spot to grab one of 70 different beers and an artisan pizza
Ticketed and non-ticketed seating options in a shaded and covered area of the loge level
Ratings, Reviews & Recommendations
"Behind the Visiting Team Bullpen"

"Behind the Visiting Team Bullpen"

"Row A is the first row behind the visitor's dugout in Section 121."
Other Popular Seating Choices
RateYourSeats.com is the best way to search, compare and buy tickets. Select an event to find out why!