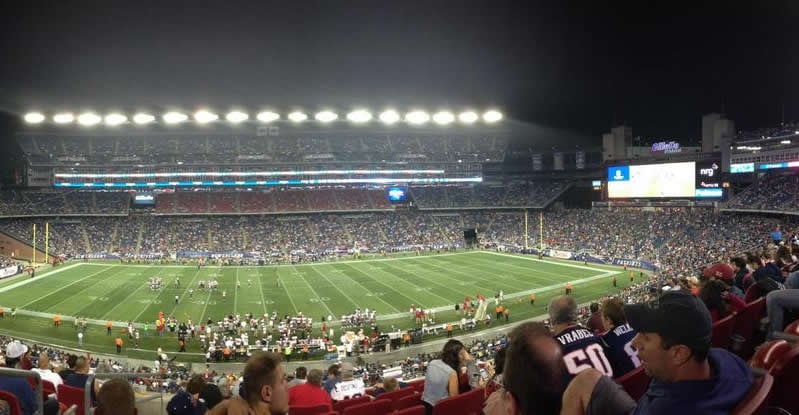 Best Seats for Impressing a Guest at Gillette Stadium
Recommended seats are highlighted on the map
For an impressive spot at Gillette Stadium for a Patriots football game, look no further than the premium Putnam Club seats located near midfield on their own private seating deck. Not only will you have spectacular sideline oriented views from an absolutely perfect viewing height, but you also get the great perks that comes with being a club seat ticket holder. The wider plush seats while watching the game are a very nice touch, and your guests are sure to appreciate the upscale environment of the luxurious club lounge which has top notch food and beverage options available for purchase. Entry tunnels are located at the top of the sections, so you'll just have to make a choice as to whether you prefer to have closer views in the lower rows, or shorter walks to and from the lounge in the upper rows. When searching for Putnam Club tickets, we recommend passing on sections 6, 13, 28, and 35 as the additional railings at the sides of these sections can create sub par views of the near endzone for select seats.
While you won't get the same red carpet treatment on the lower seating tier, the highly sought after 50 yard line views in sections 109-110 and 131-132 are another great spot for providing a memorable outing. Opt for seating rows 20 and up where the seating height creates optimal views, and your guests will be amazed by the perfect positioning for taking in a football game. Should the weather forecast be less than ideal, you can even find overhead coverage if you search further up in rows 34 and higher on the east sideline (sections 109 and 110). Pats fans will want to be in sections 109-110 where you are closer to the home team sideline, but if your guest is a supporter of the visiting team, opt instead for sections 131-132 on the west sideline.
One of the more unique options for an impressive gameday experience at Gillette Stadium is to purchase a pass to the Optum Field Lounge located just behind the south endzone. It is important to note that these passes will not get you entry into the stadium for the game (you still need to purchase a ticket elsewhere in the stadium!), however once inside the gates you can access this luxury lounge and stay for the whole the game if you desire. The lounge features a climate controlled indoor space decked out with numerous TVs, bars, and premium food and beverage for purchase, or you can head to the outdoor terrace which is right at field level and just behind the endzone! The Optum Lounge Club passes are difficult to come by, and if you do happen to find one available for purchase, don't be surprised by the expensive price tag. - RateYourSeats.com
Recommended Ticket Locations
Rows 3-23 in Sections CL10, CL11, CL12 and more
Amazing elevated view from the 50 yard line
Access to upscale Putnam Club lounges
Exclusive amenities, including padded seats and premium food and beverage
Rows 20-38 in Sections 109, 110, 131 and more
Highly desirable 50 yard line seats on the lower tier!
Optimal viewing height in rows 20 and up
Other Popular Seating Choices
RateYourSeats.com is the best way to search, compare and buy tickets. Select an event to find out why!
Event Schedule
7Mar

Chicago Fire at New England Revolution

Gillette Stadium - Foxborough, MA

Saturday, March 7 at 1:30 PM

15Mar

Portland Timbers at New England Revolution

Gillette Stadium - Foxborough, MA

Sunday, March 15 at 1:30 PM

4Apr

Colorado Rapids at New England Revolution

Gillette Stadium - Foxborough, MA

Saturday, April 4 at 7:30 PM

11Apr

FC Cincinnati at New England Revolution

Gillette Stadium - Foxborough, MA

Saturday, April 11 at 7:30 PM

25Apr

Montreal Impact at New England Revolution

Gillette Stadium - Foxborough, MA

Saturday, April 25 at 1:00 PM

2May

New York City FC at New England Revolution

Gillette Stadium - Foxborough, MA

Saturday, May 2 at 7:30 PM

16May

Columbus Crew at New England Revolution

Gillette Stadium - Foxborough, MA

Saturday, May 16 at 7:30 PM

23May

Toronto FC at New England Revolution

Gillette Stadium - Foxborough, MA

Saturday, May 23 at 7:30 PM

17Jun

Seattle Sounders FC at New England Revolution

Gillette Stadium - Foxborough, MA

Wednesday, June 17 at 7:30 PM

20Jun

Orlando City SC at New England Revolution

Gillette Stadium - Foxborough, MA

Saturday, June 20 at 7:30 PM

8Jul

Atlanta United at New England Revolution

Gillette Stadium - Foxborough, MA

Wednesday, July 8 at 7:30 PM

11Jul

Nashville SC at New England Revolution

Gillette Stadium - Foxborough, MA

Saturday, July 11 at 7:30 PM

25Jul

New York Red Bulls at New England Revolution

Gillette Stadium - Foxborough, MA

Saturday, July 25 at 7:30 PM

22Aug

Sporting Kansas City at New England Revolution

Gillette Stadium - Foxborough, MA

Saturday, August 22 at 7:30 PM

12Sep

Philadelphia Union at New England Revolution

Gillette Stadium - Foxborough, MA

Saturday, September 12 at 7:30 PM