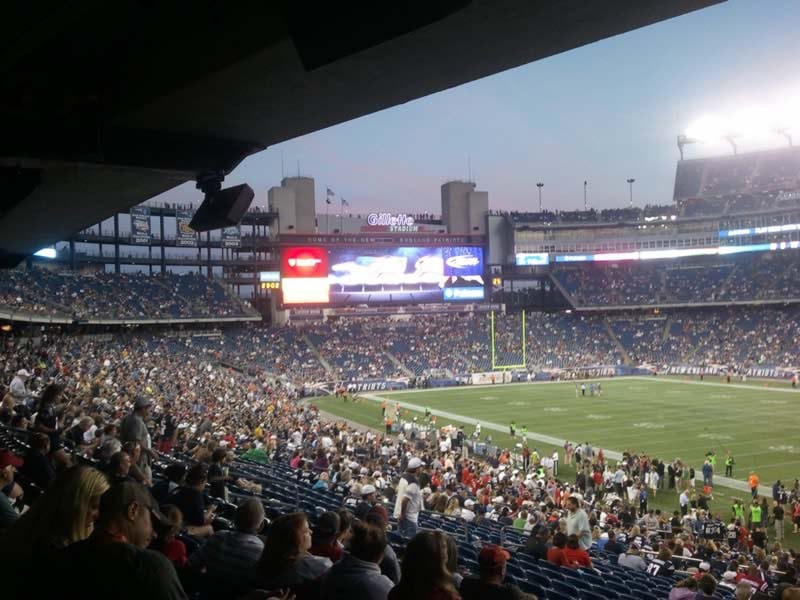 Best Seats for Kids and Family at Gillette Stadium
Recommended seats are highlighted on the map
Our list of top recommendations for bringing the family to a football game at Gillette Stadium has a clear starting point thanks to two different designated family sections. Located on the second seating tier, sections 225 and 238 feature a strict no-alcohol policy which helps to promote a less rowdy atmosphere and gentler language from neighboring fans. These second tier corner sections are very similar in regard to views, both having a comfortable angle to the center of the field from a very good viewing height. The entry tunnels are located near row 3, so we would advise searching in rows 12 and lower to keep your walk up and down the aisle at 10 rows or less.
If you prefer being on the lowest seating tier when bringing your crew to a football game, there are some excellent options located in all four corners of Gillette Stadium. The upper rows (34 and higher) of sections 102-104, 115-117, 124-126, and 137-139 are an ideal area for a family as you'll never be more than 5 rows away from the concourse - eliminating any lengthy walks up and down the aisle. But the best feature of these seats is the overhead coverage from the seating deck above, which will give you and your group some protection from the weather. If you're little ones are Patriots fans, you'll want to opt for sections 102-104 or 115-117 as these are closer to the home team sideline.
Also found on the lower seating tier, the upper rows of sections 118-122 deserve some consideration as well when searching for a good spot to bring your family. Rows 34 and above here will not have the same great overhead coverage that you'll find in the lower level corner sections mentioned previously, however you do still have the shorter walks up and down the aisles (no more than 5 rows). Views are incredibly comfortable as you simply look straight ahead to follow the action on the field and the videoboard above the far endzone. With the Optum Field Lounge located just below, there are just 20 rows of reserved seating in each of these sections, creating a smaller more comfortable atmosphere.
Finally, when searching for tickets for your family outing at Gillette Stadium, we recommend avoiding the upper portion (rows 8 and higher) of the 300 level sections whenever possible. These seats are very high up in the stadium, are exposed to the weather, and have very steep walkway aisles when moving between the seats and the concourse. - RateYourSeats.com
Recommended Ticket Locations
Sections 225 and 238
Alcohol prohibited seating area
Less rowdy and a much safer area for children
Rows 34-38 in Sections 102, 103, 104 and more
Easy walk to and from the seats
Overhead protection from the weather
Good viewing angles to the videoboards
Rows 34-38 in Sections 118, 119, 120 and more
No more than a 6 row walk to reach the seats
Comfortable straight away views of the field and videoboard
Smaller feel due to the Optum Field Lounge just below
Other Popular Seating Choices
RateYourSeats.com is the best way to search, compare and buy tickets. Select an event to find out why!