Huntington Bank Pavilion VIP Box Seats and Tables
Club seats are highlighted on the map
Features & Amenities
The FirstMerit Bank Pavilion at Northerly Island features two distinct VIP seating areas above Sections 301 through 305. Seating ranges from folding-style chairs in box groups of four to table-style seating on comfortable chairs.

For most shows, VIP seats are located within the VIP Club and offer full access to the covered two-story club lounge. The lounge features a buffet and modern outdoor furniture in an elevated area with views of the stage. An outdoor patio with tables is another part of the exclusive club and is the perfect hangout for drinks or snacks before or after the show. Private air-conditioned restrooms are also attached to the VIP Club.

In addition to club access, box seats and tables typically come with in-seat wait service, a VIP entrance and VIP parking opportunities.

Whether you're sitting at a VIP table or in one of the VIP boxes, you'll have an elevated view of the stage from a side angle. The elevation of these seats makes it easy to see the stage - something that the floor does not guarantee. However, the side angle doesn't provide the best sitelines and may leave you yearning for something with a more head-on view.

Overall, the VIP seats at Northerly Island are a great way to get comfortable seating and exclusive amenities in a venue notorious for large crowds and long lines.

Please see the seller notes for more specific Box Seat information for your desired show.
Boxes Seating Chart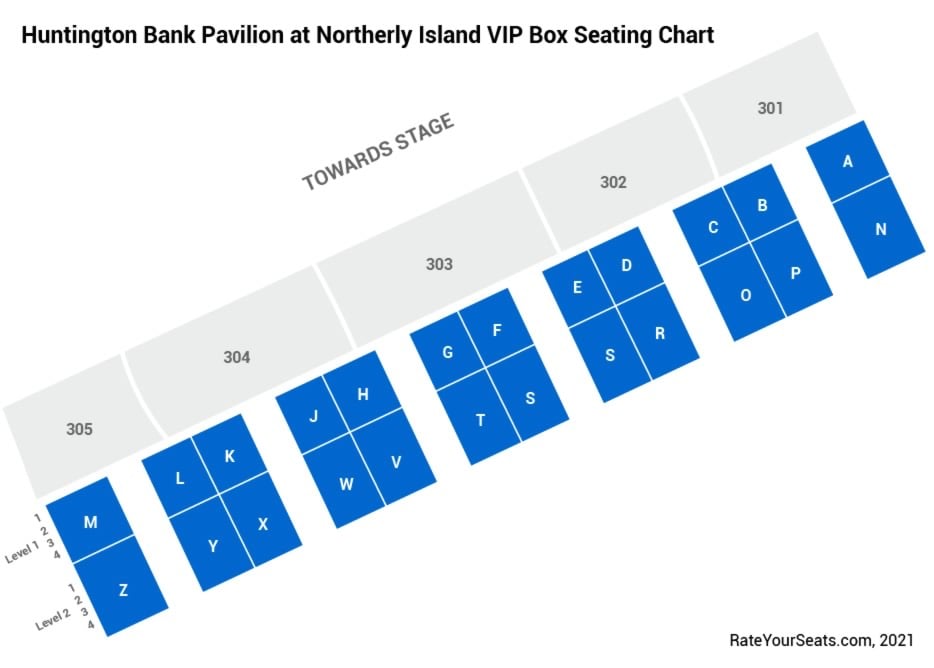 Ratings, Reviews & Recommendations
"Perfect VIP Seats in Box D"

(VIP Boxes A-Z) - -

This was my first time at Northerly Island and the show I wanted to see was primarily Pit seating. Not wanting to stand the whole time, I spent the extra money to sit in the Boxes, and I'm glad I did. First, I showed up about 10 minutes before the band I wanted to see went on. And when I arrived ...
RateYourSeats.com is the best way to search, compare and buy tickets. Select an event to find out why!