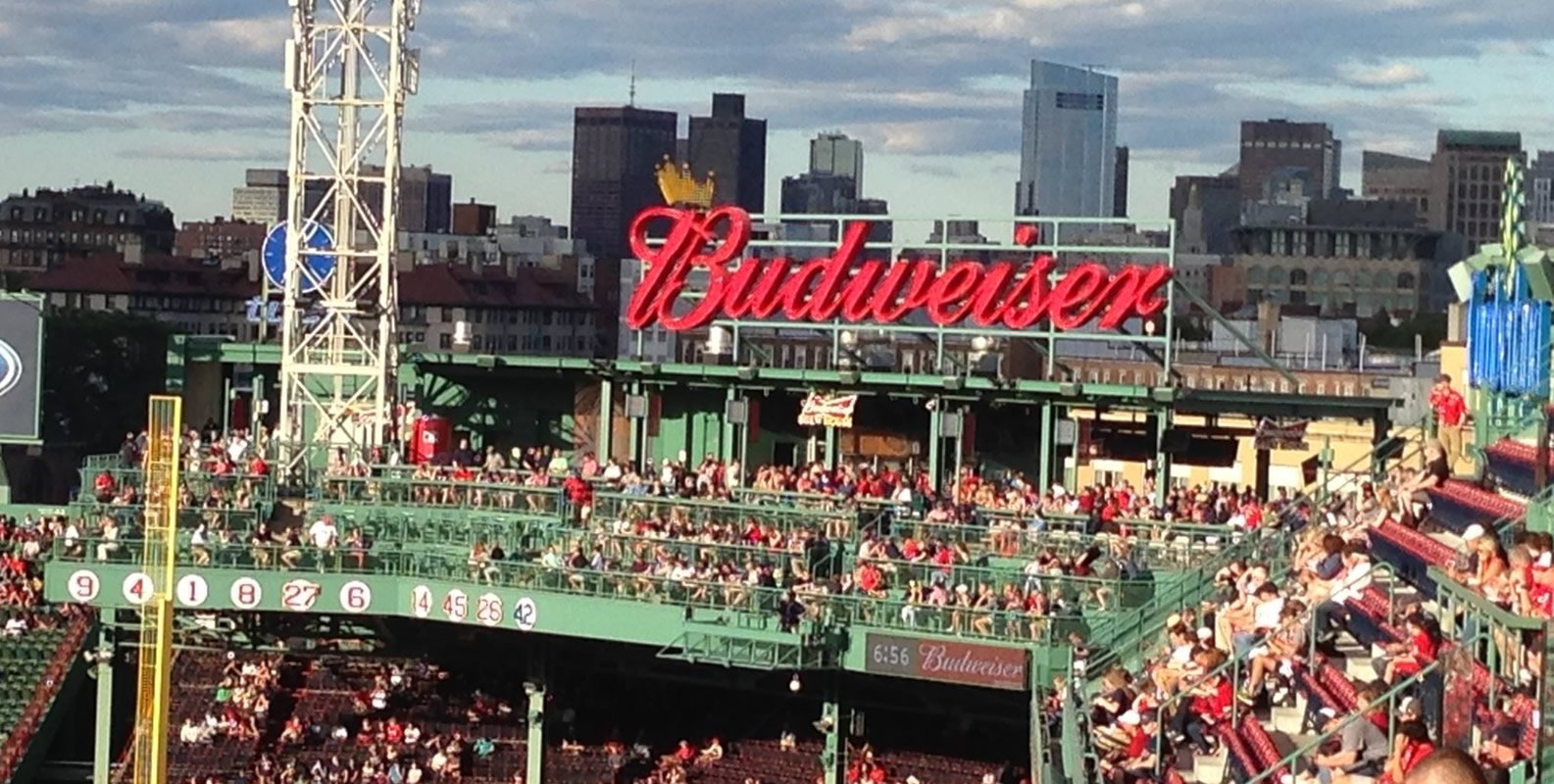 Best Seats for Partying and Socializing at Fenway Park
Recommended seats are highlighted on the map
While Fenway Park is most well-known for its historic charm, green walls and neighborhood location, the ballpark also boasts some of the best seating options for groups of friends and those looking to enjoy a beer with their baseball game. Fenway offers a number of standing areas, ledges, tables and, of course, local beers.
Though the Fenway Park bleachers don't receive as much attention as those at Wrigley Field, fans looking for a cheap Red Sox ticket and plenty of sunshine will do well sitting in one of the reserved bleacher seats in right and center field. Unlike traditional bleacher benches, these are stadium-style seats with a chairback. In fact, these seats are far more comfortable than the old-style seats found in the often-more-expensive Grandstand sections. When looking at bleachers tickets, be careful with the row you choose. There are as many as 50 rows of seating in some bleacher sections. And with concourse tunnels located at row 1 or row 6, that's a long walk up the stairs if you're carrying beers for your group. Do yourself a favor and spend a few extra dollars on seats in a lower row.
Hands-down, Fenway Park features the best standing room ticket options of any ballpark in the major leagues. Chief among these are the standing room Monster tickets in left field. Ticketholders will be able to access the Monster concourse and enjoy a similar experience to those with an ultra-expensive Monster Seat ticket. Other standing room areas include The Coca Cola Corner in left field and the Roof Boxes in right field. Both of these areas offer fans ample space to stand and watch the game while conversing with friends and enjoying a cold one. If you prefer a seat and a reserved location, the Roof Boxes also feature Tables for a group to sit around and enjoy the game. - RateYourSeats.com
Recommended Ticket Locations
Green Monster SRO
Standing room (no seats) tickets above the Green Monster
Enjoy the Monster experience at a fraction of the cost
Drink ledges available in some locations on the standing deck
Sections RD SRO and Tables
Just a few steps below the iconic Budweiser Bar in right field
Tables give you a reserved sit-down experience with plenty of space for a small group
SRO tickets allow you to stand at a bar ledge just behind the tables
Coca Cola SRO
One of the cheapest tickets for a Red Sox game
Plenty of space for friends to congregate with concessions, beer and ice cream directly behind
Rows 1-10 in Sections BL36 , BL37 and BL38
Sun-soaked bleacher seats with a center field view of the game
Within ten rows of the Big Concourse (Row 1) concessions and amenities
Rows 1-12 in Sections BL40 , BL41 , BL42 and more
Sun-soaked bleacher seats behind the Red Sox and visitor bullpen
Within six rows of the Big Concourse (Row 6) concessions and amenities
Other Popular Seating Choices
RateYourSeats.com is the best way to search, compare and buy tickets. Select an event to find out why!