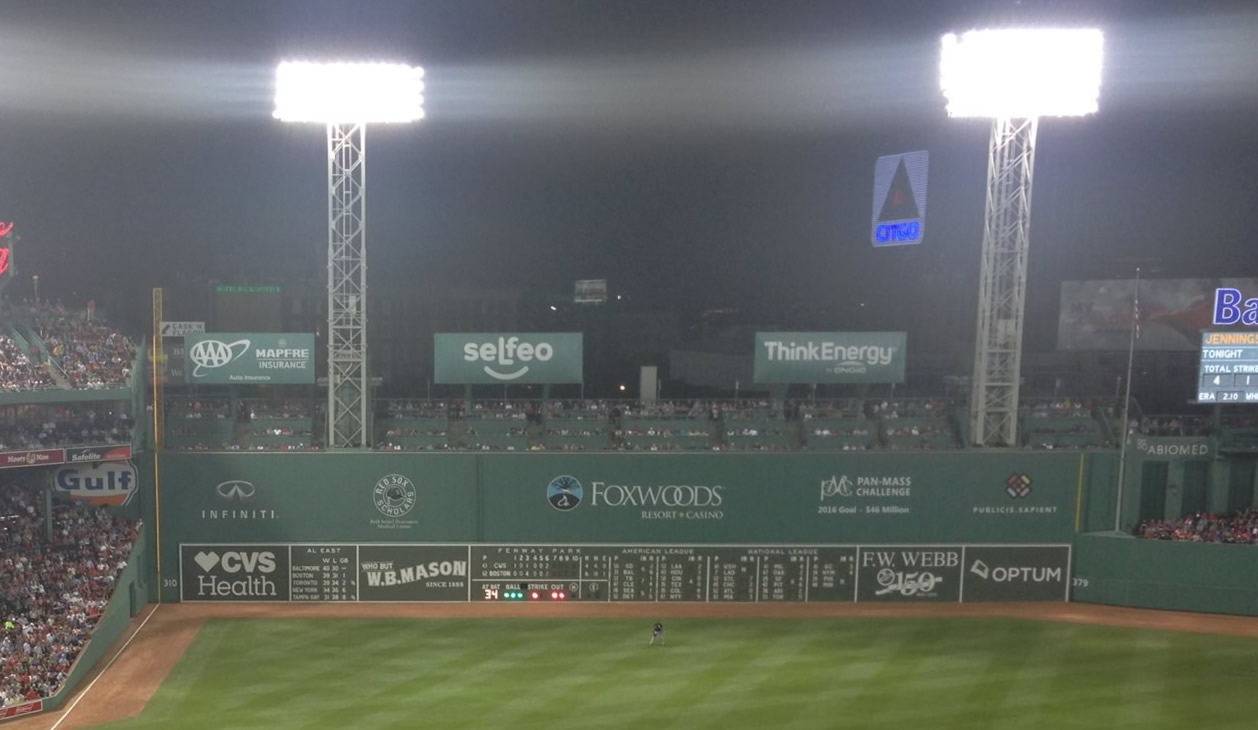 Best Seats for Getting a Ball at Fenway Park
Recommended seats are highlighted on the map
If you're headed to Fenway Park with an eye on catching a home run ball, you're going to need a little bit of luck. The Monster Seats above the Green Monster in left field do see home run balls, but they also see a number of would-be home runs dent the tall wall or fly overhead completely out of the ballpark. If you're feeling lucky, Monster sections 3-5 are your best bet for snagging a souvenir.
Catching a home run ball in right and right center fields doesn't get much easier. In the right field power alley, the Red Sox and visiting team bullpens swallow up a fair number of longballs. In fact, more balls land in center field Bleacher sections 35 and 36 than in the right field Bleachers. As an alternative, consider the front rows of sections 1-4 where you'll be on the home run side of Pesky Pole. Home runs will land there once every ten games or so, but a large number of balls will hop over the short fence for a ground-rule double.
If catching a foul ball at a Red Sox game is on your bucket list, you'll find that a lot of balls make it into the seats - but their final destinations are rather unpredictable. Many foul balls fly completely out of the stadium (over the roof) or carom off one of the many facades into the lower level.
Despite the unpredictable bounces, almost every seat at Fenway Park has a chance to come home with a souvenir. The few exception are the deepest Pavilion Boxes which are too far from home plate and the highest rows of the Grandstand which are tucked deeply beneath the EMC Level.
For your best chance at a ball, consider the aforementioned EMC Club seats, Loge Boxes down the first and third base lines and Pavilion Boxes near the infield. Finally, if you're bringing a young child, consider Field Boxes 8-10 in right field and 72-76 in left field which are located near the ball girls. A number of foul ground balls end up in their mitts and they're often looking for a smiling young fan to toss it to. - RateYourSeats.com
Recommended Ticket Locations
Sections M3 , M4 and M5
Highest concentration of home runs from right-handed batters
Even if you don't get your hands on a ball, you get a unique look at them going overhead and slamming against the Green Monster
Rows A-D in Sections 1 , 2 and 3
Located near the famous Pesky Pole
Best chance at a home run or ground rule double in right field
Unique angle towards home plate from near field level
Rows 1-3, A-B in Sections 10 , 72 , 73 and more
Located just behind the foul ball girls
Potentially a good spot for a kid to be tossed a ball
Other Popular Seating Choices
RateYourSeats.com is the best way to search, compare and buy tickets. Select an event to find out why!