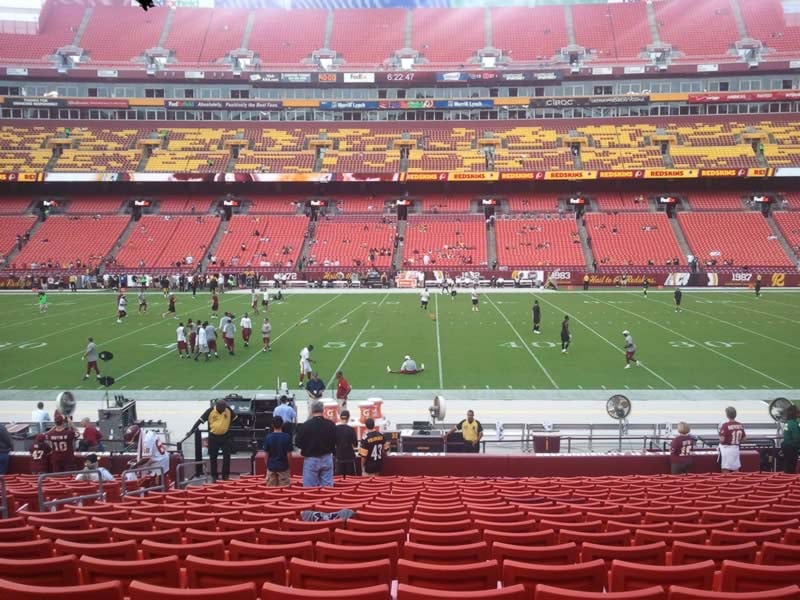 Best Seats for Great Views of the Field at FedExField
Recommended seats are highlighted on the map
FedEx Field is known for being home to some of the most obstructed views in football, and some will argue that the obstructed areas are even worse than what you might find at Wrigley or Fenway for a baseball game. But as long as you know which spots to avoid, and focus your ticket search on the recommendations below, you can certainly find some excellent options for taking in a football game.
Given the reputation, lets start out by highlighting those obstructed views which are primarily found in the 200 level along the north sideline. Sitting in rows 14 of sections 213-230 puts you at the greatest risk of not only having a support pillar directly in your line of sight, but you will also have to battle the overhang for a view of higher passes, kicks, and punts. Whenever possible, absolutely avoid any seats in rows 14 and up when sitting in the 200 level!
But now we move on to where the best views can be found, and the best place to start is in the upper seating rows of sections 101-103, 119-124, and 140-142. From these sections you get those desirable sideline viewing angles, while still feeling close to the action on the lowest seating tier. Opt for rows 19 and higher and you'll be at a great elevation for being able to see over the players and team personnel along the sidelines, and you're also no more than a 10 row walk from the concourse entry tunnel. Redskins fans will prefer being on the south sideline (101-103 and 140-142) as these are closer to the home team bench, while the visiting team fans will want to opt for north sideline sections 119-124.
We mentioned earlier about the dangers of the 200 level sections at the north sideline, but you can still find some really good views here as long as you rule out anything in rows 8 and higher (stick with rows 7 and under!). These lower row options in sections 219-224 have idyllic seating height for excellent viewing, and as an added bonus you'll be within 6 rows of the concourse tunnel. On the south sideline, the obstruction risk is far reduced as the seating sections do not extend further back than row 6 and have no pillars or overhangs to deal with. For a safe bet that ensures those desirable sideline views at a great elevation, most seats in south sideline sections 201-205 and 238-242 will do the trick.
While most football fans will always seek out those sideline viewing angles which provide equitable endzone to endzone sight lines, don't sleep on some of the options behind the uprights at FedEx Field. At the top of sections 110-112 and 131-133 (rows 20 and higher), you'll get a truly comfortable view of the field that requires little to no head turning at all. The viewing height is superb, you'll be close to the concourse, and you also get the benefit of head on lines of sight to the videoboard at the far end of the field.
Finally, if you're looking for cheap football tickets at FedEx Field and still want a decent view, consider searching in the first three rows of sections 401-402, 426-429, and 453-454. Be aware that these seats are quite high in the stadium, but they do keep you between the 20 yard lines where you get a good viewing experience to both ends of the field. Rows 1-3 will have you below the entry tunnel (which is located just above row 3), for closer proximity and easier access to the seats. - RateYourSeats.com
Recommended Ticket Locations
Rows 19-28 in Sections 101, 102, 103 and more
Desirable sideline viewing on the lower seating tier
Good seating height for being able to see over the sidelines
With 10 rows of the concourse entry tunnels
Rows 1-7 in Sections 219, 220, 221 and more
Close to midfield with excellent viewing height
Avoid the obstructed views when sitting in rows 1-7
Easy access to and from the seats
Sections 201, 202, 203 and more
Ideal viewing height for watching the game
Avoid any obstructions by sticking with the south sideline
Fewer rows make for easy access
Rows 20-29 in Sections 110, 111, 112 and more
Comfortable straight away views of the field
Perfect sight lines to the videoboard at the far endzone
Ideal viewing height at the top of the lower seating tier
Rows 1-3 in Sections 401, 402, 426 and more
Close positioning to midfield
Below the entry tunnel for clearer views
Affordable ticket prices on the upper seating tier
Ratings, Reviews & Recommendations
"Perfect view of the end zone - great seats!"

-

Seat(s) 5-10 (center) Perfect view of the end zone - great seats!
Other Popular Seating Choices
RateYourSeats.com is the best way to search, compare and buy tickets. Select an event to find out why!