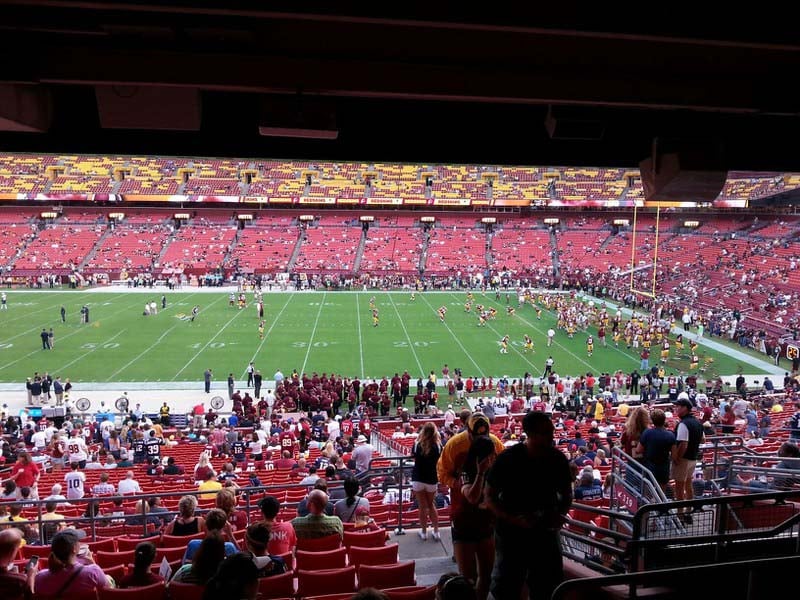 Best Seats for Kids and Family at FedExField
Recommended seats are highlighted on the map
With the upper tier of FedEx Field having incredibly steep walkway aisles, you'll want to stick with the lower levels when considering which sections to sit in for a family outing to a football game. Some of our favorite options for families at FedEx Field are the areas that provide a safer environment, convenient access, and comfortable viewing angles.
Among the best options for bringing your crew to a game will be sections 209-212 and 231-234 behind the endzones. From here, you're never more than a 7 row walk from the concourse to the seats and your little ones will get a great straight away view of the videoboard at the far endzone. There isn't much to be said for the overhead coverage, however the comfortable viewing angles requiring little to no head turning to experience all that the game has to offer.
But being able to stay out of inclement weather is always a plus for families at a ball game, and the best spot to do so is along the north sideline in the 200 level sections. Yes, these sections have some of the most obstructed views imaginable when sitting in the upper rows, however if you can strictly focus your search to rows 8-12 only, you will have excellent overhead coverage while avoiding the terrible viewing obstructions. Your crew will be well protected from the elements, and entry tunnels located at the front of the sections are not that far of a walk. Again, just be sure to avoid rows 13 and higher at all costs due to the poor views!
Also worth consider for a family outing at FedEx Field are 200 level corner sections 206-207 and 236-237. Being on the south sideline, you won't have to worry about obstructions but also don't won't get that same great overhead coverage which you can find in select rows of the 200 level sections on the north sideline. Corner seats help a bit more money compared to similar options closer to midfield, and the big draw to these seats when bringing your large group is the incredibly easy access. Each of these sections features no more than 6 rows in each, and the concourse entry tunnel is just beneath the very front row. - RateYourSeats.com
Recommended Ticket Locations
Rows 1-6 in Sections 209, 210, 211 and more
Comfortable straight away views of the field and videoboards
No more than 6 row walk to reach your seats
Easy access to and from the concourse
Rows 8-12 in Sections 213, 214, 215 and more
Well covered by overhanging seats above offering protection from the weather
Low enough to avoid the obstructed views found in rows 13 and higher
Sections 206, 207, 236 and more
Small seating sections featuring no more than 6 rows in each allow for easy access
Corner positioning keeps ticket prices more affordable
On the south sideline where obstructions are far less prevalant
Ratings, Reviews & Recommendations
"Terrible seats!"

(Section 225) - -

View obstructed by columns, missed plays in the middle of field! TV monitors were out of sync with plays. Sewage pipes started leaking smelly water on seats 3 rows in front of us.

"It was my first game ever... enjoyed the atmosphere but wish i could have seen the field better-"

(Section 228) - -

Map of seats portrayed differently that actual seats.
Other Popular Seating Choices
RateYourSeats.com is the best way to search, compare and buy tickets. Select an event to find out why!