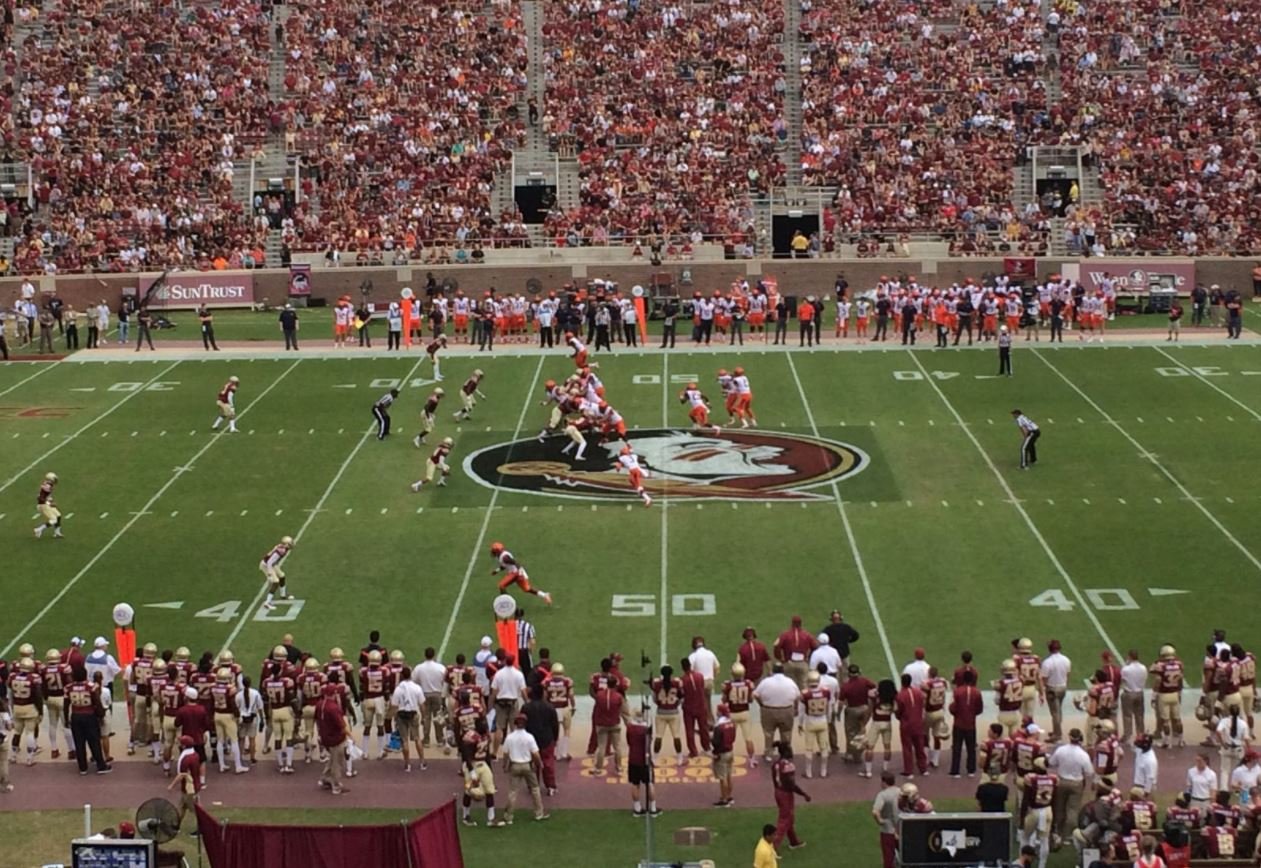 Best Seats for Great Views of the Field at Doak Campbell Stadium
Recommended seats are highlighted on the map
Prior to the renovations that installed club seating on the south end of the field, Doak Campbell Stadium was a rather bland college football venue. With the recent upgrades; however, Florida State fans now have another option when it comes to finding great seats.
Choosing the Right Row on the Sideline
Even with the renovations, the best views at a FSU football game come from the elevated rows of sections 8-12 and 31-35. Specifically, rows 35-50 in these sections are the cream of the crop.
Because the main seating bowl is so low to the ground, players on the sidelines can impact your view - even if you're sitting as high as row 25. Add to that a lot of crowding around the entrance tunnels at row 10 and you're best off buying tickets in a higher row to guarantee an unobstructed view. These upper rows (35-50) will also keep you close to another entrance tunnel where you can escape to the restroom or concessions.
While sections 8-12 and 31-35 offer identical views, seats on the west sideline (31-35) are the preferred choice. Not only is this the Florida State side of the field, but it's also the less-sunny side. The sun sets behind these sections and will be at your back instead of staring you down all afternoon.
Best Club Level Views
By placing the new club seats above the endzone instead of along the sideline, Florida State chose comfort over sitelines. The club sections are best seats for staying cool, and they also offer the most comfortable view of the north videoboard.
While you won't find sitelines nearly as good as you would along the sideline, there are still some club sections that combine a comfortable experience with a very good view. Our favorite sections include 216, 217, 225, 226 and the 300s sections directly above. These sections are situated in the corner of the endzone - affording them a comfortable view towards midfield without any major obstruction from the goalposts. Views towards the other end of the field can get a bit long, but the north videoboard is nearly head-on and can help you keep track of what you missed. - RateYourSeats.com
Recommended Ticket Locations
Rows 35-50 in Sections 8, 9, 10 and more
Great view between the 20 yardlines
Just the right amount of height to see the whole field
Close to the concourse tunnel
Rows 80-85 in Sections 9, 10 and 11
One of the few covered areas in the stadium
Midfield location for comfortable views
Elevated landscape of the entire field and stadium
Sections C216, C217, C225 and more
Best views from the club seats without any goalpost obstructions
Some of the best views of the north end videoboard
Small sections for easy access to club amenities
Other Popular Seating Choices
RateYourSeats.com is the best way to search, compare and buy tickets. Select an event to find out why!
Event Schedule
2019 Florida State Seminoles Season Tickets

Doak Campbell Stadium - Tallahassee, FL

Sunday, September 1 at 12:55 PM

Louisiana Monroe Warhawks at Florida State Seminoles

Doak Campbell Stadium - Tallahassee, FL

Saturday, September 7 at 5:00 PM

Louisville Cardinals at Florida State Seminoles

Doak Campbell Stadium - Tallahassee, FL

Saturday, September 21 at Time TBA

North Carolina State Wolfpack at Florida State Seminoles

Doak Campbell Stadium - Tallahassee, FL

Saturday, September 28 at Time TBA

Syracuse Orange at Florida State Seminoles

Doak Campbell Stadium - Tallahassee, FL

Saturday, October 26 at Time TBA

Miami Hurricanes at Florida State Seminoles

Doak Campbell Stadium - Tallahassee, FL

Saturday, November 2 at Time TBA