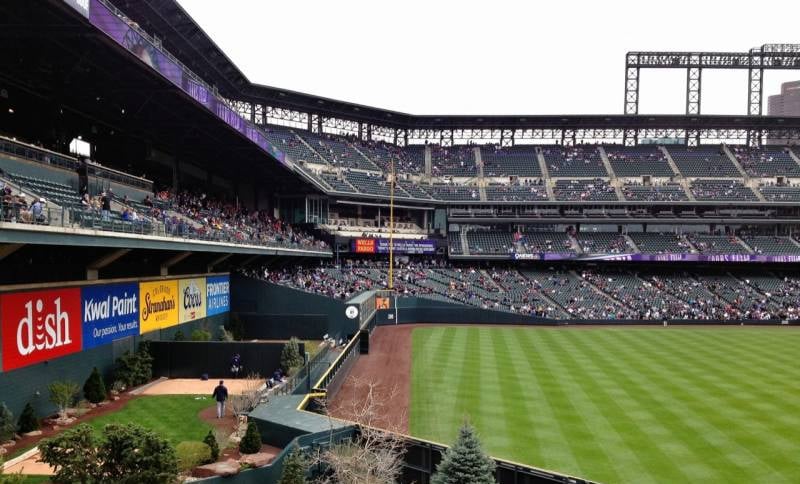 Best Seats for Kids and Family at Coors Field
Recommended seats are highlighted on the map
Some of the best options for a family outing at Coors Field are found in the upper rows of sections 145-147 near the left corner. These seats have you and your group facing towards the east which helps put the sun to your back sooner, and if you sit in
rows 32 and higher you'll also have the benefit of overhead coverage provided
by the overhanging 200 level seats above. A Buckaroos stand features child sized concession items nearby at section 149, which is also where you can find a playground area. Family restrooms are not far (located just above section 150), and you'll have a Majestic team store for bringing home a souvenir. Although the seats in sections 148-150 get you closer to the family friendly amenities, it is important to note that these have no coverage at all, and will see a lot of sun during Rockies day games.
Another area to consider is the 200 level sections behind the right field wall. Unfortunately you face towards the sun longer here, but if you opt for seats in rows 4 and higher of sections 201-207 you will at least have some overhead coverage from the 300 level deck above. From these sections you are just a short walk down to the main concourse level where you can find all the fun of the interactive area beyond the right field wall. There are activities available for fans of all ages, including batting cages for kids 13 and older, junior batting cages for smaller children, tee ball, a speed pitch booth, and a fantasy broadcast booth where you can call a half inning of the game and go home with a DVD of your performance. And being in the outfield, you will also be close to Dinger's playground and the Platte River picnic area both located beneath the Rockpile sections in center field.
For fans searching on the upper level, there is a designated family seating area located in the lower rows of section 342 down the third base line. These seats will see a good amount of sun for a day game, however alcohol is strictly prohibited and you will be near a family restroom. - RateYourSeats.com
Recommended Ticket Locations
Rows 4-17 in Sections 201, 202, 203 and more
Right by the interactive area - featuring batting cages, tee ball, and fantasy broadcast booth
Overhead coverage when sitting in rows 4 and higher
Near Dinger's playground and the picnic area
Rows 1-8 in Section 342
Designated family seating area in rows 1-8
Alcoholic beverages are not permitted
Rows 32-38 in Sections 145, 146 and 147
On the shadier side of Coors Field
Covered seating when sitting in rows 32 and higher
Near a Buckaroos kids concession stand, play area, and merchandise store
Other Popular Seating Choices
RateYourSeats.com is the best way to search, compare and buy tickets. Select an event to find out why!