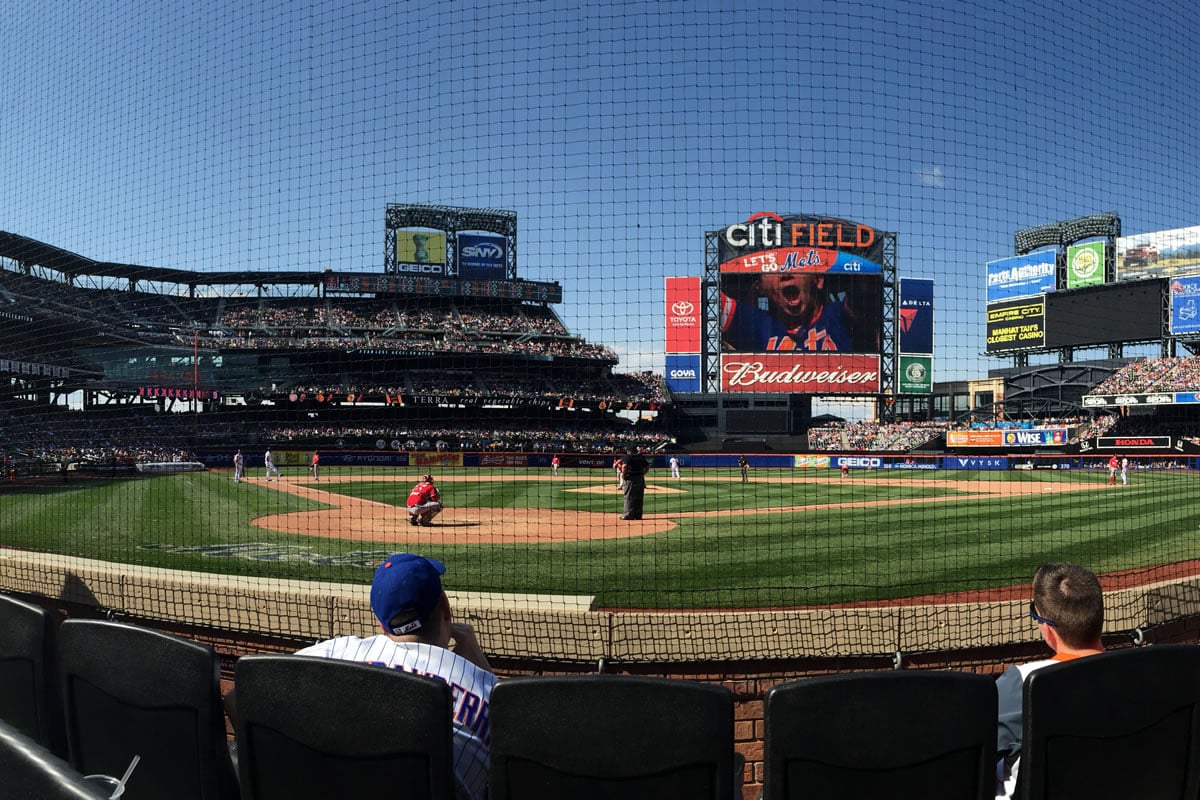 Best Seats for Impressing a Guest at Citi Field
Recommended seats are highlighted on the map
The Hyundai Club is the place to be if you're looking to leave a lasting impression of Citi Field. Located on a private deck behind home plate (sections 115-120) fans here get an excellent scout style view of the game, while being treated to some of the finest amenities the ballpark has to offer. Enjoy all-inclusive food which features traditional upscale entrees, daily rotating Chef's tables, slider and nacho stations, ice cream, and more. Non-alcoholic beverages are also included in the price of your ticket, while a full bar is available for purchasing adult beverages. If you prefer not to miss a minute of the action from your plush padded seat, be sure to take advantage of the in-seat wait service.
Another great option which will never disappoint at a Mets game are the Delta Gold and Delta Platinum seats (rows 1-8 in sections 11-19), which have amazing views from right behind home plate. Its a great spot to make it into the background of a TV broadcast, but even better for being able to visit the multitude of premium club lounges at Citi Field. You'll have access to all but one of the ballpark's 6 premium areas, including the ultra exclusive Sky360 Lounge - which is only accessible to Delta Gold and Delta Platinum ticket holders. The Sky360 Lounge offers offers complimentary soft drinks, coffee, snacks, and more (not to be confused with the Sky360 Club which has food and beverage items available, but must be purchased).
If you're looking to make an impression on the biggest of Mets fans, we recommend considering the first five rows of sections 113-114. You'll be right by the Mets dugout with incredible views of the players transitioning between innings and awaiting their turn at the plate in the on-deck circle. You'll rarely need to leave the game thanks to the in-seat food and beverage service, but should you want to check out some of the ballpark, you'll have access to the Delta Sky360 Club, Porche Grill, Foxwoods Club, and Promenade Club.
Although not a traditional choice for impressing a guest as they don't have in-seat wait service or super close views, Excelsior Box sections 330-333 along the left field line are worth a look. The 300 tier Excelsior Level has a private concourse for a more intimate feel, but the main reason to sit here is the short walk to the Porche Grill located near the left field corner. Treat yourselves to an upscale meal inside this fine dining restaurant and bar while still having a view of the game (making reservations in advance is recommended), and also check out the views of the NYC skyline and World's Fair Marina. - RateYourSeats.com
Recommended Ticket Locations
Sections 115, 116, 117 and more
Great views from the private Hyundai Club seating deck behind home plate
All-inclusive food and non-alcoholic beverage
Access to the upscale club lounge just behind your plush, padded seat
Rows 1-8 in Sections 11, 12, 13 and more
Within 8 rows of the field behind home plate!
Comfortable padded seating with in-seat food and beverage service
All-inclusive soft drinks, snacks, and more in the exclusive First Data club lounge
Rows 1-5 in Sections 113 and 114
Amazing views of home plate from right by the Mets dugout
Access to multiple premium club areas
In-seat food and beverage service
Sections 330, 331, 332 and more
Just a short walk from the upscale Porsche Grill and Lounge
On the shadier side of Citi Field
Small seating sections on the Excelsior Level for a more private feel
Ratings, Reviews & Recommendations
Club platinum seats.
Immediately behind home plate. They are very close to the action, and essentially look over the umpire's shoulder. They are theater-style, fully upholstered seats with 36 inches of legroom. There are extraordinary amenities such as waiter and waitress services.
Other Popular Seating Choices
RateYourSeats.com is the best way to search, compare and buy tickets. Select an event to find out why!