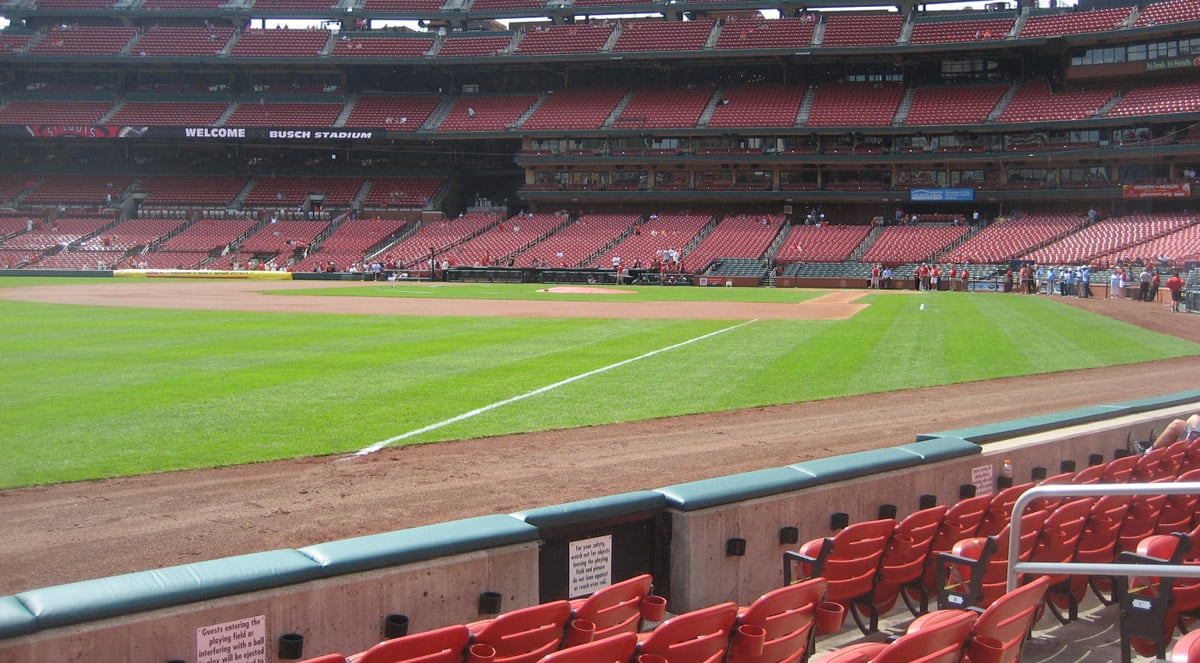 Best Seats for Great Views of the Field at Busch Stadium
Recommended seats are highlighted on the map
A number of excellent seating options exist for fans visiting Busch Stadium. Among the most impressive are the seats on the club level between sections 241 and 257. Located on the second level of the stadium, these seats offer a true club-style view from just above the lower level. Each of these sections is located on the infield and will give fans unobstructed views of the field, scoreboard and even the skyline and arch.
One of the best aspects of Busch Stadium is the shape of the field on the 100 level. Infield seats are pushed farther away from the field, which allows seats down the left field and right field lines to angle towards home plate. This creates more comfortable sitelines towards the infield - where about 85% of the action takes place. Among these seats, our favorites are those down the left field line at the front of sections 164-166. These seats face home plate, which is unusual for seats not located in home run territory. They're also located just a few feet above field level and give you the feeling of playing the outfield for the Redbirds.
Other seats with a great view include seats behind home plate at the top of the 100 level or those at the front of the 300 level. Just be careful in the first two rows in the 300s - the railing will disrupt your view; you're better off in rows 3-5 where you have a clear siteline. - RateYourSeats.com
Recommended Ticket Locations
Rows 1-6 in Sections 241, 242, 244 and more
Best elevated sitelines at Busch Stadium
Beautiful views of the arch and comfortable looks at the scoreboard
Rows A-F in Sections 164, 165 and 166
Outstanding angle towards home plate - right down the line
Close to field level giving you the same view the left-fielder has
Some of the best head-on looks into the Cardinals dugout
Other Popular Seating Choices
RateYourSeats.com is the best way to search, compare and buy tickets. Select an event to find out why!