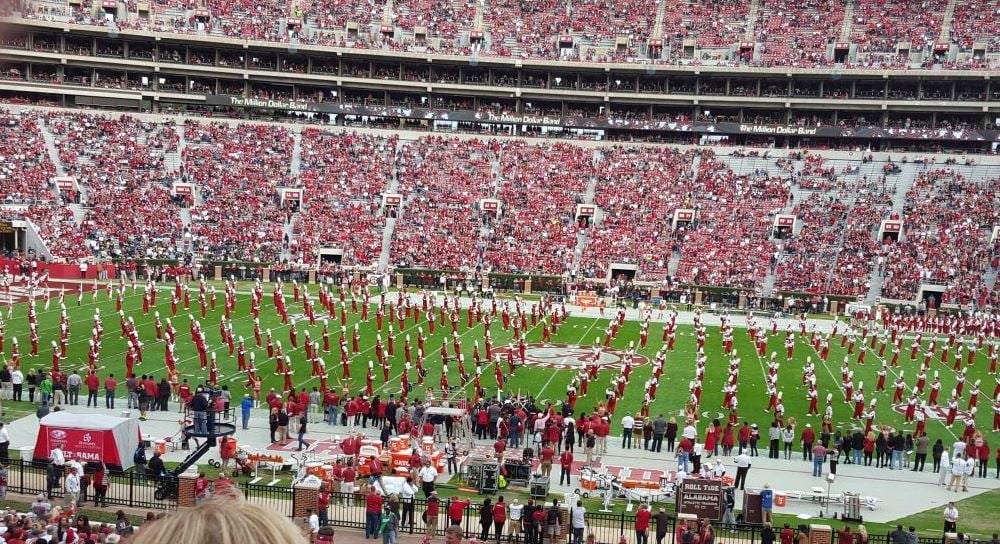 Best Seats for Great Views of the Field at Bryant-Denny Stadium
Recommended seats are highlighted on the map
Best Views on the Lower Level
For fans who want to combine a great view with proximity to the field, sections E-J and EE-JJ are the preferred choice. These sections are located between the 20-yardlines and all seats are within 60 rows of the field.
While sitting in the lower level at Bryant-Denny Stadium would be a bucket list experience for most, there are some rows that we recommend over others. If you're after the best possible view, we like rows 25-29 and 40-55.
The first set of rows is just below the entrance tunnel, so you have easy access to your seats without the major distraction of fans coming out of the tunnel. Because it can be difficult to see over players on the sideline, we don't recommend sitting below row 25 unless your goal is to be as close to the field as possible.
Sitting in the higher recommended rows will make your experience even more comfortable. The added elevation of these seats makes it easy to see side-to-side in a single glance and also makes it easier to see the corner videoboards.
When looking at tickets in these sections, you may notice that seats in E-J are often more expensive than seats in EE-JJ. While views will be identical on either side, there are two key differences. First, sections EE-JJ are on the sunny side of the field. Especially during early-season games this area can get very hot. Second, most seats in sections F-H are chairback. This added comfort level generally comes at a premium.
For the best value in the lower level, consider corner sections directly below the videoboards (S8, A, N, N1, etc.). Specifically, we love rows 40-55 in these sections for their elevated views of the field and their head-on views of the videboard. If you're looking for a comfortable view, a lower level seat and a decent price, these seats usually check all three boxes.
Best Elevated Views
Moving up to the second level of the stadium you will find Box seats on the west side and U1 sections on the east side. While these seats don't quite have the rambunctious atmosphere of lower level or upper deck sections, they earn incredibly high marks for offering a comfortable view.
We highly recommend sections U1FF-U1KK where you'll be seated between the 25-yardlines and will be perched just above the lower level. These seats give you a view similar to what you see on TV and aren't nearly as high up as upper deck seats.
Choose a Low Row in the Upper Deck
With space for more than 100,000 fans, it's not surprising that the top level of seating at Bryant-Denny Stadium is pretty high up there. Because of this, we recommend choosing the lowest possible row for the best experience.
Our favorite seats are in rows 1-4 of sections U3E-U3M and U4FF-U4LL. These are the first four rows in each section, and they are night-and-day better than the last four rows (27-30). From the lower rows you won't have to deal with the steepness of the stairs and have the feeling that you're looking straight down on the field. - RateYourSeats.com
Recommended Ticket Locations
Rows 25-29, 40-55 in Sections E, EE, F and more
Best sideline views from the lower leve
Good elevation for seeing over the players
Close to entrance tunnels without the distractions of being right next to them
Rows 1-4 in Sections U3E, U3F, U3G and more
First four rows of these sections offer a far superior view vs. upper rows
Least expensive seats with a midfield view
Below the section tunnel for easy access
Sections A, AA, N and more
Comfortable, elevated sitelines towards midfield
Head-on view of one of the corner videoboards
Save on ticket price vs. more expensive lower level sections
Sections U1FF, U1GG, U1HH and more
Among the best overall views at Bryant-Denny Stadium
Excellent midfield sitelines with elevation for seeing end-to-end and the videoboards
Fewer than 10 rows of seats in each section makes for easy-in and out and less distractions from other fans
Sections Ivory and President
The best seats at BDS come with the best views
Perfect elevation and the perfect midfield position
Comfortable views with the stadium's best shade
Other Popular Seating Choices
RateYourSeats.com is the best way to search, compare and buy tickets. Select an event to find out why!
Event Schedule
2020 Alabama Crimson Tide Football Season Tickets

Bryant-Denny Stadium - Tuscaloosa, AL

Friday, September 11 at 12:55 PM

Georgia State Panthers at Alabama Crimson Tide

Bryant-Denny Stadium - Tuscaloosa, AL

Saturday, September 12 at Time TBA

Georgia Bulldogs at Alabama Crimson Tide

Bryant-Denny Stadium - Tuscaloosa, AL

Saturday, September 19 at Time TBA

Kent State Golden Flashes at Alabama Crimson Tide

Bryant-Denny Stadium - Tuscaloosa, AL

Saturday, September 26 at Time TBA

Mississippi State Bulldogs at Alabama Crimson Tide

Bryant-Denny Stadium - Tuscaloosa, AL

Saturday, October 17 at Time TBA

Tennessee Martin Skyhawks at Alabama Crimson Tide

Bryant-Denny Stadium - Tuscaloosa, AL

Saturday, November 14 at Time TBA

Texas A&M Aggies at Alabama Crimson Tide

Bryant-Denny Stadium - Tuscaloosa, AL

Saturday, November 21 at Time TBA