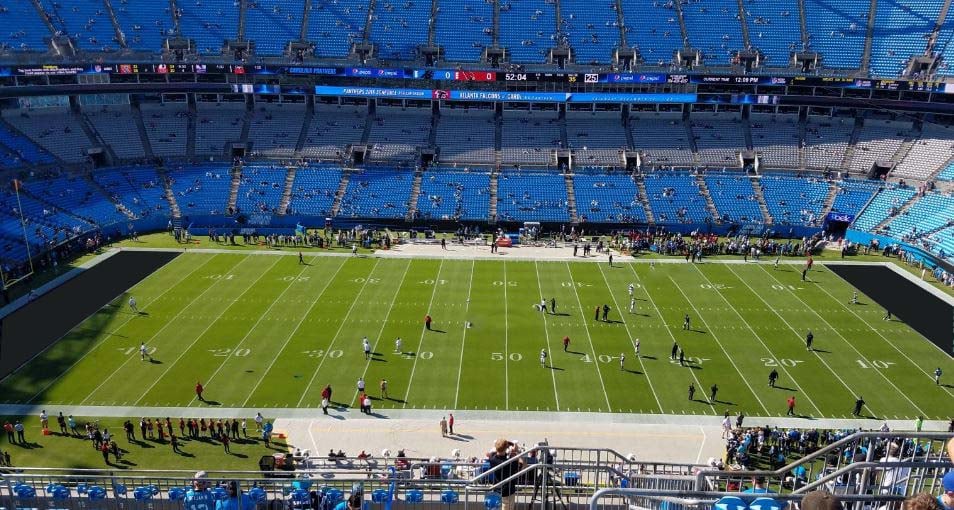 Best Seats for Great Views of the Field at Bank of America Stadium
Recommended seats are highlighted on the map
With its highly symmetrical design, finding a great view at Bank of America Stadium is fairly easy - simply do your best to sit near midfield and you're bound to wind up with pretty good seats at a Panthers game. But if you're spending the big bucks it takes to sit near the 50-yardline, it's important to maximize your experience and select seats in the perfect row.
100 Level Recommendations
Bank of America Stadium is split up into three levels of seating. Closest to the field you'll find the 100 level. All seats in 100 level sections are within 20 rows of the field. These seats are highly recommended for fans who want to get as close to the field as possible. But for fans seeking out a comfortable view of the game from the sideline, we only recommend rows 10 and above. Sitting in one of these higher rows will make it easier to see above the players standing on the sideline.
For the best overall experience, choose rows 17 and above in sections 110-113 and 130-133. These rows offer very good elevation, a view from between the 20-yardlines, and are set just in front of the main walkway.
Comfortable Views From the Club Seats
If you're looking for a way to combine upscale amenities with a fantastic view, consider the 300s sections on the east and west sidelines. While they are labeled as the 300 level, these sections are separated from the 100-level by just a small walkway. There's nothing wrong with the front rows of these sections (they offer phenomenal views), but we recommend sitting in rows 10 and above its convenience and slightly more comfortable views.
Tunnels are located at the top of these sections, which means sitting near row 21 will have you closer to the climate-controlled lounges that are exclusive to club ticketholders (these 300s sections are club seats).
Less Expensive Midfield Seats
With club and lower-level tickets easily running into the $300-$400 range, the most affordable way to sit near midifeld is to choose seats in sections 513-516 or 540-543. These sections have up to 35 rows of seats, so row placement is once again the key to maximizing your experience.
We highly recommend sitting in the lowest row possible to avoid long walks up and down the stairs and to get a clearer view of the game. Row 1A (front row) to Row 6 are our top choices for where you want to be positioned.
A recent analysis of ours revealed that it costs about $25 more per ticket to sit in Row 6 vs. Row 15 at a Panthers game. We think the investment is well worth it!
Cheap Seats With a View
If you're looking for a decent view at a bargain price, we recommend the front rows of 500-level endzone sections like 526-530. These seats will give you a downfield look at the game, which makes it easier to track. Instead of looking side-to-side to follow the action, you have a head-on view as plays develop.
Furthermore, these sections are located directly across from the main stadium scoreboards. This makes it easy to catch replays without constantly turning your neck.
As with sideline sections on the 500 level, we recommend sitting in the lowest row possible for the best access to concessions and restrooms. - RateYourSeats.com
Recommended Ticket Locations
Rows 17-19, WC in Sections 110, 111, 112 and more
Highest rows in the 100 level makes it easier to see over players on sideline
Seats located between the 20 yardlines for most desirable sitelines
Located just below the walkway for quick access to and from the concourse
Rows 10-21 in Sections 314, 315, 316 and more
Best elevated midfield view in the entire stadium
Closest access to the club concourse - located at the top of these sections
High enough above the walkway at the front of these sections where you won't be distracted by fans walking in front of you
Rows 1A-6 in Sections 513, 514, 515 and more
Midfield views from the lowest rows of the 500 level
Excellent access to the section tunnel for quick trips to the concourse
Much lower price point than other midfield seats, on average
Other Popular Seating Choices
RateYourSeats.com is the best way to search, compare and buy tickets. Select an event to find out why!
Event Schedule
Panthers
Other Football
Other