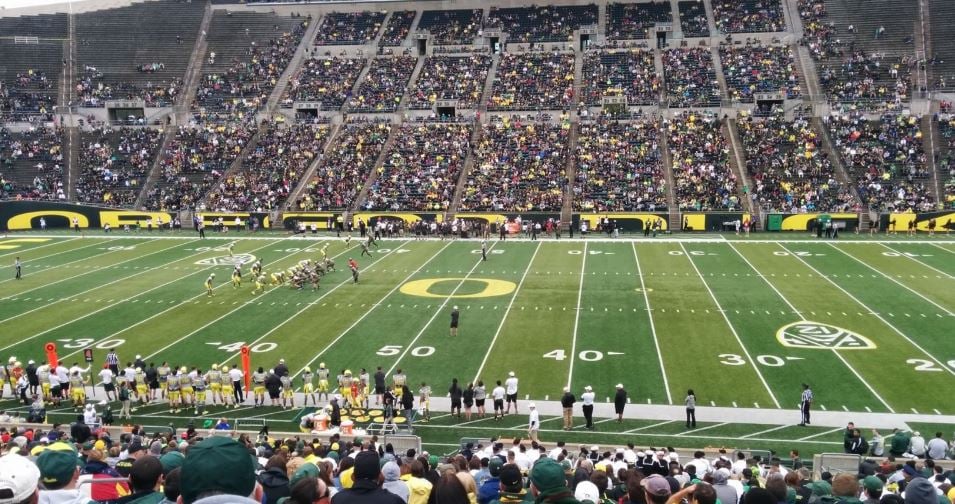 Best Seats for Great Views of the Field at Autzen Stadium
Recommended seats are highlighted on the map
Finding a great view at Oregon's Autzen Stadium is an exercise in choosing the right row and deciding which side of the field you want to sit on.
South Sideline Seating
Without a doubt, the best seats at Autzen Stadium are located along the South sideline in sections 29-33. Many of these seats are chairback, part of the Autzen Club, or both. These seats also have the advantage of being on the less-sunny side of the field.
Another aspect that makes these sections unique is access to the section tunnels. Unlike the North side of the field where the section entrance is at the top, these sections have entrances near rows 30 and 60. This results in shorter trips to the concourse and more time keeping your eyes on the game.
One pitfall of the multiple entrances; however, is people standing in the walkway and disrupting your view. We think that rows 25-50 provide an excellent view on this side of the field - but we would skip out on rows 31-33 due to their position above the walkway.
North Sideline Seating
Ticket prices on the South side of the field are often twice as expensive as seats on the North side. If you don't need a chairback or club seat - and the sun isn't a concern - you'll find the same excellent views in sections 9-13 as you would in 29-33.
As with the seats on the opposite side, we find that the best views come from rows 25-50. Row 25 provides enough elevation to see over the players on the sideline - and row 50 provides a clear view without feeling too far away from the field. In fact, with the section entrances located at the top row, we recommend these seats for a balance of good sitelines and accessibility. - RateYourSeats.com
Recommended Ticket Locations
Rows 25-29, 34-50 in Sections 30, 31 and 32
Best views in the stadium
Comfortable seating on chairbacks
Close to the section tunnel for quick trips to the concourse
Rows 33-47 in Sections 10, 11 and 12
Best height for seeing both ends of the field clearly
On the same sideline as the Oregon players
Other Popular Seating Choices
RateYoursSeats.com is the best way to search, compare and buy tickets. Select an event to find out why!