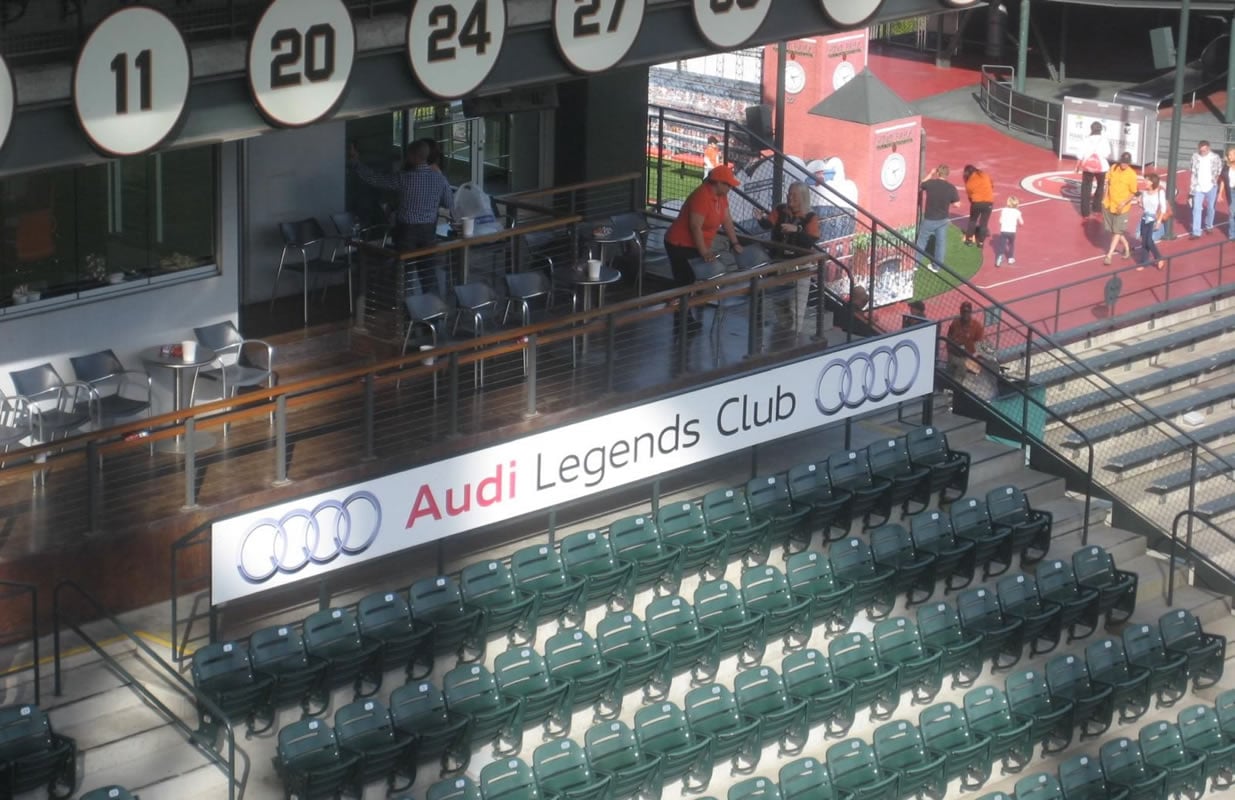 Best Seats for Impressing a Guest at Oracle Park
Recommended seats are highlighted on the map
If you're heading to AT&T Park and looking to impress a client or date, there are two distinct seating areas that are often associated with an upscale experience. You'll want to target your search on the Field Club seats in the lower level or the club level seats on the second seating deck.
The most desirable seats at a Giants game are those found in the lettered rows of sections 107-124. Rows AAA-CCC, AA and A-R of these sections are part of the Field Club, which provides ticketholders with exclusive benefits and amenities. Among these extras are in-seat wait service and access to the private club lounge. AT&T Park is one of only a handful of ballparks that offer club amenities directly at field level. Fans will enjoy the game from within 20 rows of the field, while still being able to escape through the club-only tunnel to the lounge located beneath the seats. We recommend the seats directly behind home plate or those above the Giants dugout in sections 122 and 123.
For a more traditional club experience, consider tickets on the 200 level of the ballpark. This is the club level at AT&T Park, and all fans will be offered amenities that put these seats on par with the lower level Field Club seats. Ticketholders will receive in-seat wait service and exclusive access to the club concourse with premium food and beverage options. While the amenities are comparable to 100 level club seats, tickets on this level are usually priced at a 50-75% discount vs. Field Club tickets. If you're looking for a comfortable view of the game and don't desire to sit super-close to the field, these are an excellent option for impressing a guest. Just be sure to visit the Flight Deck near sections 228-230 where you'll find warming fire pits and a view of the San Francisco skyline.
If club tickets are a little too pricey, there are other options at AT&T Park which can help you impress a guest on a budget. The first option is at the top of the stadium on the 300 level. You won't get a great view of the field, but you'll enjoy a marvelous view of the surrounding Bay Area landscape. The higher you sit, the better.
Another option that considers the ballpark's location on the bay is Arcade seating in right-field. Again, these seats don't offer a particularly great view of the field - but what they lack in impressive views, they make up for in exclusivity. With only three rows of seats in each section, these seats with their back-to-the-bay are some of the hardest tickets to obtain for a Giants game. If you do purchase tickets in these Arcade sections or high in the 300 level, be sure to dress accordingly. The wind is no stranger to these sections.

- RateYourSeats.com
Recommended Ticket Locations
Sections 212, 213, 214 and more
Great elevated views from behind home plate
Exclusive access to club level, which is a much less crowded area than other concourses
Opportunity to purchase upscale food and beverages and some great memorabilia
Rows AAA-CCC, AA, A-R in Sections 112, 113, 115 and more
Club Lounge Access
Located within 20 rows of the field in an exclusive club-only section
Seating directly behind home plate or near the Giants dugout
Sections 209, 210, 211 and more
Most desirable club level seats behind home plate and on the infield
The best elevated view in the ballpark - and one of the best in baseball
Club level amenities and access to upscale food and beverage
Ratings, Reviews & Recommendations
"Good seats for viewing the game. Good seats to get consessions."

(Section 123) - -

Seats were fine. Everyone wants a recliner to sit in while watching a game. Until then, these seats were fine.

"Excellent seats! Good view. Friendly fans! No obstructions! Very roomy row!!"

(Section 112) - -

Everything was great! Seats, food, view were all excellent!!!! Crowd was very friendly (we were out-of-towners)
Other Popular Seating Choices
RateYourSeats.com is the best way to search, compare and buy tickets. Select an event to find out why!