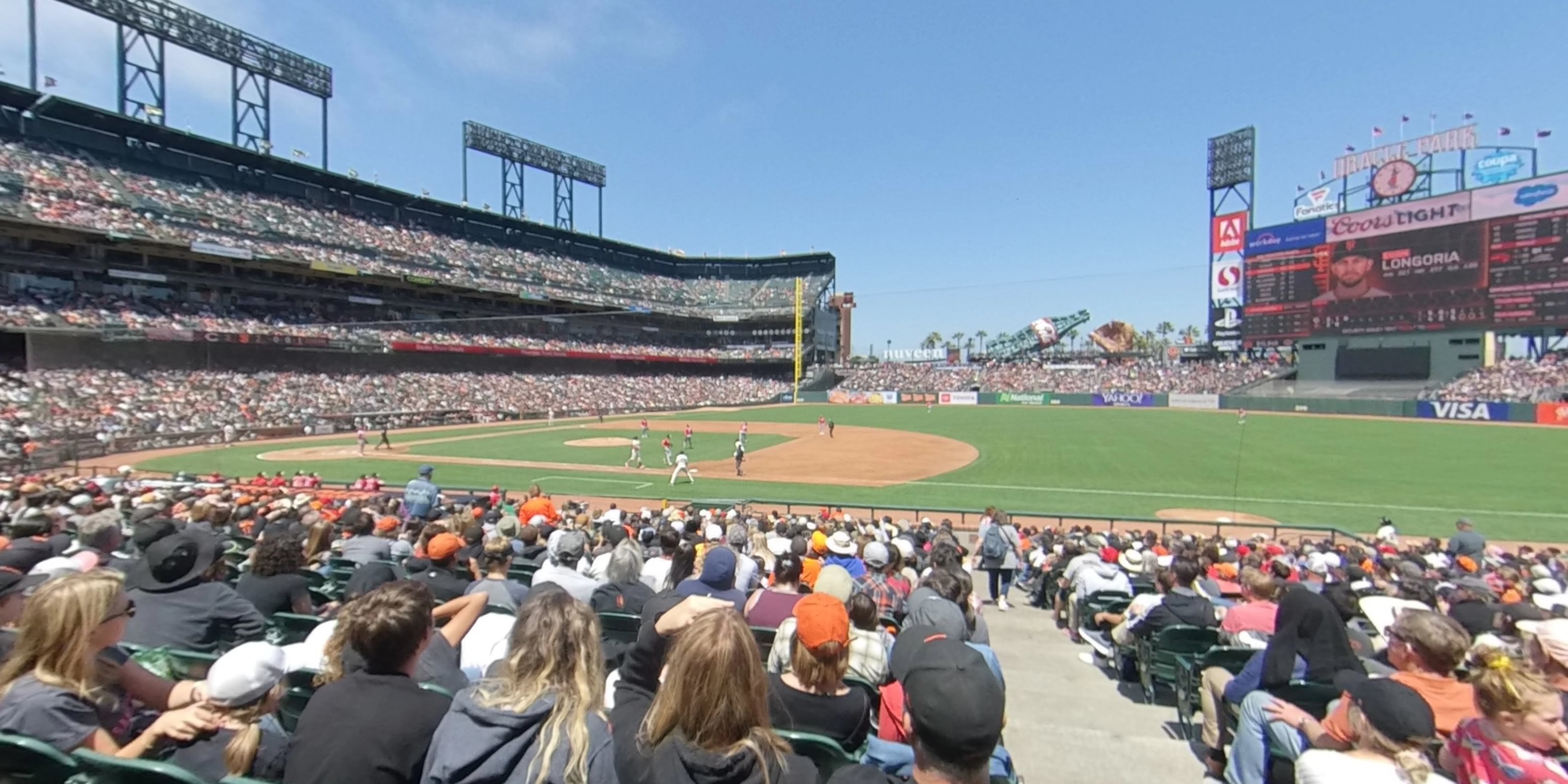 Oracle Park Section 105 - San Francisco Giants
Section 105 Seating Notes
Row Numbers
Rows in Section 105 are labeled 1-42
An entrance to this section is located at Row 42
When looking towards the field, lower number seats are on the right
Seat Views & Related Photos
Ratings, Reviews & Recommendations
The Visitor Bullpen at AT&T Park is on the Field in Front of Sections 103-105
Section 105
Front of sections 105-126 are behind the netting
There is some amount of netting or screening in front of sections 105-126, which extends past the dugouts and into the outfield. The height and coverage of netting or screening will vary by section.
Field Level Infield

(Seating Zone) -

The best views in AT&T Park are found on the field level in Sections 105-126. Aside from an impressive experience on the lower level close to the infield, fans can also find premium amenities to furth...

"Oakland Athletics at San Francisco Giants - Mar 25, 2019"

(Section 121) -

"Great view behind dugout"

(Section 122) - -

Awesome seats. Great view of the field. It was a really, hot, muggy day when we went, which I wasn't expecting and I got sunburned under my jeans! Be prepared to be under the sun on day games. These seats are in the middle of the row, so hopefully you don't have to get up often. They are also locate...
Other Popular Seating Choices
RateYourSeats.com is the best way to search, compare and buy tickets. Select an event to find out why!
Event Schedule
24Mar

Spring Training - Oakland Athletics San Francisco Giants

Oracle Park - San Francisco, CA

Tuesday, March 24 at Time TBA

3Apr

Los Angeles Dodgers at San Francisco Giants

Oracle Park - San Francisco, CA

Friday, April 3 at Time TBA

4Apr

Los Angeles Dodgers at San Francisco Giants

Oracle Park - San Francisco, CA

Saturday, April 4 at Time TBA

5Apr

Los Angeles Dodgers at San Francisco Giants

Oracle Park - San Francisco, CA

Sunday, April 5 at Time TBA

6Apr

Arizona Diamondbacks at San Francisco Giants

Oracle Park - San Francisco, CA

Monday, April 6 at Time TBA

7Apr

Arizona Diamondbacks at San Francisco Giants

Oracle Park - San Francisco, CA

Tuesday, April 7 at Time TBA

8Apr

Arizona Diamondbacks at San Francisco Giants

Oracle Park - San Francisco, CA

Wednesday, April 8 at Time TBA

9Apr

Arizona Diamondbacks at San Francisco Giants

Oracle Park - San Francisco, CA

Thursday, April 9 at Time TBA

21Apr

Colorado Rockies at San Francisco Giants

Oracle Park - San Francisco, CA

Tuesday, April 21 at Time TBA

22Apr

Colorado Rockies at San Francisco Giants

Oracle Park - San Francisco, CA

Wednesday, April 22 at Time TBA

23Apr

Colorado Rockies at San Francisco Giants

Oracle Park - San Francisco, CA

Thursday, April 23 at Time TBA

24Apr

Washington Nationals at San Francisco Giants

Oracle Park - San Francisco, CA

Friday, April 24 at Time TBA

25Apr

Washington Nationals at San Francisco Giants

Oracle Park - San Francisco, CA

Saturday, April 25 at Time TBA

26Apr

Washington Nationals at San Francisco Giants

Oracle Park - San Francisco, CA

Sunday, April 26 at Time TBA

27Apr

Philadelphia Phillies at San Francisco Giants

Oracle Park - San Francisco, CA

Monday, April 27 at Time TBA

28Apr

Philadelphia Phillies at San Francisco Giants

Oracle Park - San Francisco, CA

Tuesday, April 28 at Time TBA

29Apr

Philadelphia Phillies at San Francisco Giants

Oracle Park - San Francisco, CA

Wednesday, April 29 at Time TBA

8May

Chicago White Sox at San Francisco Giants

Oracle Park - San Francisco, CA

Friday, May 8 at Time TBA

9May

Chicago White Sox at San Francisco Giants

Oracle Park - San Francisco, CA

Saturday, May 9 at Time TBA

10May

Chicago White Sox at San Francisco Giants

Oracle Park - San Francisco, CA

Sunday, May 10 at Time TBA

15May

Atlanta Braves at San Francisco Giants

Oracle Park - San Francisco, CA

Friday, May 15 at Time TBA

16May

Atlanta Braves at San Francisco Giants

Oracle Park - San Francisco, CA

Saturday, May 16 at Time TBA

17May

Atlanta Braves at San Francisco Giants

Oracle Park - San Francisco, CA

Sunday, May 17 at Time TBA

19May

Detroit Tigers at San Francisco Giants

Oracle Park - San Francisco, CA

Tuesday, May 19 at Time TBA

20May

Detroit Tigers at San Francisco Giants

Oracle Park - San Francisco, CA

Wednesday, May 20 at Time TBA

29May

Colorado Rockies at San Francisco Giants

Oracle Park - San Francisco, CA

Friday, May 29 at Time TBA

30May

Colorado Rockies at San Francisco Giants

Oracle Park - San Francisco, CA

Saturday, May 30 at Time TBA

31May

Colorado Rockies at San Francisco Giants

Oracle Park - San Francisco, CA

Sunday, May 31 at Time TBA

1Jun

San Diego Padres at San Francisco Giants

Oracle Park - San Francisco, CA

Monday, June 1 at Time TBA

2Jun

San Diego Padres at San Francisco Giants

Oracle Park - San Francisco, CA

Tuesday, June 2 at Time TBA

3Jun

San Diego Padres at San Francisco Giants

Oracle Park - San Francisco, CA

Wednesday, June 3 at Time TBA

4Jun

San Diego Padres at San Francisco Giants

Oracle Park - San Francisco, CA

Thursday, June 4 at Time TBA

9Jun

Pittsburgh Pirates at San Francisco Giants

Oracle Park - San Francisco, CA

Tuesday, June 9 at Time TBA

10Jun

Pittsburgh Pirates at San Francisco Giants

Oracle Park - San Francisco, CA

Wednesday, June 10 at Time TBA

11Jun

Pittsburgh Pirates at San Francisco Giants

Oracle Park - San Francisco, CA

Thursday, June 11 at Time TBA

12Jun

Miami Marlins at San Francisco Giants

Oracle Park - San Francisco, CA

Friday, June 12 at Time TBA

13Jun

Miami Marlins at San Francisco Giants

Oracle Park - San Francisco, CA

Saturday, June 13 at Time TBA

14Jun

Miami Marlins at San Francisco Giants

Oracle Park - San Francisco, CA

Sunday, June 14 at Time TBA

22Jun

New York Mets at San Francisco Giants

Oracle Park - San Francisco, CA

Monday, June 22 at Time TBA

23Jun

New York Mets at San Francisco Giants

Oracle Park - San Francisco, CA

Tuesday, June 23 at Time TBA

24Jun

New York Mets at San Francisco Giants

Oracle Park - San Francisco, CA

Wednesday, June 24 at Time TBA

25Jun

New York Mets at San Francisco Giants

Oracle Park - San Francisco, CA

Thursday, June 25 at Time TBA

26Jun

Los Angeles Dodgers at San Francisco Giants

Oracle Park - San Francisco, CA

Friday, June 26 at Time TBA

27Jun

Los Angeles Dodgers at San Francisco Giants

Oracle Park - San Francisco, CA

Saturday, June 27 at Time TBA

28Jun

Los Angeles Dodgers at San Francisco Giants

Oracle Park - San Francisco, CA

Sunday, June 28 at Time TBA

7Jul

Oakland Athletics at San Francisco Giants

Oracle Park - San Francisco, CA

Tuesday, July 7 at Time TBA

8Jul

Oakland Athletics at San Francisco Giants

Oracle Park - San Francisco, CA

Wednesday, July 8 at Time TBA

10Jul

San Diego Padres at San Francisco Giants

Oracle Park - San Francisco, CA

Friday, July 10 at Time TBA

11Jul

San Diego Padres at San Francisco Giants

Oracle Park - San Francisco, CA

Saturday, July 11 at Time TBA

12Jul

San Diego Padres at San Francisco Giants

Oracle Park - San Francisco, CA

Sunday, July 12 at Time TBA

24Jul

Arizona Diamondbacks at San Francisco Giants

Oracle Park - San Francisco, CA

Friday, July 24 at Time TBA

25Jul

Arizona Diamondbacks at San Francisco Giants

Oracle Park - San Francisco, CA

Saturday, July 25 at Time TBA

26Jul

Arizona Diamondbacks at San Francisco Giants

Oracle Park - San Francisco, CA

Sunday, July 26 at Time TBA

28Jul

Chicago Cubs at San Francisco Giants

Oracle Park - San Francisco, CA

Tuesday, July 28 at Time TBA

29Jul

Chicago Cubs at San Francisco Giants

Oracle Park - San Francisco, CA

Wednesday, July 29 at Time TBA

30Jul

Chicago Cubs at San Francisco Giants

Oracle Park - San Francisco, CA

Thursday, July 30 at Time TBA

11Aug

Los Angeles Dodgers at San Francisco Giants

Oracle Park - San Francisco, CA

Tuesday, August 11 at Time TBA

12Aug

Los Angeles Dodgers at San Francisco Giants

Oracle Park - San Francisco, CA

Wednesday, August 12 at Time TBA

13Aug

Los Angeles Dodgers at San Francisco Giants

Oracle Park - San Francisco, CA

Thursday, August 13 at Time TBA

14Aug

Colorado Rockies at San Francisco Giants

Oracle Park - San Francisco, CA

Friday, August 14 at Time TBA

15Aug

Colorado Rockies at San Francisco Giants

Oracle Park - San Francisco, CA

Saturday, August 15 at Time TBA

16Aug

Colorado Rockies at San Francisco Giants

Oracle Park - San Francisco, CA

Sunday, August 16 at Time TBA

24Aug

San Diego Padres at San Francisco Giants

Oracle Park - San Francisco, CA

Monday, August 24 at Time TBA

25Aug

San Diego Padres at San Francisco Giants

Oracle Park - San Francisco, CA

Tuesday, August 25 at Time TBA

26Aug

San Diego Padres at San Francisco Giants

Oracle Park - San Francisco, CA

Wednesday, August 26 at Time TBA

28Aug

Kansas City Royals at San Francisco Giants

Oracle Park - San Francisco, CA

Friday, August 28 at Time TBA

29Aug

Kansas City Royals at San Francisco Giants

Oracle Park - San Francisco, CA

Saturday, August 29 at Time TBA

30Aug

Kansas City Royals at San Francisco Giants

Oracle Park - San Francisco, CA

Sunday, August 30 at Time TBA

7Sep

St. Louis Cardinals at San Francisco Giants

Oracle Park - San Francisco, CA

Monday, September 7 at Time TBA

8Sep

St. Louis Cardinals at San Francisco Giants

Oracle Park - San Francisco, CA

Tuesday, September 8 at Time TBA

9Sep

St. Louis Cardinals at San Francisco Giants

Oracle Park - San Francisco, CA

Wednesday, September 9 at Time TBA

10Sep

Cincinnati Reds at San Francisco Giants

Oracle Park - San Francisco, CA

Thursday, September 10 at Time TBA

11Sep

Cincinnati Reds at San Francisco Giants

Oracle Park - San Francisco, CA

Friday, September 11 at Time TBA

12Sep

Cincinnati Reds at San Francisco Giants

Oracle Park - San Francisco, CA

Saturday, September 12 at Time TBA

13Sep

Cincinnati Reds at San Francisco Giants

Oracle Park - San Francisco, CA

Sunday, September 13 at Time TBA

22Sep

Arizona Diamondbacks at San Francisco Giants

Oracle Park - San Francisco, CA

Tuesday, September 22 at Time TBA

23Sep

Arizona Diamondbacks at San Francisco Giants

Oracle Park - San Francisco, CA

Wednesday, September 23 at Time TBA

24Sep

Milwaukee Brewers at San Francisco Giants

Oracle Park - San Francisco, CA

Thursday, September 24 at Time TBA

25Sep

Milwaukee Brewers at San Francisco Giants

Oracle Park - San Francisco, CA

Friday, September 25 at Time TBA

26Sep

Milwaukee Brewers at San Francisco Giants

Oracle Park - San Francisco, CA

Saturday, September 26 at Time TBA