Which section is better to be in for a first timer? Section 103 or 216.
Going to a Bulls Game. Thank You
Jan 2013
Answered by RateYourSeats.com staff...
If you are in the first few rows of 103 on the aisle closer to 102, those seats would be preferred over 216. Otherwise, you run the risk of being slightly behind the basket in section 103.
If you do not know exactly where the seats are in 103, section 216 is the safer bet. You will be on the Club level with in-seat wait service, only eight rows per section and minimal lines for restrooms and concessions.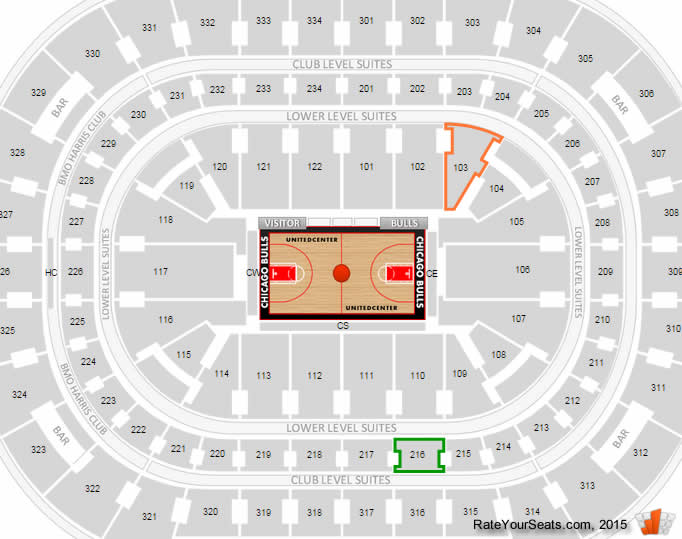 Asked January 27, 2013 for Denver Nuggets at Chicago Bulls on Mar 18, 2013
Other Popular Seating Choices
RateYourSeats.com is the best way to search, compare and buy tickets. Select an event to find out why!
Event Schedule
Other Basketball
Blackhawks
Concert
Other
Jeff Lynnes ELO - Electric Light Orchestra

United Center - Chicago, IL

Saturday, July 27 at 8:00 PM

NHL Preseason - Detroit Red Wings at Chicago Blackhawks

United Center - Chicago, IL

Wednesday, September 18 at 7:30 PM

NHL Preseason - Boston Bruins at Chicago Blackhawks

United Center - Chicago, IL

Saturday, September 21 at 7:30 PM

NHL Preseason - Washington Capitals at Chicago Blackhawks

United Center - Chicago, IL

Wednesday, September 25 at 7:30 PM

The Chainsmokers with 5 Seconds of Summer

United Center - Chicago, IL

Friday, October 4 at 7:00 PM

2019-2020 Chicago Blackhawks Season Tickets

United Center - Chicago, IL

Wednesday, October 9 at 12:55 PM

San Jose Sharks at Chicago Blackhawks

United Center - Chicago, IL

Thursday, October 10 at 7:30 PM

Columbus Blue Jackets at Chicago Blackhawks

United Center - Chicago, IL

Friday, October 18 at 7:30 PM

Washington Capitals at Chicago Blackhawks

United Center - Chicago, IL

Sunday, October 20 at 6:00 PM

Vegas Golden Knights at Chicago Blackhawks

United Center - Chicago, IL

Tuesday, October 22 at 7:30 PM

Philadelphia Flyers at Chicago Blackhawks

United Center - Chicago, IL

Thursday, October 24 at 7:30 PM

Los Angeles Kings at Chicago Blackhawks

United Center - Chicago, IL

Sunday, October 27 at 6:00 PM

Vancouver Canucks at Chicago Blackhawks

United Center - Chicago, IL

Thursday, November 7 at 7:30 PM

Toronto Maple Leafs at Chicago Blackhawks

United Center - Chicago, IL

Sunday, November 10 at 6:00 PM

Carolina Hurricanes at Chicago Blackhawks

United Center - Chicago, IL

Tuesday, November 19 at 7:30 PM

Tampa Bay Lightning at Chicago Blackhawks

United Center - Chicago, IL

Thursday, November 21 at 7:30 PM

Colorado Avalanche at Chicago Blackhawks

United Center - Chicago, IL

Friday, November 29 at 3:00 PM

Colorado Avalanche at Chicago Blackhawks

United Center - Chicago, IL

Wednesday, December 18 at 7:00 PM

New Jersey Devils at Chicago Blackhawks

United Center - Chicago, IL

Monday, December 23 at 7:30 PM

New York Islanders at Chicago Blackhawks

United Center - Chicago, IL

Friday, December 27 at 7:30 PM

Nashville Predators at Chicago Blackhawks

United Center - Chicago, IL

Thursday, January 9 at 7:30 PM

Florida Panthers at Chicago Blackhawks

United Center - Chicago, IL

Tuesday, January 21 at 7:30 PM

New York Rangers at Chicago Blackhawks

United Center - Chicago, IL

Wednesday, February 19 at 7:00 PM

Nashville Predators at Chicago Blackhawks

United Center - Chicago, IL

Friday, February 21 at 7:30 PM

Nashville Predators at Chicago Blackhawks

United Center - Chicago, IL

Sunday, March 22 at 6:00 PM

Pittsburgh Penguins at Chicago Blackhawks

United Center - Chicago, IL

Wednesday, March 25 at 7:00 PM