Where is the best place to sit at Turner Field to see 4th of July Fireworks?
We normally sit club level on either first or third base side. Will either section work?
Jun 2015
Answered by Keith at RateYourSeats.com...
2015 Fourth of July Fireworks Show

The Braves are hyping
their 2015 fireworks show as the best display in the entire Southeast! The fireworks will be set off above the left-field stands behind even Sections 232-246. You'll want to complete avoid these seats and the field level seats just below them.

Consider Seats on the First Base Side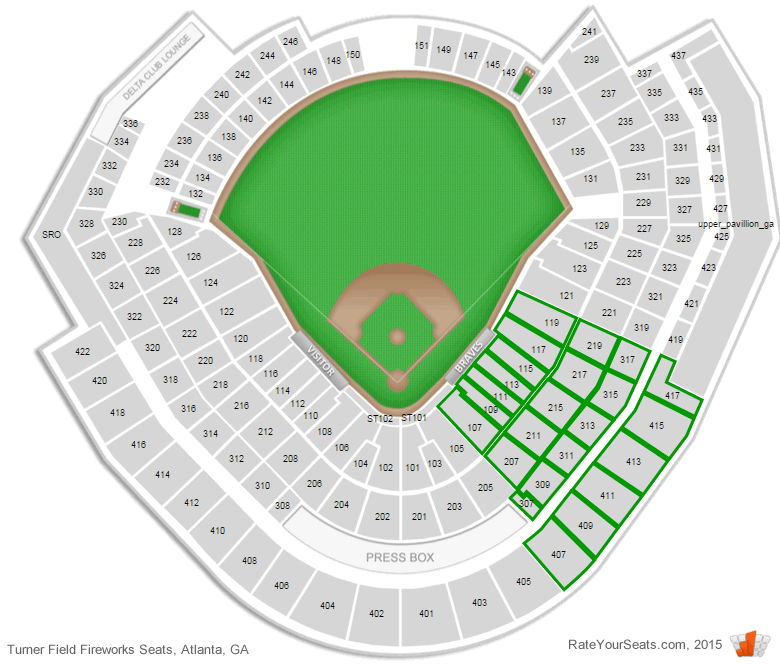 For the most comfortable views, sit on the first base side of the diamond where you find odd-numbered sections. Sitting in 107-117 will have you just a few rows behind the Braves dugout, while also giving you crystal-clear views of the pyrotechnics. In the club level, Sections 307-317 are best and you'll want to avoid even sections 328-336 altogether.

If you don't care so much about the game and just want the most comfortable seats for seeing the fireworks, choose a seat in section 407-417. In addition to being among the cheapest tickets in the stadium, these seats are head-on at the fireworks and allow you to look at them without having bend your head back and look up too much.

Asked June 16, 2015 for Atlanta Braves vs. Philadelphia Phillies on Jul 4, 2015
Other Popular Seating Choices