What does obstructed/limited view mean for the Beyonce show in Baltimore?
I have purchased seats in section 146 which are listed as obstructed or limited. Can you tell me what that means for this show? Is it because the seats are angled? When I attended in the past, my tickets did not indicate an obstruction and were dead on to the stage; however, I was sitting directly in front of the large lighting structure. Please advise. Thank you.
Feb 2016
Answered by Keith at RateYourSeats.com...
Although the setup for the Beyonce show in Baltimore has not been finalized, sound and lightning equipment will be set-up at the back of the field. This equipment will impact the sitelines of some fans seated in sections 130-135, 145-150, 235-236 and 245-246.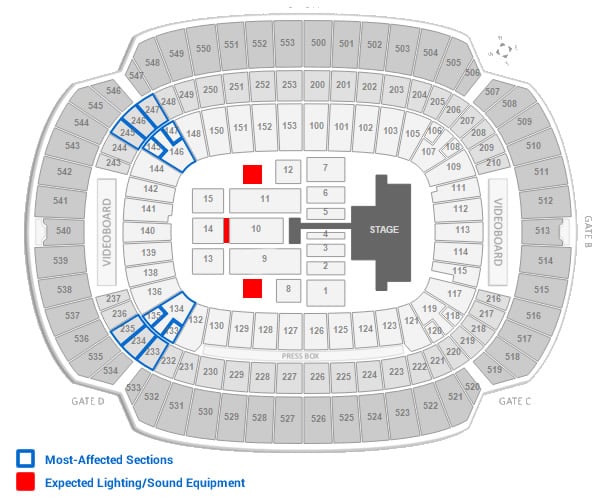 The degree of obstruction varies by seat and row. Tickets with limited views should be marked 'limited' or 'obstructed' either in ticket notes (if buying online) or on your actual ticket (if you have it in hand).
Asked February 11, 2016 for Beyonce on Jun 10, 2016
Interactive Seating Chart
Other Popular Seating Choices