What seating is there for people with disabilities at Levis Stadium?
Do all aisles have hand rails going up the stairs?
Aug 2015
Answered by Steve at RateYourSeats.com...
The lower seating tier will be the best place to find handicap
accessible seating at Levis Stadium, with options available both at the
front and back of many 100 level sections. Accessible seats are more difficult to find on the 200 Level, available at the front of a few sections on the north sideline, and in the back of select sections on the south sideline. And as there is no accessible seating on the 400 level, the last place
you'll find handicap seats is on the 300 level near the back of select
sections.
Every aisle will feature handrails in the main seating bowl at Levis Stadium, making it slightly easier to travel up or down a few rows from the entry tunnels. But for the safest and easiest access, we recommend sticking to the designated handicap accessible seating locations listed below:

100 Level Front:
Row 1W in Sections 101-102, 104-106, 108-112, C113, C117, 142-144, and 146
Row 2W in Sections C137 and C139
Row 6W in Section C115
100 Level Back:
Row 35W in Sections 101, 105, 108, 111, C114-C116, 119, 122, 124, 125, 127, 129, 130, 132, 134, C135-C136, C138, C140-C141, 142, and 144
200 Level Front:
Row 1W in Sections C213-C215 and C217-C219
200 Level Back:
Row 12W in Sections 232, 235, C236-C237, C241-C242, 243 and 246
300 Level Back:
Row 6W in Sections 304-306, 309-310, 312, 314-315, 317, 319-320, and 323-325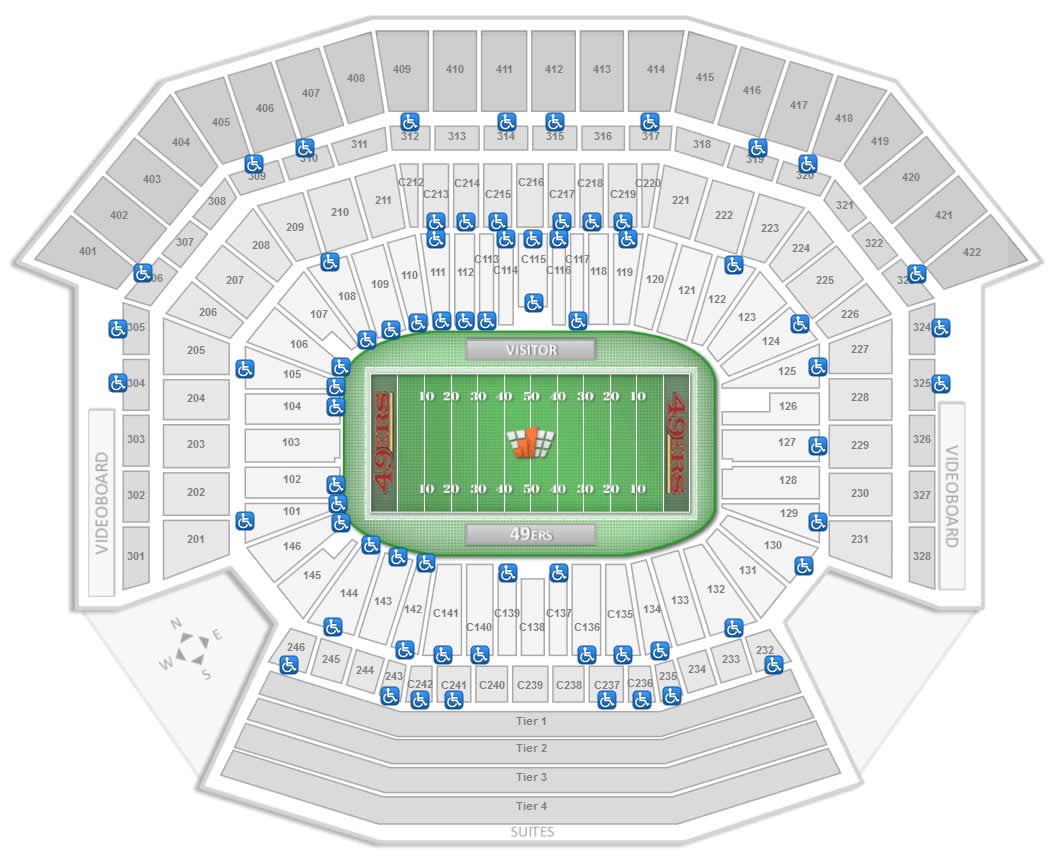 Asked August 14, 2015 for NFL Preseason: San Francisco 49ers vs. San Diego Chargers on Sep 3, 2015
Interactive Seating Chart
Other Popular Seating Choices