Where are the covered seats at Husky Stadium?
Nov 2013
Answered by RateYourSeats.com staff...
Covered seating at Husky Stadium is available in the 200 level Club seats on the south sideline (sections 201-211), the 200 level sideline sections on the north side of the stadium (sections 225-234), and the 300 level sideline sections (301-311 on the south side, and 325-333 on the north side).
The Club seats on the 200 level of the south side of the stadium are also known as Club Husky, and feature padded, extra-wide seats with cupholders and armrests. These seats also grant ticket holders access to a Club Lounge with upscale dining options, HDTVs and private restrooms.
Sections 228-230 on the North side of the stadium are also known as the Don James Center seats, where fans are treated to complimentary food and beverage, and padded, extra-wide seats with armrests and cupholders.
For more information on these seating options, you can visit our dedicated page for Covered Seating at Husky Stadium. You can enter in your seating details to see if your seats are covered, or even search for covered tickets by simply selecting which game you want to attend.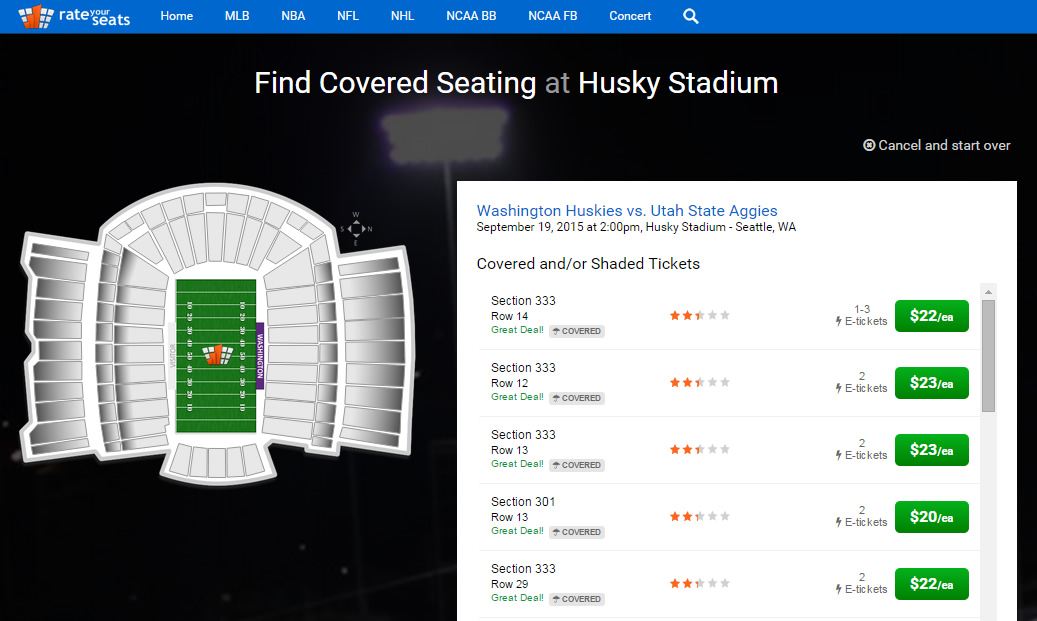 Asked November 06, 2013 for Colorado Buffaloes at Washington Huskies on Nov 9, 2013
Interactive Seating Chart
Other Popular Seating Choices