What are the best seats for a concert at the Honda Center?
I heard its either Sections 209-210 or 220-221 in the first 3 rows.  Is this true?  I would hate to spend $250 and not be able to see anything.
Feb 2013
Answered by RateYourSeats.com staff...
Sections 208-210 and 220-222 will be some of the best available options for traditional end stage concerts at the Honda Center. Some fans have commented that while Sections 210 and 220 keep you impressively close to the stage, they can often have an extreme side view making it difficult to see the front of the performers. The first three rows are great options as they limit the number of fans in front of you and keep you closer to the action, but the view should be great anywhere in the first 10 rows of sections 208-210 and 221-223.
Floor seating is also a very popular choice, offering a high energy atmosphere and close proximity to the stage. Floor Section 102 is one of the most sought after floor sections for a traditional end stage concert as it keeps you right up front, and has a head on view to the center of the stage. However with floor sections, fans should be prepared to stand for a good portion of the show, have longer walks to and from the restrooms and concessions, and might experience some viewing difficulty if you should have taller fans directly in front (as there is no elevation between seating rows on the floor).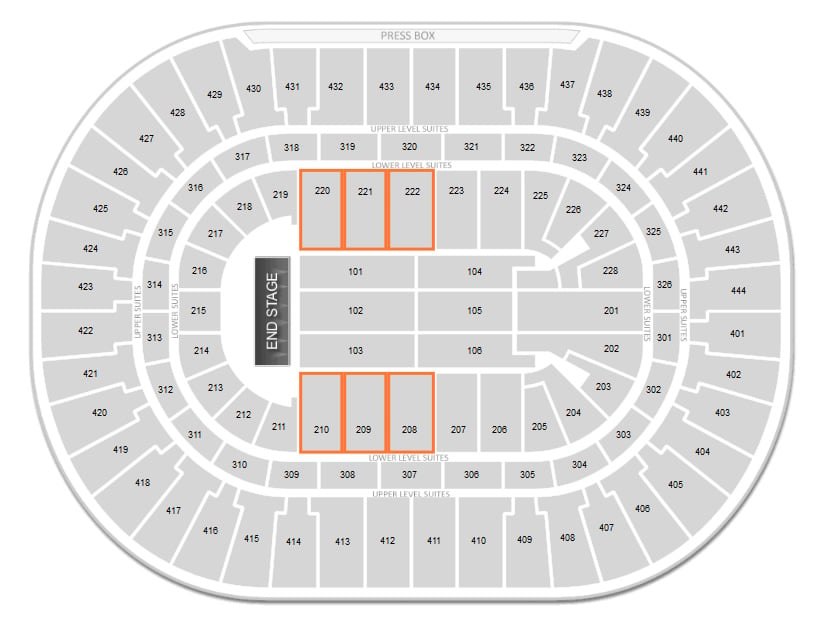 Asked February 19, 2013 for New Kids on the Block with 98 Degrees and Boyz II Men on Jul 13, 2013
Interactive Seating Chart
Other Popular Seating Choices