How handicap accessible is seating in Section 304 at the Georgia Dome?
I need information on getting my disabled mother to her seat in Section 304. How much help can we get?  Are there handicapped areas in that Section?  If we drop her off and park, can we use handicap parking in any of the lots?  What is your suggestion about getting her in and out of the Dome?
Sep 2013
Answered by RateYourSeats.com staff...
Unfortunately the handicap accessible seating areas at the Georgia Dome are only
available on the 100 and 200 level seats (lower level, club, and
mezzanine level seats). There is no handicap accessible seating on the
300 level (upper level), so we recommend that you contact the Falcons ticket
office as soon as possible to inquire whether your tickets can be
exchanged for handicap accessible seats. The Falcons Box Office phone
number is 404-223-8444.

If you are unable to exchange your tickets, Section 304 is located right by Gate A at the Southwest Corner of the stadium and the closest parking lot with handicap accessible parking is the Silver Lot on the north side of Georgia Dome Drive (just south of the Dome off of Northside Drive). There are not many spots available in the Silver Lot, so you may want to consider the Orange Lot which is just on the other side (south) of Georgia Dome Drive from the Silver Lot. These are the two parking lots recommended by the Georgia Dome for handicap accessible parking, and will also keep you close to Gate A which is where you will want to enter for seats in Section 304.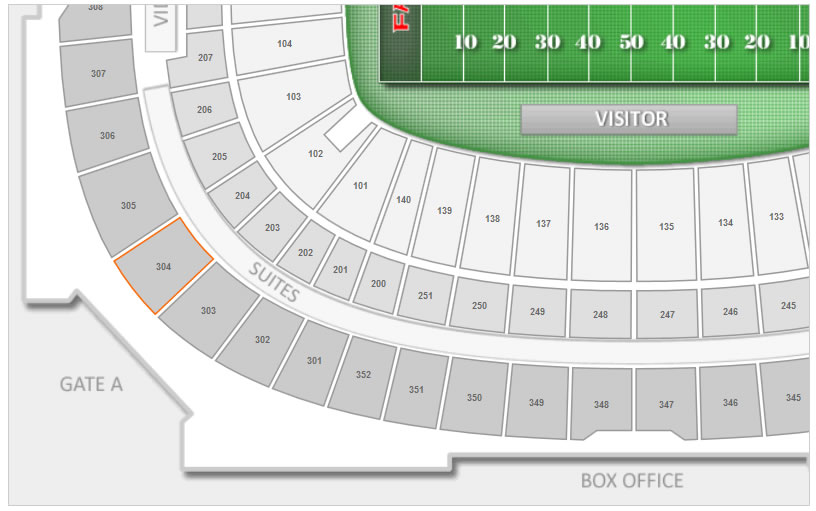 Handicap accessible parking is available on a first come first serve basis, so we recommend getting to the game at least one hour prior to kickoff for the best chances of getting a handicap accessible spot. If you are unable to get a spot in these two lots, you may want to drop off your mother at the corner of Northside Drive and Georgia Dome drive at the southwest corner of the stadium, then bring her to the Dome Services Center Gate A while finding a parking spot. The Georgia Dome offers wheelchairs available for checkout with only a security deposit required (wheelchairs are available on a first come first serve basis). You can also request a stadium escort that will help get your mother to her seat.
Asked September 27, 2013 for New England Patriots at Atlanta Falcons on Sep 29, 2013
Other Popular Seating Choices