How are lower level rows numbered/lettered at Fenway Park?
Jun 2016
Answered by RateYourSeats.com staff...
The lower level of Fenway Park is made up of three semi-continuous seating zones, each with a unique row structure. In most areas, the seats closest to the field are known as Field or Dugout Boxes, followed by Loge Boxes and the Grandstand.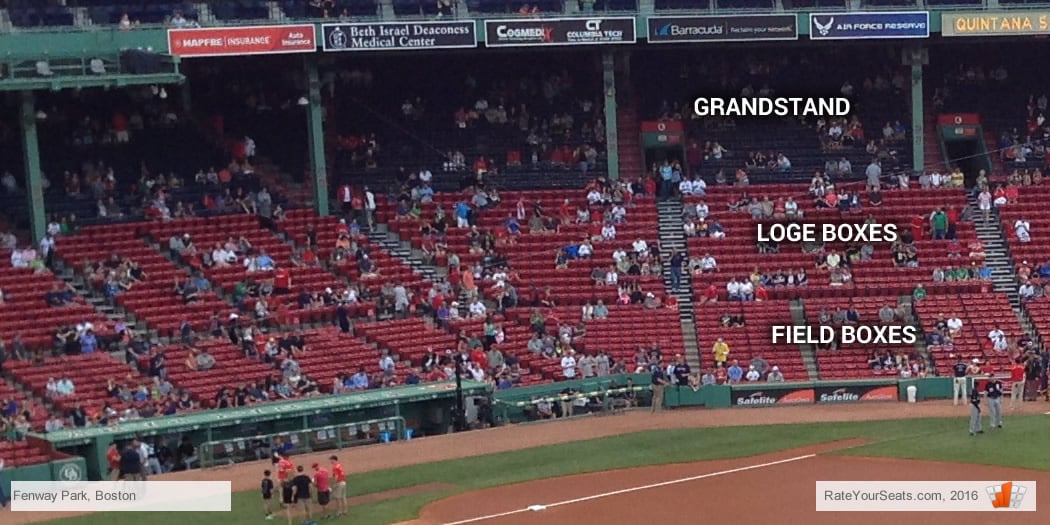 Field and Dugout Boxes Rows
The most confusing row structures at Fenway Park are found in the sections closest to the field. These seats are sometimes known as dugout boxes, field boxes and right field boxes. Most rows in these sections are lettered, though some are numbered and a select few include both a number and a letter.
For sections directly behind home plate, row A1 is closest to the field and typically includes a television monitor at your feet. Rows 1 and 2 follow directly behind, while lettered rows typically run from A-M.
In sections not behind home plate, numbered rows (usually just 1 and 2) are closest to the field. These rows are then followed by lettered rows beginning with A.
Loge Box Double-Letter Rows
If your'e seated in the lower level and your ticket has a double-letter row, you're more than likely seated in one of the loge boxes that wrap around most of foul territory. Most Loge Boxes begin with row AA and can extend as high as Row RR. Keep in mind that row AA is directly behind the walkway and you'll often find less disrupted views in rows DD and higher.
Grandstand Rows
Rows in the grandstand area are all covered and are the easiest to understand. All sections begin with Row 1 and extend as high as row 18. Despite being impressively protected from the sun and rain, each of these seats come with some threat of obstructed views.
Asked June 28, 2016
Interactive Seating Chart
Other Popular Seating Choices