What can I bring onto the field to view the fireworks at Coors Field?
Blanket, chair, ETC.?
Jun 2013
Answered by RateYourSeats.com staff...
Below is a list of prohibited and permitted items at Coors Field. All items that are permitted in the stadium will also be allowed on the field during the post game fireworks if you are sitting in the sections which grant access to the field for the post-game fireworks nights (sections 148-160, 401-403).
Prohibited Items:
-Alcoholic beverages or illegal drugs
-Non-alcoholic beer
-Glass bottles and aluminum cans (including aerosol cans)
-All hard-sided coolers and containers, regardless of size
-All hard-sided briefcases, regardless of size
-All soft-sided bags and containers larger than 16"x16"x8"
-Camera tri, dual or single leg pods by non-media personnel. Video cameras are permitted as long as live game action is not recorded in order to protect Colorado Rockies local and national rightsholders.
-Bota bags, wine skins or camel packs
-Sticks or clubs (including signs attached to sticks)
-Fireworks, firearms or other weapons
-Bullhorns or noise makers
-Confetti
-Animals (except service animals for Guests with Disabilities are permitted)
-Beachballs, balloons and other inflatables
-Skateboards, rollerblades or shoes with wheels
-Stools or folding chairs
-Large squirt guns or super soakers
-Fish nets and poles
-Any fruit or vegetable larger than a grapefruit must be sliced
-Laser pointers
-Insulated coolers, cups and thermoses larger than 22 ounces
-Pizza boxes larger than personal size
Permitted Items:
-Plastic beverage containers
-Soft-sided bags or containers 16"x 16"x 8" or smaller
-Insulated cups or thermoses 22 ounces or smaller
-Food items
-Any fruit or vegetable, grapefruit sized or smaller
-Still and video cameras (see "Cameras")
-Binoculars
-Seat cushions and bleacher back rests
-Umbrellas (During the threat of inclement weather, umbrellas are allowed at Coors Field. In consideration of the safety and sight lines of others, please use only small, compact umbrellas (28" - 34"). Large golf umbrellas and umbrellas with metal tips are strongly discouraged.)
-Paper or plastic cups with permitted beverages
-Plastic baby bottles
-Baseball bats -- for the purpose of autographs; must be stored underneath the seats once the game begins
-Brooms - 6' maximum length
-Potato chip or nut cardboard cans with metal tops or bottoms
-Strollers -- umbrella-type that folds or collapses to fit underneath seats (larger strollers may be claim-checked at the gates upon entry)
-Motorcycle and bicycle helmets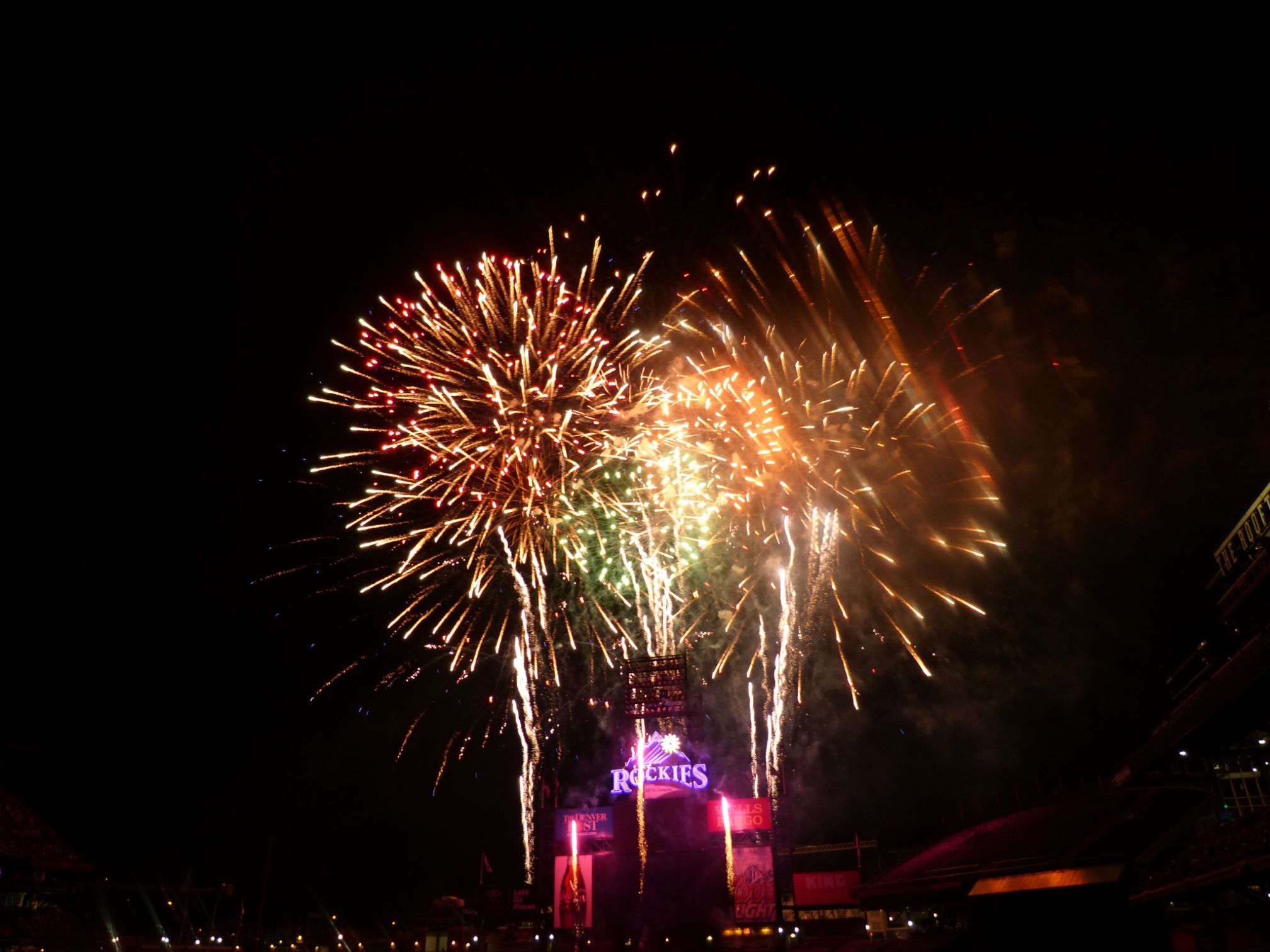 Asked June 17, 2013 for Los Angeles Dodgers at Colorado Rockies on Jul 3, 2013
Interactive Seating Chart
Other Popular Seating Choices
Event Schedule
Rockies
Other Baseball
Other