Between which rows are the breaks in seating on the 100 level at Busch Stadium?
Apr 2016
Answered by RateYourSeats.com staff...
Some lower level sections at the Cardinals' Busch Stadium contain as many as 40 rows of seating. In some of these larger sections, there are walkways that break up the seating. Some fans prefer sitting close to these quick exits, while others are constantly distracted by people in the walkway.
Walkway Locations
Most lower level sections can be categorized as no walkway, single-walkway and double-walkway.
Sections behind the Green Seats, including 146-154 are continuous and are not interrupted by a walkway. These sections are made up of only numbered rows with row 1 always closest to the field. For sections closer to the player dugouts (like 141-145 and 155-159), rows are also continuous with lettered rows followed by numbered rows.
As you move down the line, the sections become a little more complicated. Some of these sections are interrupted by a single walkway, while others are interrupted twice. For these sections that have lettered rows, a small walkway is located between the last lettered row (usually L or M) and the first numbered row (Row 1). Fans seated in Row 1 in these sections may be highly distracted by patrons in the walkway.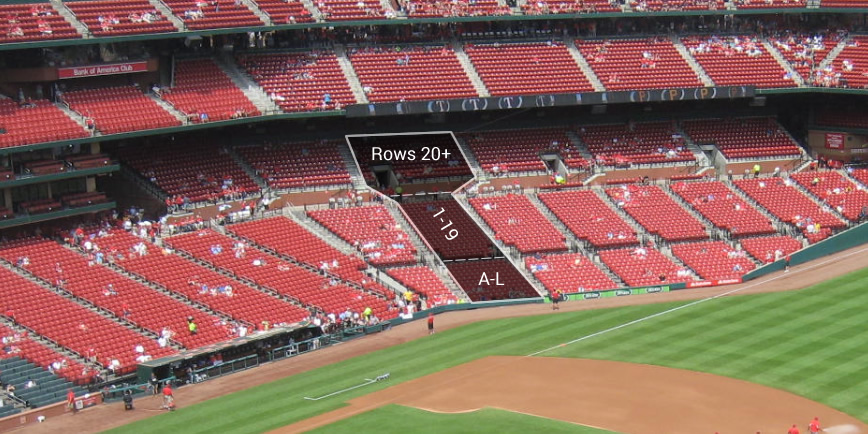 Furthermore, in these sections down the line, a large walkway separated rows 20 and above from the rest of the seating section. Fans seated in rows 20 and above will feel like they're in a separate seating section as these rows are elevated above lower rows and are accessible only by a small set of stairs. Sitting in rows 20 and above will provide more shade, while sitting in rows 15-19 will give you near instant access to the concourse tunnel.
Asked April 26, 2016
Interactive Seating Chart
Other Popular Seating Choices