What row offers the best leg room for a concert at the BB&T Center?
My husband wears knee braces and has to extend his legs. 
Jun 2016
Answered by Keith at RateYourSeats.com...
For those guests with knee or leg problems, we recommend three different seating options for concerts at BB&T Center.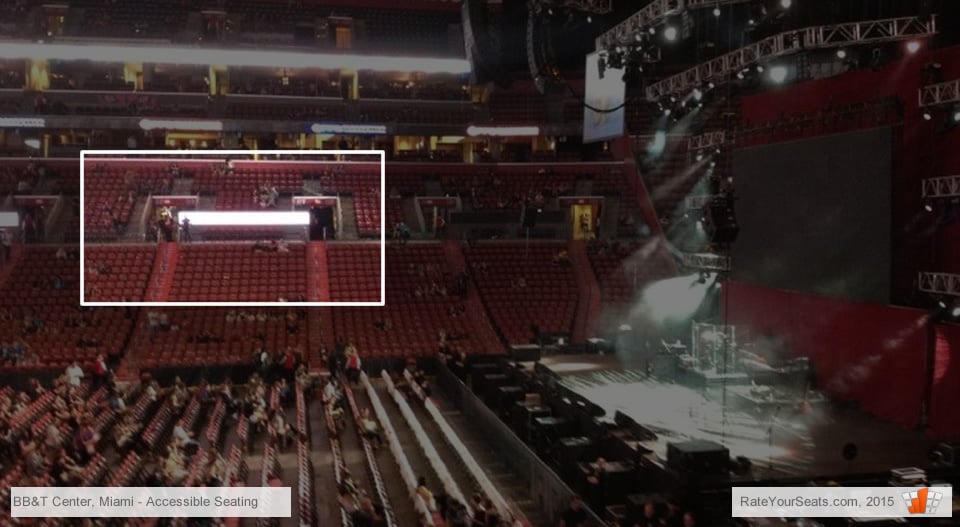 ADA Accessible Seating
First, the arena offers accessible seating options in select rows. These ADA-accessible seating rows are often suffixed with a "W' (ex: Row 18W). These rows allow enough space for wheelchairs and companion seating. They have plenty of legroom and do not require guests to walk any stairs.
First Row on the Floor
If those seats aren't available, you may want to consider the first row of seating on the floor in any section. An aisle/walkway is located at the front of each floor section and offers guests almost unlimited legroom. However, as guests on the floor often stand, the front row of floor sections farther away from the stage may have their view blocked by fans standing in closer sections.
Club Level
A final consideration is the club level. Although these sections don't offer outstanding legroom, the sections are the smallest in the arena. This allows for easy-in and easy-out and decreases the likelihood that you'll be seated behind other fans who are standing.
Asked June 21, 2016 for Pitbull on Jul 31, 2016
Interactive Seating Chart
Other Popular Seating Choices