Which seats at AT&T Park are blocked by the glass in the View Level?
May 2014
Answered by Keith at RateYourSeats.com...

The View Level at AT&T Park features lettered seating rows at the front of the section, a walkway and then numbered rows up a set of stairs. For fans seated in the lettered rows, it's wise to
avoid rows A and B to limit the obstruction caused by the railing. For fans considering the numbered rows, there are similar concerns in rows 1-3, especially if you're looking at aisle seats.


Awful Views From Row 1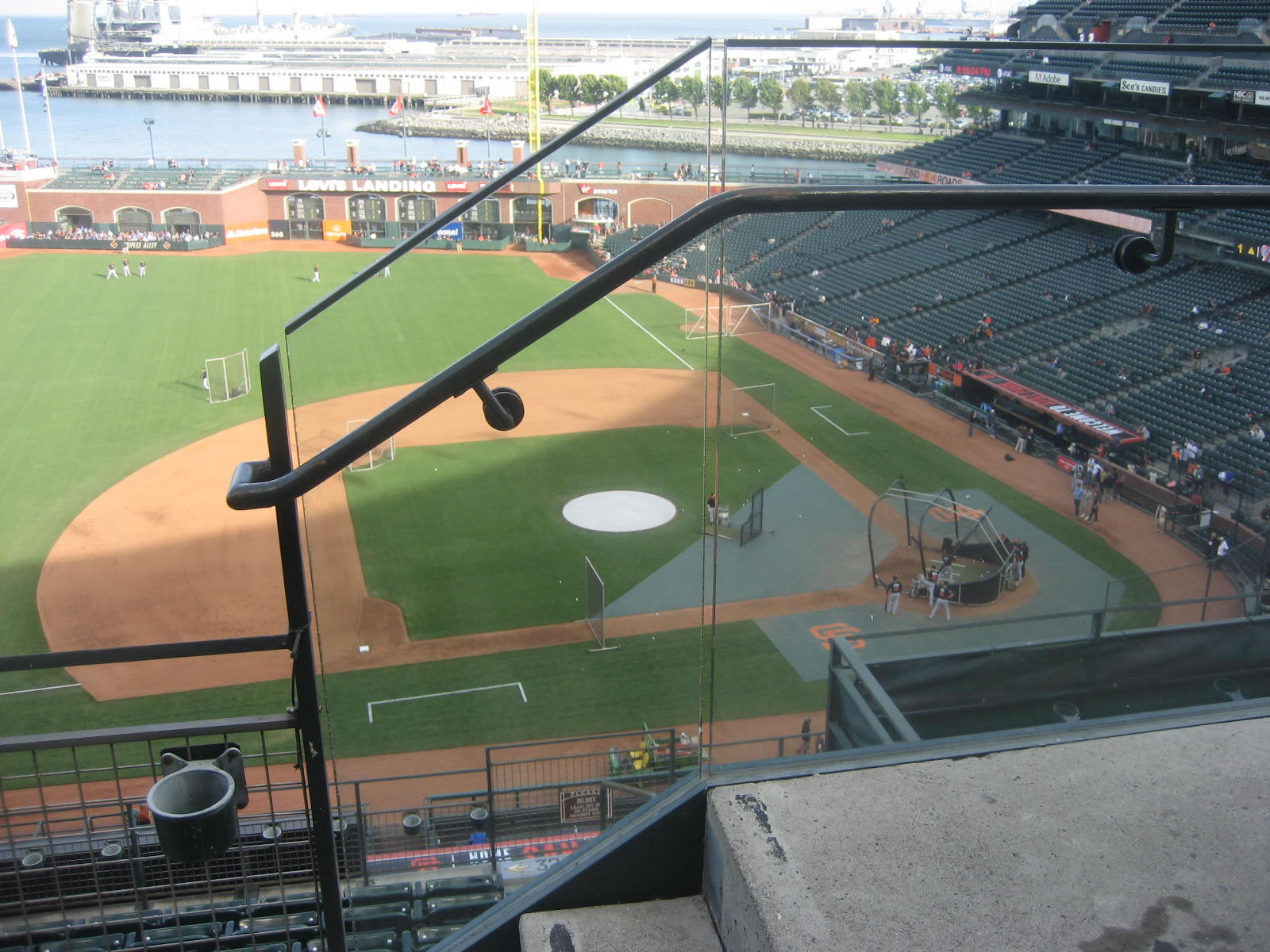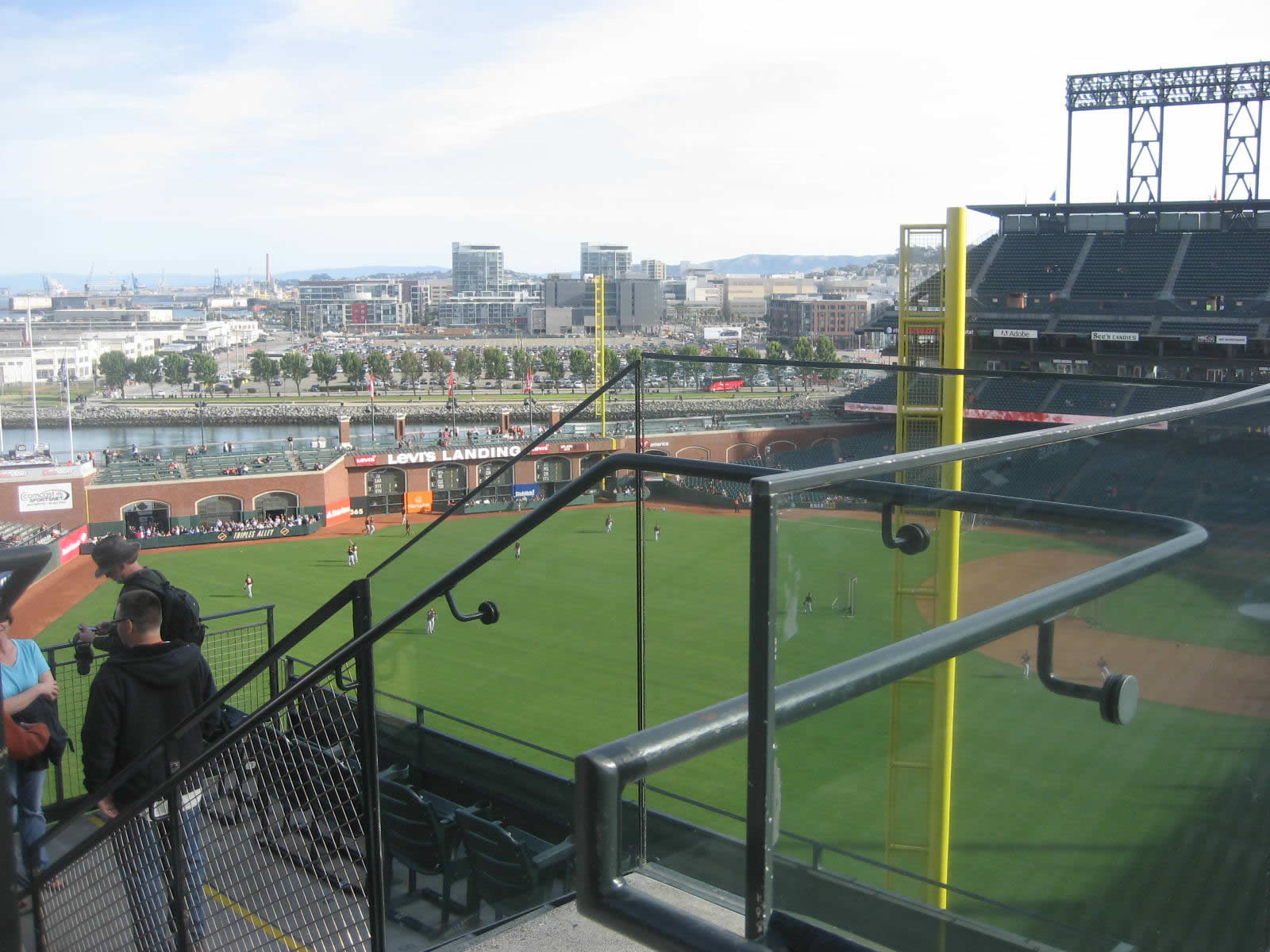 The photos above serve as extreme examples of how poor the views can be from row 1 in 300-level sections. Kind of ironic that the Giants call this the "View Level", huh? Anyways, the commonality between those photos is two-fold:


1) The seat views were taken sitting down in Row 1

2) The seats were aisle seats


In short, to completely void yourself of a truly embarrassing (the Giants should be embarrassed) sightline, do not sit in aisle seats in rows 1-3. These seats are incredibly tempting because they are just up the stairs and have easy access to the concourse - but the convenience will be over-shadowed by not being able to see the game the way you should.


What Does the Middle of the Row Look Like?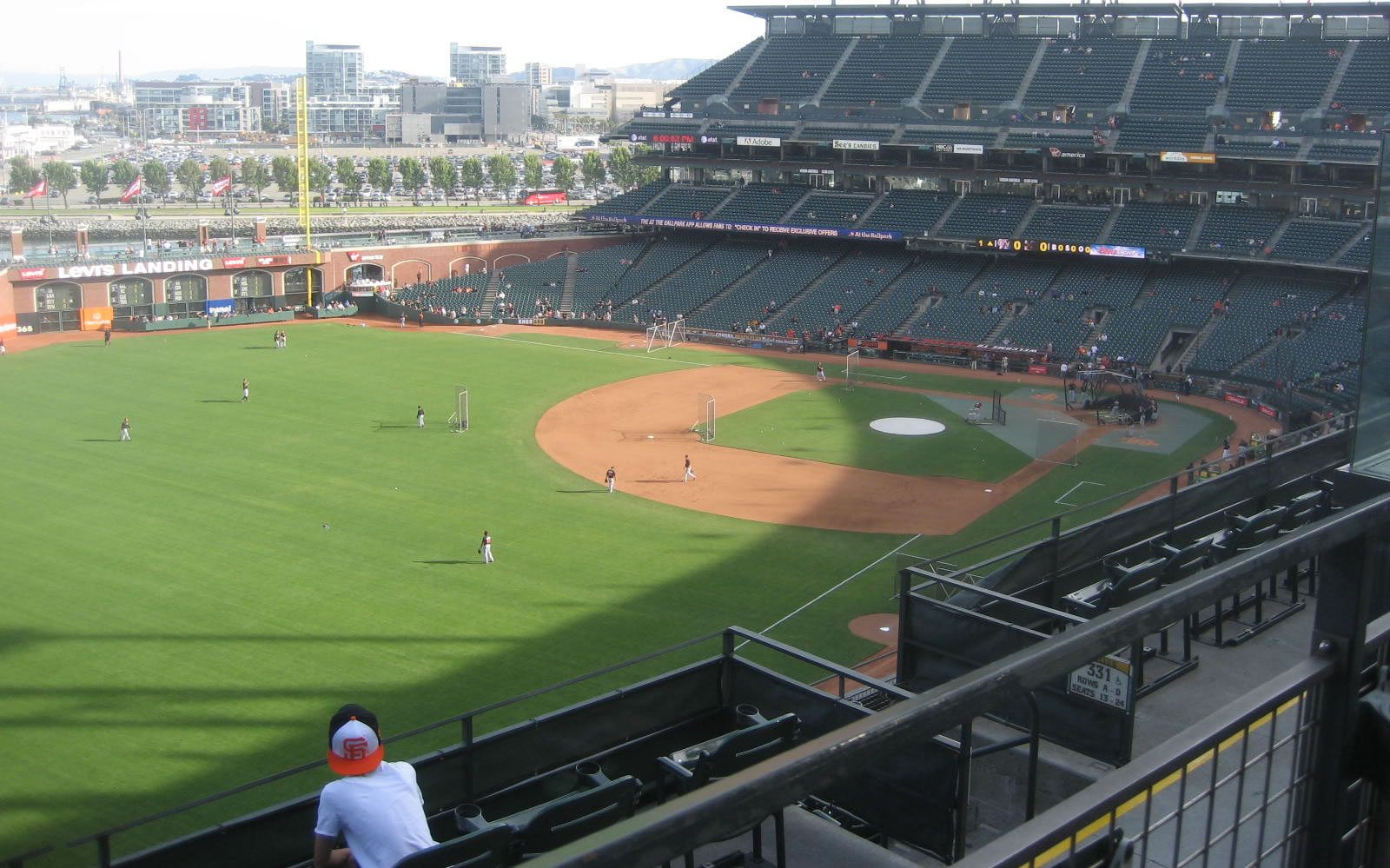 While the middle of the row is not ideal from an access standpoint, it does provide better views when seated in one of the lower rows.
Asked May 16, 2014
Interactive Seating Chart
Other Popular Seating Choices
Event Schedule
Miami Marlins at San Francisco Giants

Oracle Park - San Francisco, CA

Thursday, April 22 at 6:45 PM

Miami Marlins at San Francisco Giants

Oracle Park - San Francisco, CA

Friday, April 23 at 6:45 PM

Miami Marlins at San Francisco Giants

Oracle Park - San Francisco, CA

Saturday, April 24 at 6:05 PM

Miami Marlins at San Francisco Giants

Oracle Park - San Francisco, CA

Sunday, April 25 at 1:05 PM

Colorado Rockies at San Francisco Giants

Oracle Park - San Francisco, CA

Monday, April 26 at 6:45 PM

Colorado Rockies at San Francisco Giants

Oracle Park - San Francisco, CA

Tuesday, April 27 at 6:45 PM

Colorado Rockies at San Francisco Giants

Oracle Park - San Francisco, CA

Wednesday, April 28 at 6:45 PM

St. Louis Cardinals at San Francisco Giants

Oracle Park - San Francisco, CA

Monday, July 5 at 2:05 PM

St. Louis Cardinals at San Francisco Giants

Oracle Park - San Francisco, CA

Tuesday, July 6 at 6:45 PM

St. Louis Cardinals at San Francisco Giants

Oracle Park - San Francisco, CA

Wednesday, July 7 at 6:45 PM

Washington Nationals at San Francisco Giants

Oracle Park - San Francisco, CA

Friday, July 9 at 6:45 PM

Washington Nationals at San Francisco Giants

Oracle Park - San Francisco, CA

Saturday, July 10 at 1:05 PM

Washington Nationals at San Francisco Giants

Oracle Park - San Francisco, CA

Sunday, July 11 at 1:05 PM

Pittsburgh Pirates at San Francisco Giants

Oracle Park - San Francisco, CA

Friday, July 23 at 6:45 PM

Pittsburgh Pirates at San Francisco Giants

Oracle Park - San Francisco, CA

Saturday, July 24 at 6:45 PM

Pittsburgh Pirates at San Francisco Giants

Oracle Park - San Francisco, CA

Sunday, July 25 at 1:05 PM

Los Angeles Dodgers at San Francisco Giants

Oracle Park - San Francisco, CA

Tuesday, July 27 at 6:45 PM

Los Angeles Dodgers at San Francisco Giants

Oracle Park - San Francisco, CA

Wednesday, July 28 at 6:45 PM

Los Angeles Dodgers at San Francisco Giants

Oracle Park - San Francisco, CA

Thursday, July 29 at 12:45 PM

Houston Astros at San Francisco Giants

Oracle Park - San Francisco, CA

Friday, July 30 at 6:45 PM

Houston Astros at San Francisco Giants

Oracle Park - San Francisco, CA

Saturday, July 31 at 1:05 PM

Houston Astros at San Francisco Giants

Oracle Park - San Francisco, CA

Sunday, August 1 at 1:05 PM

Arizona Diamondbacks at San Francisco Giants

Oracle Park - San Francisco, CA

Tuesday, August 10 at 6:45 PM

Arizona Diamondbacks at San Francisco Giants

Oracle Park - San Francisco, CA

Wednesday, August 11 at 6:45 PM

Colorado Rockies at San Francisco Giants

Oracle Park - San Francisco, CA

Thursday, August 12 at 6:45 PM

Colorado Rockies at San Francisco Giants

Oracle Park - San Francisco, CA

Friday, August 13 at 6:45 PM

Colorado Rockies at San Francisco Giants

Oracle Park - San Francisco, CA

Saturday, August 14 at 6:05 PM

Colorado Rockies at San Francisco Giants

Oracle Park - San Francisco, CA

Sunday, August 15 at 1:05 PM

New York Mets at San Francisco Giants

Oracle Park - San Francisco, CA

Monday, August 16 at 6:45 PM

New York Mets at San Francisco Giants

Oracle Park - San Francisco, CA

Tuesday, August 17 at 6:45 PM

New York Mets at San Francisco Giants

Oracle Park - San Francisco, CA

Wednesday, August 18 at 12:45 PM

Milwaukee Brewers at San Francisco Giants

Oracle Park - San Francisco, CA

Monday, August 30 at 6:45 PM

Milwaukee Brewers at San Francisco Giants

Oracle Park - San Francisco, CA

Tuesday, August 31 at 6:45 PM

Milwaukee Brewers at San Francisco Giants

Oracle Park - San Francisco, CA

Wednesday, September 1 at 6:45 PM

Milwaukee Brewers at San Francisco Giants

Oracle Park - San Francisco, CA

Thursday, September 2 at 12:45 PM

Los Angeles Dodgers at San Francisco Giants

Oracle Park - San Francisco, CA

Friday, September 3 at 6:45 PM

Los Angeles Dodgers at San Francisco Giants

Oracle Park - San Francisco, CA

Saturday, September 4 at 6:05 PM

Los Angeles Dodgers at San Francisco Giants

Oracle Park - San Francisco, CA

Sunday, September 5 at 1:05 PM

San Diego Padres at San Francisco Giants

Oracle Park - San Francisco, CA

Monday, September 13 at 6:45 PM

San Diego Padres at San Francisco Giants

Oracle Park - San Francisco, CA

Tuesday, September 14 at 6:45 PM

San Diego Padres at San Francisco Giants

Oracle Park - San Francisco, CA

Wednesday, September 15 at 6:45 PM

San Diego Padres at San Francisco Giants

Oracle Park - San Francisco, CA

Thursday, September 16 at 12:45 PM

Atlanta Braves at San Francisco Giants

Oracle Park - San Francisco, CA

Friday, September 17 at 6:45 PM

Atlanta Braves at San Francisco Giants

Oracle Park - San Francisco, CA

Saturday, September 18 at 6:05 PM

Atlanta Braves at San Francisco Giants

Oracle Park - San Francisco, CA

Sunday, September 19 at 1:05 PM

Arizona Diamondbacks at San Francisco Giants

Oracle Park - San Francisco, CA

Tuesday, September 28 at 6:45 PM

Arizona Diamondbacks at San Francisco Giants

Oracle Park - San Francisco, CA

Wednesday, September 29 at 7:00 PM

Arizona Diamondbacks at San Francisco Giants

Oracle Park - San Francisco, CA

Thursday, September 30 at 6:45 PM

San Diego Padres at San Francisco Giants

Oracle Park - San Francisco, CA

Friday, October 1 at 6:45 PM

San Diego Padres at San Francisco Giants

Oracle Park - San Francisco, CA

Saturday, October 2 at 1:05 PM