How many seats are there in View Box Section 330, Row A at AT&T Park?
May 2015
Answered by Keith at RateYourSeats.com...
View Box 330 Seating Chart

There are 24 seats in Section 330, Row A at AT&T Park in San Francisco. As you look towards the field from those seats, seat number 1 is on the right aisle. You'll enter the section from the concourse between Row D and Row 1 and then walk down four steps to Row A at the front of the section.

Row A Seat View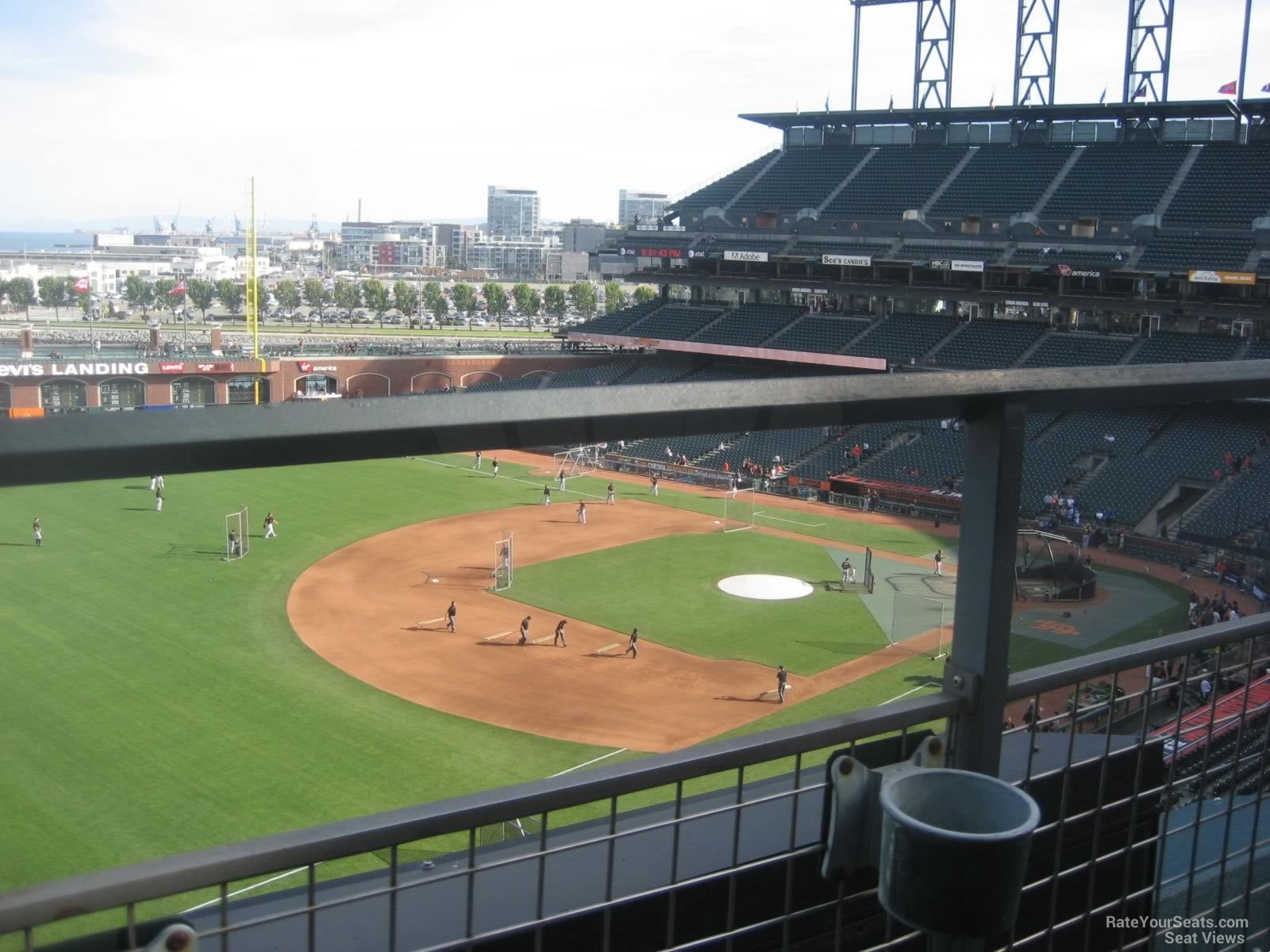 The sitelines from Row A in the View Level are somewhat obstructed by the railing that protects fans in the upper deck, though views of the harbor from Section 330 are very good.


Tips on avoiding obstructed/limited views in the upper deck can be found in response to this question about the limited view designation.

Asked May 26, 2015 for San Francisco Giants vs. Colorado Rockies on Jun 27, 2015
Interactive Seating Chart
Other Popular Seating Choices
Event Schedule
Miami Marlins at San Francisco Giants

Oracle Park - San Francisco, CA

Thursday, April 22 at 6:45 PM

Miami Marlins at San Francisco Giants

Oracle Park - San Francisco, CA

Friday, April 23 at 6:45 PM

Miami Marlins at San Francisco Giants

Oracle Park - San Francisco, CA

Saturday, April 24 at 6:05 PM

Miami Marlins at San Francisco Giants

Oracle Park - San Francisco, CA

Sunday, April 25 at 1:05 PM

Colorado Rockies at San Francisco Giants

Oracle Park - San Francisco, CA

Monday, April 26 at 6:45 PM

Colorado Rockies at San Francisco Giants

Oracle Park - San Francisco, CA

Tuesday, April 27 at 6:45 PM

Colorado Rockies at San Francisco Giants

Oracle Park - San Francisco, CA

Wednesday, April 28 at 6:45 PM

St. Louis Cardinals at San Francisco Giants

Oracle Park - San Francisco, CA

Monday, July 5 at 2:05 PM

St. Louis Cardinals at San Francisco Giants

Oracle Park - San Francisco, CA

Tuesday, July 6 at 6:45 PM

St. Louis Cardinals at San Francisco Giants

Oracle Park - San Francisco, CA

Wednesday, July 7 at 6:45 PM

Washington Nationals at San Francisco Giants

Oracle Park - San Francisco, CA

Friday, July 9 at 6:45 PM

Washington Nationals at San Francisco Giants

Oracle Park - San Francisco, CA

Saturday, July 10 at 1:05 PM

Washington Nationals at San Francisco Giants

Oracle Park - San Francisco, CA

Sunday, July 11 at 1:05 PM

Pittsburgh Pirates at San Francisco Giants

Oracle Park - San Francisco, CA

Friday, July 23 at 6:45 PM

Pittsburgh Pirates at San Francisco Giants

Oracle Park - San Francisco, CA

Saturday, July 24 at 6:45 PM

Pittsburgh Pirates at San Francisco Giants

Oracle Park - San Francisco, CA

Sunday, July 25 at 1:05 PM

Los Angeles Dodgers at San Francisco Giants

Oracle Park - San Francisco, CA

Tuesday, July 27 at 6:45 PM

Los Angeles Dodgers at San Francisco Giants

Oracle Park - San Francisco, CA

Wednesday, July 28 at 6:45 PM

Los Angeles Dodgers at San Francisco Giants

Oracle Park - San Francisco, CA

Thursday, July 29 at 12:45 PM

Houston Astros at San Francisco Giants

Oracle Park - San Francisco, CA

Friday, July 30 at 6:45 PM

Houston Astros at San Francisco Giants

Oracle Park - San Francisco, CA

Saturday, July 31 at 1:05 PM

Houston Astros at San Francisco Giants

Oracle Park - San Francisco, CA

Sunday, August 1 at 1:05 PM

Arizona Diamondbacks at San Francisco Giants

Oracle Park - San Francisco, CA

Tuesday, August 10 at 6:45 PM

Arizona Diamondbacks at San Francisco Giants

Oracle Park - San Francisco, CA

Wednesday, August 11 at 6:45 PM

Colorado Rockies at San Francisco Giants

Oracle Park - San Francisco, CA

Thursday, August 12 at 6:45 PM

Colorado Rockies at San Francisco Giants

Oracle Park - San Francisco, CA

Friday, August 13 at 6:45 PM

Colorado Rockies at San Francisco Giants

Oracle Park - San Francisco, CA

Saturday, August 14 at 6:05 PM

Colorado Rockies at San Francisco Giants

Oracle Park - San Francisco, CA

Sunday, August 15 at 1:05 PM

New York Mets at San Francisco Giants

Oracle Park - San Francisco, CA

Monday, August 16 at 6:45 PM

New York Mets at San Francisco Giants

Oracle Park - San Francisco, CA

Tuesday, August 17 at 6:45 PM

New York Mets at San Francisco Giants

Oracle Park - San Francisco, CA

Wednesday, August 18 at 12:45 PM

Milwaukee Brewers at San Francisco Giants

Oracle Park - San Francisco, CA

Monday, August 30 at 6:45 PM

Milwaukee Brewers at San Francisco Giants

Oracle Park - San Francisco, CA

Tuesday, August 31 at 6:45 PM

Milwaukee Brewers at San Francisco Giants

Oracle Park - San Francisco, CA

Wednesday, September 1 at 6:45 PM

Milwaukee Brewers at San Francisco Giants

Oracle Park - San Francisco, CA

Thursday, September 2 at 12:45 PM

Los Angeles Dodgers at San Francisco Giants

Oracle Park - San Francisco, CA

Friday, September 3 at 6:45 PM

Los Angeles Dodgers at San Francisco Giants

Oracle Park - San Francisco, CA

Saturday, September 4 at 6:05 PM

Los Angeles Dodgers at San Francisco Giants

Oracle Park - San Francisco, CA

Sunday, September 5 at 1:05 PM

San Diego Padres at San Francisco Giants

Oracle Park - San Francisco, CA

Monday, September 13 at 6:45 PM

San Diego Padres at San Francisco Giants

Oracle Park - San Francisco, CA

Tuesday, September 14 at 6:45 PM

San Diego Padres at San Francisco Giants

Oracle Park - San Francisco, CA

Wednesday, September 15 at 6:45 PM

San Diego Padres at San Francisco Giants

Oracle Park - San Francisco, CA

Thursday, September 16 at 12:45 PM

Atlanta Braves at San Francisco Giants

Oracle Park - San Francisco, CA

Friday, September 17 at 6:45 PM

Atlanta Braves at San Francisco Giants

Oracle Park - San Francisco, CA

Saturday, September 18 at 6:05 PM

Atlanta Braves at San Francisco Giants

Oracle Park - San Francisco, CA

Sunday, September 19 at 1:05 PM

Arizona Diamondbacks at San Francisco Giants

Oracle Park - San Francisco, CA

Tuesday, September 28 at 6:45 PM

Arizona Diamondbacks at San Francisco Giants

Oracle Park - San Francisco, CA

Wednesday, September 29 at 7:00 PM

Arizona Diamondbacks at San Francisco Giants

Oracle Park - San Francisco, CA

Thursday, September 30 at 6:45 PM

San Diego Padres at San Francisco Giants

Oracle Park - San Francisco, CA

Friday, October 1 at 6:45 PM

San Diego Padres at San Francisco Giants

Oracle Park - San Francisco, CA

Saturday, October 2 at 1:05 PM