How are the seats in Section 105 Row 12 at AT&T Park?
Is it a good place to see both the game and the scoreboard?
May 2013
Answered by RateYourSeats.com staff...
Section 105 is located just beyond the infield dirt on the first base side and provides a very good view of the play on the field. You will be closer to the visitors dugout (just in-front of you), but you will have a fairly clear view into the Giants dugout located on the third base side.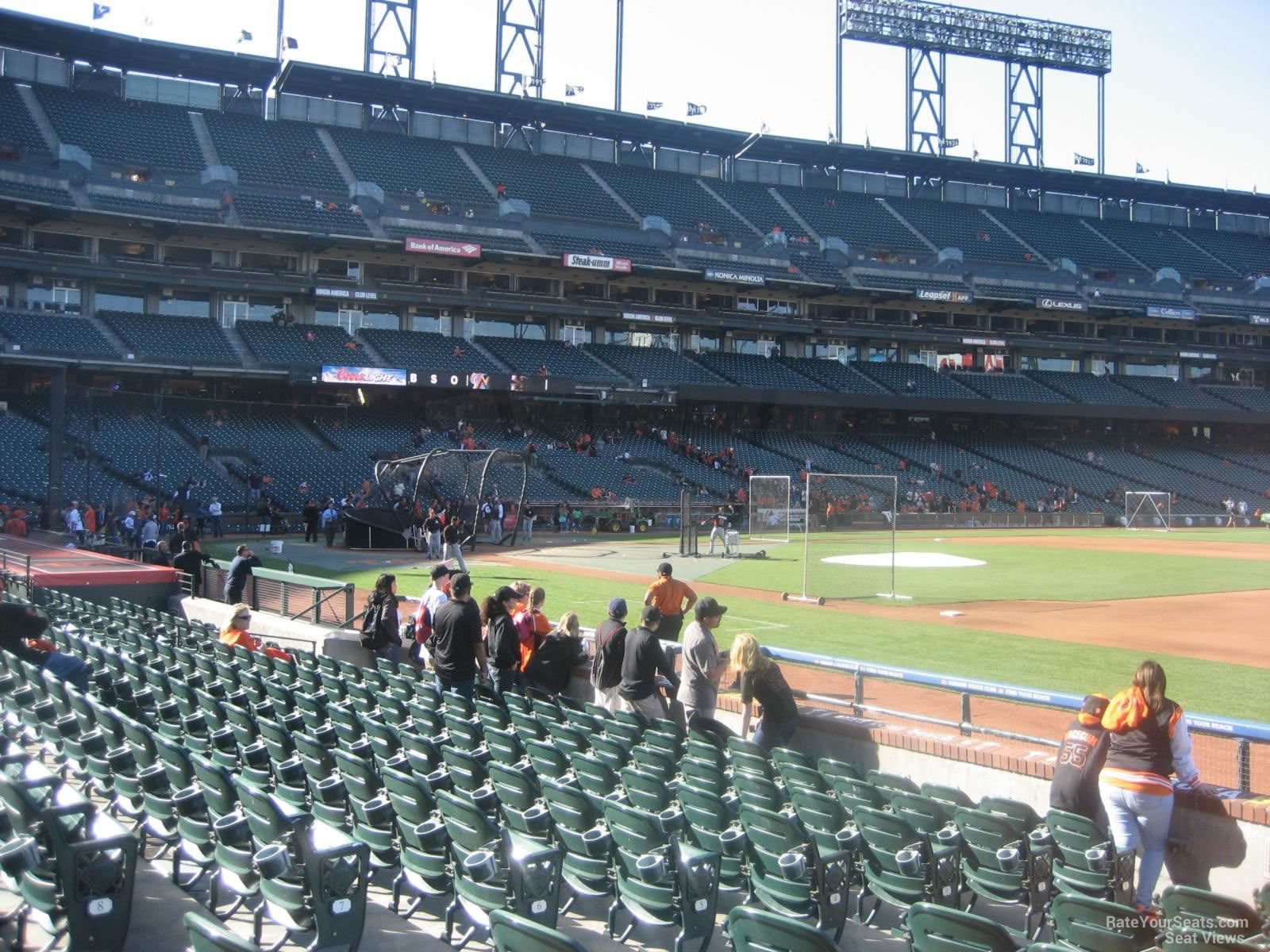 Your view of the scoreboard (located in the middle of Center Field) will be great as well, however it might require a slight head turn to the right to transition your focus from the infield action to the scoreboard.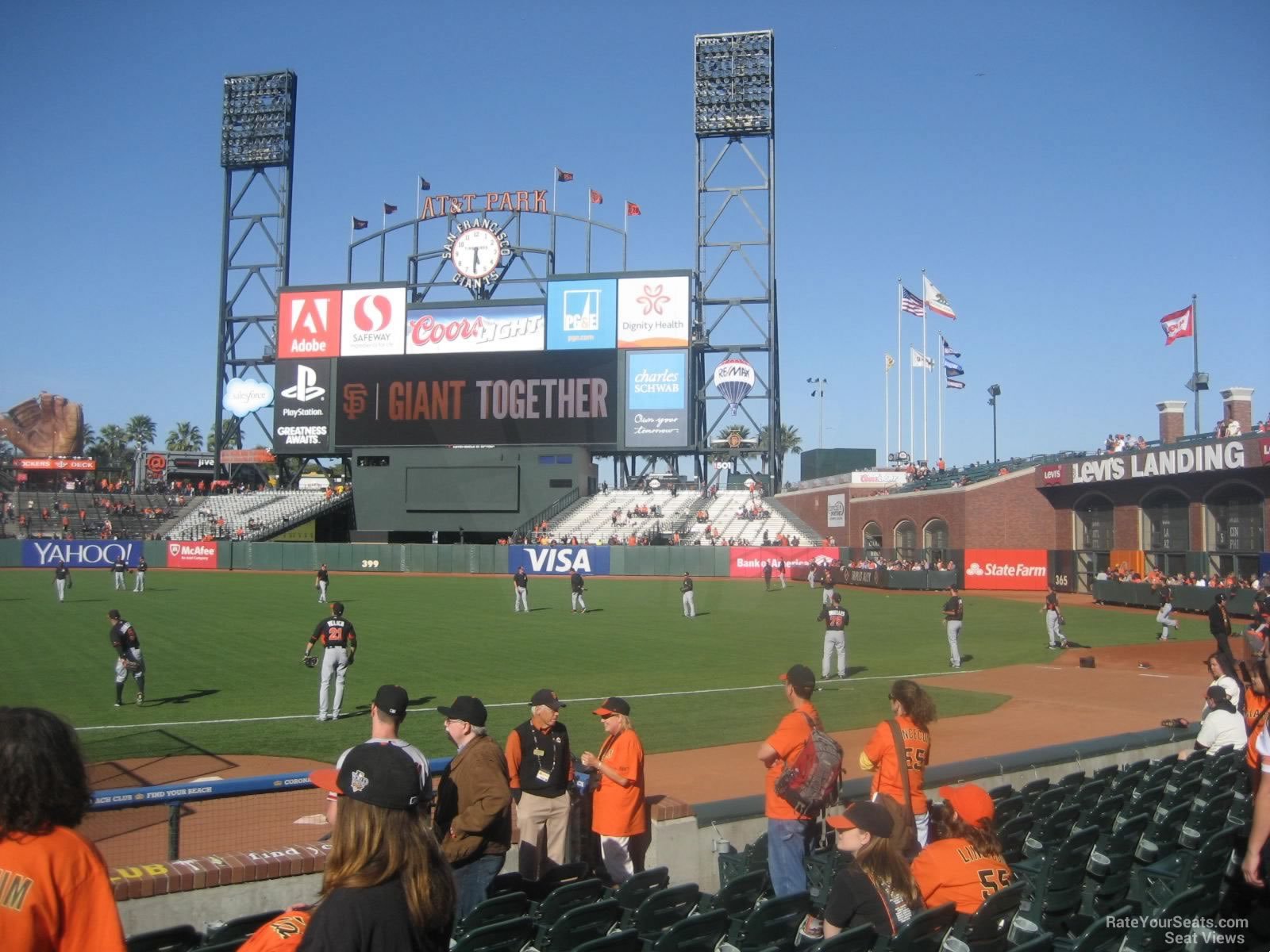 Asked May 31, 2013 for Toronto Blue Jays at San Francisco Giants on Jun 5, 2013
Interactive Seating Chart
Other Popular Seating Choices
Event Schedule
Miami Marlins at San Francisco Giants

Oracle Park - San Francisco, CA

Friday, April 23 at 6:45 PM

Miami Marlins at San Francisco Giants

Oracle Park - San Francisco, CA

Saturday, April 24 at 6:05 PM

Miami Marlins at San Francisco Giants

Oracle Park - San Francisco, CA

Sunday, April 25 at 1:05 PM

Colorado Rockies at San Francisco Giants

Oracle Park - San Francisco, CA

Monday, April 26 at 6:45 PM

Colorado Rockies at San Francisco Giants

Oracle Park - San Francisco, CA

Tuesday, April 27 at 6:45 PM

Colorado Rockies at San Francisco Giants

Oracle Park - San Francisco, CA

Wednesday, April 28 at 6:45 PM

San Diego Padres at San Francisco Giants

Oracle Park - San Francisco, CA

Saturday, May 8 at 1:05 PM

Texas Rangers at San Francisco Giants

Oracle Park - San Francisco, CA

Tuesday, May 11 at 12:45 PM

Los Angeles Dodgers at San Francisco Giants

Oracle Park - San Francisco, CA

Friday, May 21 at 6:45 PM

Los Angeles Dodgers at San Francisco Giants

Oracle Park - San Francisco, CA

Saturday, May 22 at 4:15 PM

Los Angeles Dodgers at San Francisco Giants

Oracle Park - San Francisco, CA

Sunday, May 23 at 1:05 PM

St. Louis Cardinals at San Francisco Giants

Oracle Park - San Francisco, CA

Monday, July 5 at 2:05 PM

St. Louis Cardinals at San Francisco Giants

Oracle Park - San Francisco, CA

Tuesday, July 6 at 6:45 PM

St. Louis Cardinals at San Francisco Giants

Oracle Park - San Francisco, CA

Wednesday, July 7 at 6:45 PM

Washington Nationals at San Francisco Giants

Oracle Park - San Francisco, CA

Friday, July 9 at 6:45 PM

Washington Nationals at San Francisco Giants

Oracle Park - San Francisco, CA

Saturday, July 10 at 1:05 PM

Washington Nationals at San Francisco Giants

Oracle Park - San Francisco, CA

Sunday, July 11 at 1:05 PM

Pittsburgh Pirates at San Francisco Giants

Oracle Park - San Francisco, CA

Friday, July 23 at 6:45 PM

Pittsburgh Pirates at San Francisco Giants

Oracle Park - San Francisco, CA

Saturday, July 24 at 6:45 PM

Pittsburgh Pirates at San Francisco Giants

Oracle Park - San Francisco, CA

Sunday, July 25 at 1:05 PM

Los Angeles Dodgers at San Francisco Giants

Oracle Park - San Francisco, CA

Tuesday, July 27 at 6:45 PM

Los Angeles Dodgers at San Francisco Giants

Oracle Park - San Francisco, CA

Wednesday, July 28 at 6:45 PM

Los Angeles Dodgers at San Francisco Giants

Oracle Park - San Francisco, CA

Thursday, July 29 at 12:45 PM

Houston Astros at San Francisco Giants

Oracle Park - San Francisco, CA

Friday, July 30 at 6:45 PM

Houston Astros at San Francisco Giants

Oracle Park - San Francisco, CA

Saturday, July 31 at 1:05 PM

Houston Astros at San Francisco Giants

Oracle Park - San Francisco, CA

Sunday, August 1 at 1:05 PM

Arizona Diamondbacks at San Francisco Giants

Oracle Park - San Francisco, CA

Tuesday, August 10 at 6:45 PM

Arizona Diamondbacks at San Francisco Giants

Oracle Park - San Francisco, CA

Wednesday, August 11 at 6:45 PM

Colorado Rockies at San Francisco Giants

Oracle Park - San Francisco, CA

Thursday, August 12 at 6:45 PM

Colorado Rockies at San Francisco Giants

Oracle Park - San Francisco, CA

Friday, August 13 at 6:45 PM

Colorado Rockies at San Francisco Giants

Oracle Park - San Francisco, CA

Saturday, August 14 at 6:05 PM

Colorado Rockies at San Francisco Giants

Oracle Park - San Francisco, CA

Sunday, August 15 at 1:05 PM

New York Mets at San Francisco Giants

Oracle Park - San Francisco, CA

Monday, August 16 at 6:45 PM

New York Mets at San Francisco Giants

Oracle Park - San Francisco, CA

Tuesday, August 17 at 6:45 PM

New York Mets at San Francisco Giants

Oracle Park - San Francisco, CA

Wednesday, August 18 at 12:45 PM

Milwaukee Brewers at San Francisco Giants

Oracle Park - San Francisco, CA

Monday, August 30 at 6:45 PM

Milwaukee Brewers at San Francisco Giants

Oracle Park - San Francisco, CA

Tuesday, August 31 at 6:45 PM

Milwaukee Brewers at San Francisco Giants

Oracle Park - San Francisco, CA

Wednesday, September 1 at 6:45 PM

Milwaukee Brewers at San Francisco Giants

Oracle Park - San Francisco, CA

Thursday, September 2 at 12:45 PM

Los Angeles Dodgers at San Francisco Giants

Oracle Park - San Francisco, CA

Friday, September 3 at 6:45 PM

Los Angeles Dodgers at San Francisco Giants

Oracle Park - San Francisco, CA

Saturday, September 4 at 6:05 PM

Los Angeles Dodgers at San Francisco Giants

Oracle Park - San Francisco, CA

Sunday, September 5 at 1:05 PM

San Diego Padres at San Francisco Giants

Oracle Park - San Francisco, CA

Monday, September 13 at 6:45 PM

San Diego Padres at San Francisco Giants

Oracle Park - San Francisco, CA

Tuesday, September 14 at 6:45 PM

San Diego Padres at San Francisco Giants

Oracle Park - San Francisco, CA

Wednesday, September 15 at 6:45 PM

San Diego Padres at San Francisco Giants

Oracle Park - San Francisco, CA

Thursday, September 16 at 12:45 PM

Atlanta Braves at San Francisco Giants

Oracle Park - San Francisco, CA

Friday, September 17 at 6:45 PM

Atlanta Braves at San Francisco Giants

Oracle Park - San Francisco, CA

Saturday, September 18 at 6:05 PM

Atlanta Braves at San Francisco Giants

Oracle Park - San Francisco, CA

Sunday, September 19 at 1:05 PM

Arizona Diamondbacks at San Francisco Giants

Oracle Park - San Francisco, CA

Tuesday, September 28 at 6:45 PM

Arizona Diamondbacks at San Francisco Giants

Oracle Park - San Francisco, CA

Wednesday, September 29 at 7:00 PM

Arizona Diamondbacks at San Francisco Giants

Oracle Park - San Francisco, CA

Thursday, September 30 at 6:45 PM

San Diego Padres at San Francisco Giants

Oracle Park - San Francisco, CA

Friday, October 1 at 6:45 PM

San Diego Padres at San Francisco Giants

Oracle Park - San Francisco, CA

Saturday, October 2 at 1:05 PM