Does Section 227 get to take advantage of the club level eateries at AT&T Park?
Sep 2014
Answered by Steve at RateYourSeats.com...
Virgin America Club Level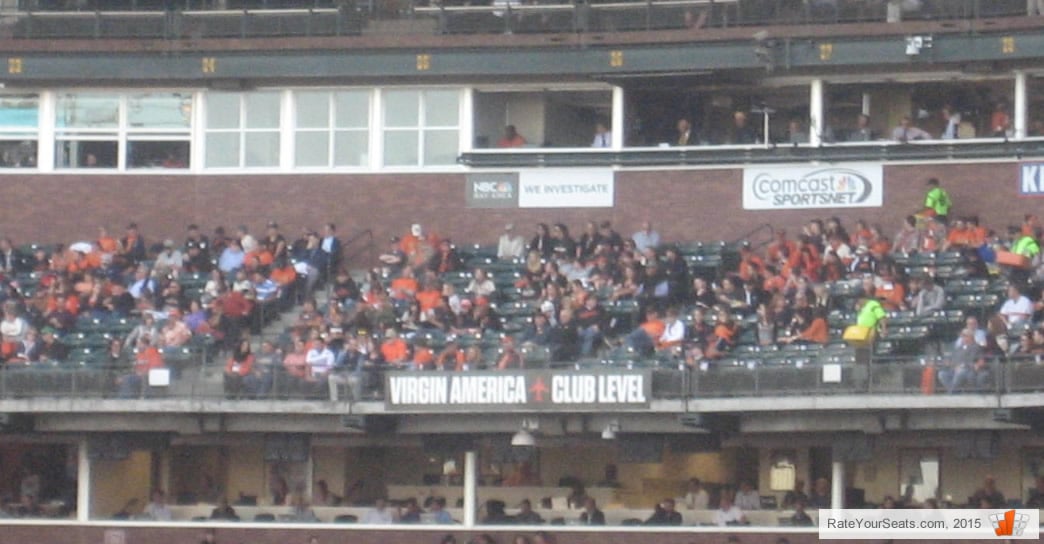 Yes, all of the sections in the 200s (202-234) will have access to the Virgin America Club level concourse (located on the same level) which includes upscale food and beverage options available for purchase.
Asked September 10, 2014 for San Francisco Giants vs. Arizona Diamondbacks on Sep 10, 2014
Other Popular Seating Choices
RateYourSeats.com is the best way to search, compare and buy tickets. Select an event to find out why!
Event Schedule
Oakland Athletics San Francisco Giants

Oracle Park - San Francisco, CA

Tuesday, March 24 at 6:45 PM

2020 San Francisco Giants Season Tickets

Oracle Park - San Francisco, CA

Thursday, April 2 at 12:55 PM

Los Angeles Dodgers at San Francisco Giants

Oracle Park - San Francisco, CA

Friday, April 3 at 1:35 PM

Los Angeles Dodgers at San Francisco Giants

Oracle Park - San Francisco, CA

Saturday, April 4 at 1:05 PM

Los Angeles Dodgers at San Francisco Giants

Oracle Park - San Francisco, CA

Sunday, April 5 at 1:05 PM

Arizona Diamondbacks at San Francisco Giants

Oracle Park - San Francisco, CA

Monday, April 6 at 6:45 PM

Arizona Diamondbacks at San Francisco Giants

Oracle Park - San Francisco, CA

Tuesday, April 7 at 6:45 PM

Arizona Diamondbacks at San Francisco Giants

Oracle Park - San Francisco, CA

Wednesday, April 8 at 6:45 PM

Arizona Diamondbacks at San Francisco Giants

Oracle Park - San Francisco, CA

Thursday, April 9 at 12:45 PM

Colorado Rockies at San Francisco Giants

Oracle Park - San Francisco, CA

Tuesday, April 21 at 6:45 PM

Colorado Rockies at San Francisco Giants

Oracle Park - San Francisco, CA

Wednesday, April 22 at 6:45 PM

Colorado Rockies at San Francisco Giants

Oracle Park - San Francisco, CA

Thursday, April 23 at 12:45 PM

Washington Nationals at San Francisco Giants

Oracle Park - San Francisco, CA

Friday, April 24 at 7:15 PM

Washington Nationals at San Francisco Giants

Oracle Park - San Francisco, CA

Saturday, April 25 at 6:05 PM

Washington Nationals at San Francisco Giants

Oracle Park - San Francisco, CA

Sunday, April 26 at 1:05 PM

Philadelphia Phillies at San Francisco Giants

Oracle Park - San Francisco, CA

Monday, April 27 at 6:45 PM

Philadelphia Phillies at San Francisco Giants

Oracle Park - San Francisco, CA

Tuesday, April 28 at 6:45 PM

Philadelphia Phillies at San Francisco Giants

Oracle Park - San Francisco, CA

Wednesday, April 29 at 12:45 PM

Chicago White Sox at San Francisco Giants

Oracle Park - San Francisco, CA

Friday, May 8 at 7:15 PM

Chicago White Sox at San Francisco Giants

Oracle Park - San Francisco, CA

Saturday, May 9 at 6:05 PM

Chicago White Sox at San Francisco Giants

Oracle Park - San Francisco, CA

Sunday, May 10 at 1:05 PM

Atlanta Braves at San Francisco Giants

Oracle Park - San Francisco, CA

Saturday, May 16 at 1:05 PM

Detroit Tigers at San Francisco Giants

Oracle Park - San Francisco, CA

Tuesday, May 19 at 6:45 PM

Detroit Tigers at San Francisco Giants

Oracle Park - San Francisco, CA

Wednesday, May 20 at 12:45 PM

Colorado Rockies at San Francisco Giants

Oracle Park - San Francisco, CA

Friday, May 29 at 7:15 PM

Colorado Rockies at San Francisco Giants

Oracle Park - San Francisco, CA

Saturday, May 30 at 4:15 PM

Colorado Rockies at San Francisco Giants

Oracle Park - San Francisco, CA

Sunday, May 31 at 1:05 PM

San Diego Padres at San Francisco Giants

Oracle Park - San Francisco, CA

Monday, June 1 at 6:45 PM

San Diego Padres at San Francisco Giants

Oracle Park - San Francisco, CA

Tuesday, June 2 at 6:45 PM

San Diego Padres at San Francisco Giants

Oracle Park - San Francisco, CA

Wednesday, June 3 at 6:45 PM

San Diego Padres at San Francisco Giants

Oracle Park - San Francisco, CA

Thursday, June 4 at 12:45 PM

Pittsburgh Pirates at San Francisco Giants

Oracle Park - San Francisco, CA

Tuesday, June 9 at 6:45 PM

Pittsburgh Pirates at San Francisco Giants

Oracle Park - San Francisco, CA

Wednesday, June 10 at 6:45 PM

Pittsburgh Pirates at San Francisco Giants

Oracle Park - San Francisco, CA

Thursday, June 11 at 12:45 PM

Miami Marlins at San Francisco Giants

Oracle Park - San Francisco, CA

Saturday, June 13 at 1:05 PM

New York Mets at San Francisco Giants

Oracle Park - San Francisco, CA

Tuesday, June 23 at 6:45 PM

New York Mets at San Francisco Giants

Oracle Park - San Francisco, CA

Wednesday, June 24 at 6:45 PM

New York Mets at San Francisco Giants

Oracle Park - San Francisco, CA

Thursday, June 25 at 12:45 PM

Los Angeles Dodgers at San Francisco Giants

Oracle Park - San Francisco, CA

Friday, June 26 at 7:15 PM

Los Angeles Dodgers at San Francisco Giants

Oracle Park - San Francisco, CA

Saturday, June 27 at 4:15 PM

Los Angeles Dodgers at San Francisco Giants

Oracle Park - San Francisco, CA

Sunday, June 28 at 1:05 PM

Oakland Athletics at San Francisco Giants

Oracle Park - San Francisco, CA

Tuesday, July 7 at 6:45 PM

Oakland Athletics at San Francisco Giants

Oracle Park - San Francisco, CA

Wednesday, July 8 at 6:45 PM

San Diego Padres at San Francisco Giants

Oracle Park - San Francisco, CA

Friday, July 10 at 7:15 PM

San Diego Padres at San Francisco Giants

Oracle Park - San Francisco, CA

Saturday, July 11 at 6:05 PM

San Diego Padres at San Francisco Giants

Oracle Park - San Francisco, CA

Sunday, July 12 at 1:05 PM

Arizona Diamondbacks at San Francisco Giants

Oracle Park - San Francisco, CA

Friday, July 24 at 7:15 PM

Arizona Diamondbacks at San Francisco Giants

Oracle Park - San Francisco, CA

Saturday, July 25 at 1:05 PM

Arizona Diamondbacks at San Francisco Giants

Oracle Park - San Francisco, CA

Sunday, July 26 at 1:05 PM

Chicago Cubs at San Francisco Giants

Oracle Park - San Francisco, CA

Wednesday, July 29 at 6:45 PM

Chicago Cubs at San Francisco Giants

Oracle Park - San Francisco, CA

Thursday, July 30 at 12:45 PM

Los Angeles Dodgers at San Francisco Giants

Oracle Park - San Francisco, CA

Tuesday, August 11 at 6:45 PM

Los Angeles Dodgers at San Francisco Giants

Oracle Park - San Francisco, CA

Wednesday, August 12 at 6:45 PM

Los Angeles Dodgers at San Francisco Giants

Oracle Park - San Francisco, CA

Thursday, August 13 at 12:45 PM

Colorado Rockies at San Francisco Giants

Oracle Park - San Francisco, CA

Friday, August 14 at 7:15 PM

Colorado Rockies at San Francisco Giants

Oracle Park - San Francisco, CA

Saturday, August 15 at 1:05 PM

Colorado Rockies at San Francisco Giants

Oracle Park - San Francisco, CA

Sunday, August 16 at 1:05 PM

San Diego Padres at San Francisco Giants

Oracle Park - San Francisco, CA

Monday, August 24 at 6:45 PM

San Diego Padres at San Francisco Giants

Oracle Park - San Francisco, CA

Tuesday, August 25 at 6:45 PM

San Diego Padres at San Francisco Giants

Oracle Park - San Francisco, CA

Wednesday, August 26 at 6:45 PM

Kansas City Royals at San Francisco Giants

Oracle Park - San Francisco, CA

Friday, August 28 at 7:15 PM

Kansas City Royals at San Francisco Giants

Oracle Park - San Francisco, CA

Saturday, August 29 at 6:05 PM

Kansas City Royals at San Francisco Giants

Oracle Park - San Francisco, CA

Sunday, August 30 at 1:05 PM

St. Louis Cardinals at San Francisco Giants

Oracle Park - San Francisco, CA

Monday, September 7 at 3:05 PM

St. Louis Cardinals at San Francisco Giants

Oracle Park - San Francisco, CA

Tuesday, September 8 at 6:45 PM

St. Louis Cardinals at San Francisco Giants

Oracle Park - San Francisco, CA

Wednesday, September 9 at 12:45 PM

Cincinnati Reds at San Francisco Giants

Oracle Park - San Francisco, CA

Thursday, September 10 at 6:45 PM

Cincinnati Reds at San Francisco Giants

Oracle Park - San Francisco, CA

Friday, September 11 at 7:15 PM

Cincinnati Reds at San Francisco Giants

Oracle Park - San Francisco, CA

Saturday, September 12 at 1:05 PM

Cincinnati Reds at San Francisco Giants

Oracle Park - San Francisco, CA

Sunday, September 13 at 1:05 PM

Arizona Diamondbacks at San Francisco Giants

Oracle Park - San Francisco, CA

Tuesday, September 22 at 6:45 PM

Arizona Diamondbacks at San Francisco Giants

Oracle Park - San Francisco, CA

Wednesday, September 23 at 6:45 PM

Milwaukee Brewers at San Francisco Giants

Oracle Park - San Francisco, CA

Thursday, September 24 at 6:45 PM

Milwaukee Brewers at San Francisco Giants

Oracle Park - San Francisco, CA

Friday, September 25 at 7:15 PM

Milwaukee Brewers at San Francisco Giants

Oracle Park - San Francisco, CA

Saturday, September 26 at 6:05 PM