Where is the visiting team tunnel at AT&T Center in San Antonio?
Apr 2014
Answered by Keith at RateYourSeats.com...
The visiting team tunnel at the AT&T Cetner is found between Sections 114 and 115 and Charter Sections 14 and 16.
These sections are also located near the visiting team benches on that side of the court.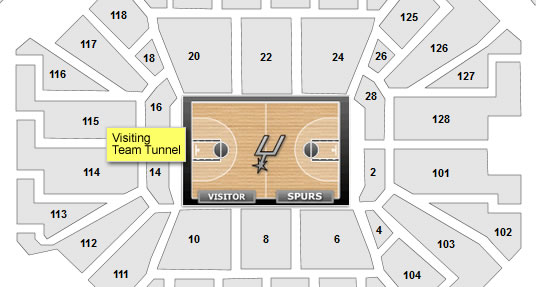 Asked April 20, 2014
Other Popular Seating Choices
RateYourSeats.com is the best way to search, compare and buy tickets. Select an event to find out why!
Event Schedule
Big Summer Blast - Why Dont We, Bazzi, Ally Brooke, and Bryce Vine

AT&T Center - San Antonio, TX

Friday, August 16 at 7:00 PM

Tucson Roadrunners at San Antonio Rampage

AT&T Center - San Antonio, TX

Sunday, October 6 at 3:00 PM

Chicago Wolves at San Antonio Rampage

AT&T Center - San Antonio, TX

Friday, October 11 at 7:00 PM

Chicago Wolves at San Antonio Rampage

AT&T Center - San Antonio, TX

Saturday, October 12 at 7:00 PM

Milwaukee Admirals at San Antonio Rampage

AT&T Center - San Antonio, TX

Friday, November 8 at 7:00 PM

Milwaukee Admirals at San Antonio Rampage

AT&T Center - San Antonio, TX

Sunday, November 10 at 3:00 PM

Colorado Eagles at San Antonio Rampage

AT&T Center - San Antonio, TX

Tuesday, November 12 at 10:30 AM

Rockford IceHogs at San Antonio Rampage

AT&T Center - San Antonio, TX

Sunday, November 24 at 3:00 PM

Rockford IceHogs at San Antonio Rampage

AT&T Center - San Antonio, TX

Tuesday, November 26 at 7:00 PM

Milwaukee Admirals at San Antonio Rampage

AT&T Center - San Antonio, TX

Saturday, November 30 at 7:00 PM

Tucson Roadrunners at San Antonio Rampage

AT&T Center - San Antonio, TX

Saturday, December 14 at 7:00 PM

Grand Rapids Griffins at San Antonio Rampage

AT&T Center - San Antonio, TX

Friday, January 3 at 7:00 PM

Grand Rapids Griffins at San Antonio Rampage

AT&T Center - San Antonio, TX

Sunday, January 5 at 3:00 PM

Chicago Wolves at San Antonio Rampage

AT&T Center - San Antonio, TX

Wednesday, January 8 at 7:00 PM

Chicago Wolves at San Antonio Rampage

AT&T Center - San Antonio, TX

Friday, January 10 at 7:00 PM

Toronto Marlies at San Antonio Rampage

AT&T Center - San Antonio, TX

Sunday, January 12 at 3:00 PM

Toronto Marlies at San Antonio Rampage

AT&T Center - San Antonio, TX

Thursday, January 16 at 7:00 PM

Wilkes Barre Scranton Penguins at San Antonio Rampage

AT&T Center - San Antonio, TX

Saturday, January 18 at 7:00 PM

Wilkes Barre Scranton Penguins at San Antonio Rampage

AT&T Center - San Antonio, TX

Tuesday, January 21 at 7:00 PM

Grand Rapids Griffins at San Antonio Rampage

AT&T Center - San Antonio, TX

Friday, February 28 at 7:00 PM

Grand Rapids Griffins at San Antonio Rampage

AT&T Center - San Antonio, TX

Tuesday, March 3 at 7:00 PM

Milwaukee Admirals at San Antonio Rampage

AT&T Center - San Antonio, TX

Sunday, March 8 at 3:00 PM

Manitoba Moose at San Antonio Rampage

AT&T Center - San Antonio, TX

Saturday, March 21 at 7:00 PM

Rockford IceHogs at San Antonio Rampage

AT&T Center - San Antonio, TX

Wednesday, April 8 at 7:00 PM