Where are Seats 7 and 8 in Section 134 Row BB at Angels Stadium?
And where are seats 6 and 7 in Section 135 Row AA?  Thank You.
Feb 2013
Answered by RateYourSeats.com staff...
Row BB is the actual first row of Section 134 at Angels Stadium. There are 12 seats in this row, so seats 7-8 will be towards the middle of the row. Section 135 Row AA is also the first row and will be next to the bullpen. There are eight seats in this row, making seats 6 and 7 closer to the aisle. It is important to note that Section 135 can be listed as obstructed due to the Pavilion blocking the views of LF and CF, however this is less of a problem in the actual first row.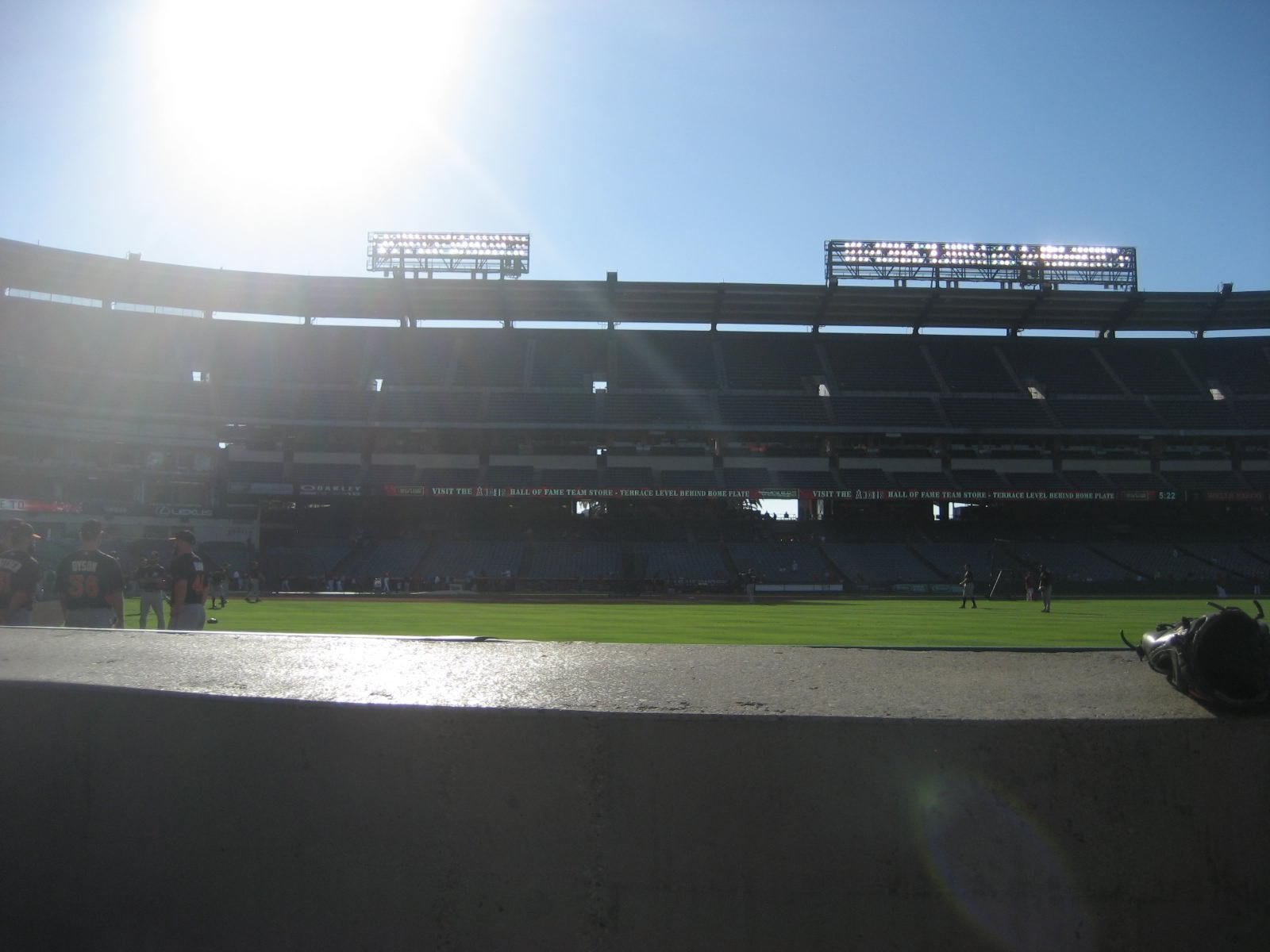 Asked February 25, 2013 for Oakland Athletics at Los Angeles Angels of Anaheim on Jul 19, 2013
Interactive Seating Chart
Other Popular Seating Choices
Event Schedule
Minnesota Twins at Los Angeles Angels of Anaheim

Angel Stadium - Anaheim, CA

Friday, April 16 at 6:38 PM

Minnesota Twins at Los Angeles Angels of Anaheim

Angel Stadium - Anaheim, CA

Saturday, April 17 at 6:07 PM

Minnesota Twins at Los Angeles Angels of Anaheim

Angel Stadium - Anaheim, CA

Sunday, April 18 at 1:07 PM

Texas Rangers at Los Angeles Angels of Anaheim

Angel Stadium - Anaheim, CA

Monday, April 19 at 6:38 PM

Texas Rangers at Los Angeles Angels of Anaheim

Angel Stadium - Anaheim, CA

Tuesday, April 20 at 6:38 PM

Texas Rangers at Los Angeles Angels of Anaheim

Angel Stadium - Anaheim, CA

Wednesday, April 21 at 1:07 PM

Baltimore Orioles at Los Angeles Angels of Anaheim

Angel Stadium - Anaheim, CA

Friday, July 2 at Time TBA

Baltimore Orioles at Los Angeles Angels of Anaheim

Angel Stadium - Anaheim, CA

Saturday, July 3 at Time TBA

Baltimore Orioles at Los Angeles Angels of Anaheim

Angel Stadium - Anaheim, CA

Sunday, July 4 at Time TBA

Boston Red Sox at Los Angeles Angels of Anaheim

Angel Stadium - Anaheim, CA

Monday, July 5 at Time TBA

Boston Red Sox at Los Angeles Angels of Anaheim

Angel Stadium - Anaheim, CA

Tuesday, July 6 at Time TBA

Boston Red Sox at Los Angeles Angels of Anaheim

Angel Stadium - Anaheim, CA

Wednesday, July 7 at Time TBA

Seattle Mariners at Los Angeles Angels of Anaheim

Angel Stadium - Anaheim, CA

Friday, July 16 at Time TBA

Seattle Mariners at Los Angeles Angels of Anaheim

Angel Stadium - Anaheim, CA

Saturday, July 17 at Time TBA

Seattle Mariners at Los Angeles Angels of Anaheim

Angel Stadium - Anaheim, CA

Sunday, July 18 at Time TBA

Colorado Rockies at Los Angeles Angels of Anaheim

Angel Stadium - Anaheim, CA

Monday, July 26 at Time TBA

Colorado Rockies at Los Angeles Angels of Anaheim

Angel Stadium - Anaheim, CA

Tuesday, July 27 at Time TBA

Colorado Rockies at Los Angeles Angels of Anaheim

Angel Stadium - Anaheim, CA

Wednesday, July 28 at Time TBA

Oakland Athletics at Los Angeles Angels of Anaheim

Angel Stadium - Anaheim, CA

Thursday, July 29 at Time TBA

Oakland Athletics at Los Angeles Angels of Anaheim

Angel Stadium - Anaheim, CA

Friday, July 30 at Time TBA

Oakland Athletics at Los Angeles Angels of Anaheim

Angel Stadium - Anaheim, CA

Saturday, July 31 at Time TBA

Oakland Athletics at Los Angeles Angels of Anaheim

Angel Stadium - Anaheim, CA

Sunday, August 1 at Time TBA

Toronto Blue Jays at Los Angeles Angels of Anaheim

Angel Stadium - Anaheim, CA

Tuesday, August 10 at Time TBA

Toronto Blue Jays at Los Angeles Angels of Anaheim

Angel Stadium - Anaheim, CA

Wednesday, August 11 at Time TBA

Toronto Blue Jays at Los Angeles Angels of Anaheim

Angel Stadium - Anaheim, CA

Thursday, August 12 at Time TBA

Houston Astros at Los Angeles Angels of Anaheim

Angel Stadium - Anaheim, CA

Friday, August 13 at Time TBA

Houston Astros at Los Angeles Angels of Anaheim

Angel Stadium - Anaheim, CA

Saturday, August 14 at Time TBA

Houston Astros at Los Angeles Angels of Anaheim

Angel Stadium - Anaheim, CA

Sunday, August 15 at Time TBA

San Diego Padres at Los Angeles Angels of Anaheim

Angel Stadium - Anaheim, CA

Friday, August 27 at Time TBA

San Diego Padres at Los Angeles Angels of Anaheim

Angel Stadium - Anaheim, CA

Saturday, August 28 at 6:07 PM

New York Yankees at Los Angeles Angels of Anaheim

Angel Stadium - Anaheim, CA

Monday, August 30 at Time TBA

New York Yankees at Los Angeles Angels of Anaheim

Angel Stadium - Anaheim, CA

Tuesday, August 31 at Time TBA

New York Yankees at Los Angeles Angels of Anaheim

Angel Stadium - Anaheim, CA

Wednesday, September 1 at Time TBA

Texas Rangers at Los Angeles Angels of Anaheim

Angel Stadium - Anaheim, CA

Friday, September 3 at Time TBA

Texas Rangers at Los Angeles Angels of Anaheim

Angel Stadium - Anaheim, CA

Saturday, September 4 at Time TBA

Texas Rangers at Los Angeles Angels of Anaheim

Angel Stadium - Anaheim, CA

Sunday, September 5 at Time TBA

Texas Rangers at Los Angeles Angels of Anaheim

Angel Stadium - Anaheim, CA

Monday, September 6 at Time TBA

Oakland Athletics at Los Angeles Angels of Anaheim

Angel Stadium - Anaheim, CA

Friday, September 17 at Time TBA

Oakland Athletics at Los Angeles Angels of Anaheim

Angel Stadium - Anaheim, CA

Saturday, September 18 at Time TBA

Oakland Athletics at Los Angeles Angels of Anaheim

Angel Stadium - Anaheim, CA

Sunday, September 19 at Time TBA

Houston Astros at Los Angeles Angels of Anaheim

Angel Stadium - Anaheim, CA

Monday, September 20 at Time TBA

Houston Astros at Los Angeles Angels of Anaheim

Angel Stadium - Anaheim, CA

Tuesday, September 21 at Time TBA

Houston Astros at Los Angeles Angels of Anaheim

Angel Stadium - Anaheim, CA

Wednesday, September 22 at Time TBA

Houston Astros at Los Angeles Angels of Anaheim

Angel Stadium - Anaheim, CA

Thursday, September 23 at Time TBA

Seattle Mariners at Los Angeles Angels of Anaheim

Angel Stadium - Anaheim, CA

Friday, September 24 at Time TBA

Seattle Mariners at Los Angeles Angels of Anaheim

Angel Stadium - Anaheim, CA

Saturday, September 25 at Time TBA