Is Section 105 Row P Seat 18 on the aisle at Angel Stadium?
Jun 2014
Answered by Steve at RateYourSeats.com...
There are a total of 18 seats in Section 105 Row P at Angel Stadium, with Seat 18 being on the aisle at the right side of the row as you face the field (closer to home plate).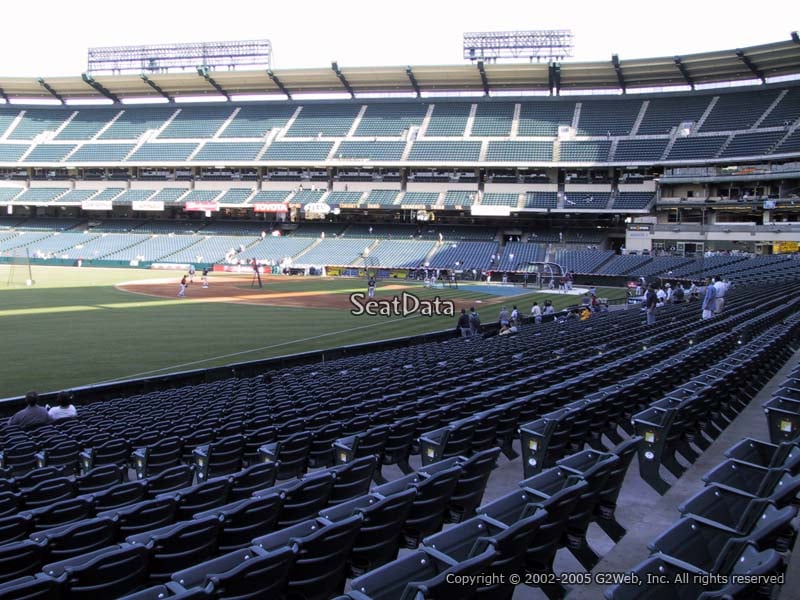 Asked June 21, 2014 for Los Angeles Angels of Anaheim vs. Texas Rangers on Jun 21, 2014
Interactive Seating Chart
Other Popular Seating Choices
Event Schedule
Minnesota Twins at Los Angeles Angels of Anaheim

Angel Stadium - Anaheim, CA

Friday, April 16 at 6:38 PM

Minnesota Twins at Los Angeles Angels of Anaheim

Angel Stadium - Anaheim, CA

Saturday, April 17 at 6:07 PM

Minnesota Twins at Los Angeles Angels of Anaheim

Angel Stadium - Anaheim, CA

Sunday, April 18 at 1:07 PM

Texas Rangers at Los Angeles Angels of Anaheim

Angel Stadium - Anaheim, CA

Monday, April 19 at 6:38 PM

Texas Rangers at Los Angeles Angels of Anaheim

Angel Stadium - Anaheim, CA

Tuesday, April 20 at 6:38 PM

Texas Rangers at Los Angeles Angels of Anaheim

Angel Stadium - Anaheim, CA

Wednesday, April 21 at 1:07 PM

Baltimore Orioles at Los Angeles Angels of Anaheim

Angel Stadium - Anaheim, CA

Friday, July 2 at Time TBA

Baltimore Orioles at Los Angeles Angels of Anaheim

Angel Stadium - Anaheim, CA

Saturday, July 3 at Time TBA

Baltimore Orioles at Los Angeles Angels of Anaheim

Angel Stadium - Anaheim, CA

Sunday, July 4 at Time TBA

Boston Red Sox at Los Angeles Angels of Anaheim

Angel Stadium - Anaheim, CA

Monday, July 5 at Time TBA

Boston Red Sox at Los Angeles Angels of Anaheim

Angel Stadium - Anaheim, CA

Tuesday, July 6 at Time TBA

Boston Red Sox at Los Angeles Angels of Anaheim

Angel Stadium - Anaheim, CA

Wednesday, July 7 at Time TBA

Seattle Mariners at Los Angeles Angels of Anaheim

Angel Stadium - Anaheim, CA

Friday, July 16 at Time TBA

Seattle Mariners at Los Angeles Angels of Anaheim

Angel Stadium - Anaheim, CA

Saturday, July 17 at Time TBA

Seattle Mariners at Los Angeles Angels of Anaheim

Angel Stadium - Anaheim, CA

Sunday, July 18 at Time TBA

Colorado Rockies at Los Angeles Angels of Anaheim

Angel Stadium - Anaheim, CA

Monday, July 26 at Time TBA

Colorado Rockies at Los Angeles Angels of Anaheim

Angel Stadium - Anaheim, CA

Tuesday, July 27 at Time TBA

Colorado Rockies at Los Angeles Angels of Anaheim

Angel Stadium - Anaheim, CA

Wednesday, July 28 at Time TBA

Oakland Athletics at Los Angeles Angels of Anaheim

Angel Stadium - Anaheim, CA

Thursday, July 29 at Time TBA

Oakland Athletics at Los Angeles Angels of Anaheim

Angel Stadium - Anaheim, CA

Friday, July 30 at Time TBA

Oakland Athletics at Los Angeles Angels of Anaheim

Angel Stadium - Anaheim, CA

Saturday, July 31 at Time TBA

Oakland Athletics at Los Angeles Angels of Anaheim

Angel Stadium - Anaheim, CA

Sunday, August 1 at Time TBA

Toronto Blue Jays at Los Angeles Angels of Anaheim

Angel Stadium - Anaheim, CA

Tuesday, August 10 at Time TBA

Toronto Blue Jays at Los Angeles Angels of Anaheim

Angel Stadium - Anaheim, CA

Wednesday, August 11 at Time TBA

Toronto Blue Jays at Los Angeles Angels of Anaheim

Angel Stadium - Anaheim, CA

Thursday, August 12 at Time TBA

Houston Astros at Los Angeles Angels of Anaheim

Angel Stadium - Anaheim, CA

Friday, August 13 at Time TBA

Houston Astros at Los Angeles Angels of Anaheim

Angel Stadium - Anaheim, CA

Saturday, August 14 at Time TBA

Houston Astros at Los Angeles Angels of Anaheim

Angel Stadium - Anaheim, CA

Sunday, August 15 at Time TBA

San Diego Padres at Los Angeles Angels of Anaheim

Angel Stadium - Anaheim, CA

Friday, August 27 at Time TBA

San Diego Padres at Los Angeles Angels of Anaheim

Angel Stadium - Anaheim, CA

Saturday, August 28 at 6:07 PM

New York Yankees at Los Angeles Angels of Anaheim

Angel Stadium - Anaheim, CA

Monday, August 30 at Time TBA

New York Yankees at Los Angeles Angels of Anaheim

Angel Stadium - Anaheim, CA

Tuesday, August 31 at Time TBA

New York Yankees at Los Angeles Angels of Anaheim

Angel Stadium - Anaheim, CA

Wednesday, September 1 at Time TBA

Texas Rangers at Los Angeles Angels of Anaheim

Angel Stadium - Anaheim, CA

Friday, September 3 at Time TBA

Texas Rangers at Los Angeles Angels of Anaheim

Angel Stadium - Anaheim, CA

Saturday, September 4 at Time TBA

Texas Rangers at Los Angeles Angels of Anaheim

Angel Stadium - Anaheim, CA

Sunday, September 5 at Time TBA

Texas Rangers at Los Angeles Angels of Anaheim

Angel Stadium - Anaheim, CA

Monday, September 6 at Time TBA

Oakland Athletics at Los Angeles Angels of Anaheim

Angel Stadium - Anaheim, CA

Friday, September 17 at Time TBA

Oakland Athletics at Los Angeles Angels of Anaheim

Angel Stadium - Anaheim, CA

Saturday, September 18 at Time TBA

Oakland Athletics at Los Angeles Angels of Anaheim

Angel Stadium - Anaheim, CA

Sunday, September 19 at Time TBA

Houston Astros at Los Angeles Angels of Anaheim

Angel Stadium - Anaheim, CA

Monday, September 20 at Time TBA

Houston Astros at Los Angeles Angels of Anaheim

Angel Stadium - Anaheim, CA

Tuesday, September 21 at Time TBA

Houston Astros at Los Angeles Angels of Anaheim

Angel Stadium - Anaheim, CA

Wednesday, September 22 at Time TBA

Houston Astros at Los Angeles Angels of Anaheim

Angel Stadium - Anaheim, CA

Thursday, September 23 at Time TBA

Seattle Mariners at Los Angeles Angels of Anaheim

Angel Stadium - Anaheim, CA

Friday, September 24 at Time TBA

Seattle Mariners at Los Angeles Angels of Anaheim

Angel Stadium - Anaheim, CA

Saturday, September 25 at Time TBA